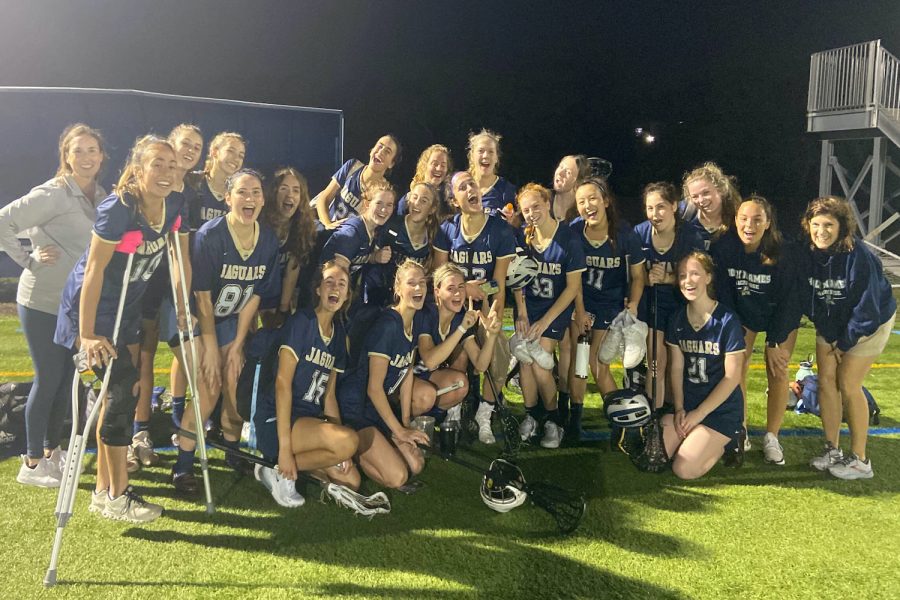 Photo Credit: Lisa MacDiarmid/ used with permission
On Monday, February 14, the Academy lacrosse team commenced their 2022 season with a match against Riverview High School. Despite their defeat (13 to 9 Riverview), the team pulled out a win against district rival Robinson (17 to 8 AHN) the following Tuesday, February 22. 
Notably, Lauren Brown ('23) – leading the team in number of goals scored – made five goals, Sophia Pyne four, and Madison Maxwell ('24) and Catie Curtis ('22) each made three. Between the pipes, Allie Ragano ('24) made eight saves that night, effectively blocking half of the shots made by Robinson. 
The team, which boasts two college-committed players – Pyne and Brown to Holy Cross and Vanderbilt, respectively – is composed of 20 girls across various grade levels, including AHN middle schooler Lauren Martinez ('26). Though several years younger than the average player, Martinez has proven to be a fearless opponent. In fact, when playing Plant, AHN's eminent competitor, Martinez took two shots and made one goal. 
"I would say that the team is my second family. Ever since last year, when I first joined [the team], everyone has been so comforting and welcoming. I often think of Lacrosse as an escape from school and hard times. Everyone on the team has helped me to push myself and become a better person and player," says Martinez. 
New to the team are freshman Emily Jackson and Katie Donaldson and sophomores Caroline Arthur and Caroline Griffis. 
"Lacrosse is still a relatively new sport for me, [so] I was very nervous about trying out for the team. However, after meeting all of my teammates and coaches, all nerves went away. Everyone is so supportive and constantly challenging me to do my best. Thanks to all the support I have received, my confidence has grown immensely on and off the field. I can't wait to see where it takes me for the next four years," says Jackson.
The team's close-knit nature can best be attributed to its practice schedule and seasonal routines. Unless the day of a match, the team practices Monday through Friday for at least two hours each day. As for their seasonal habits, the team begins each season with goal setting. During the first few practices, players will record their goals for the season and then share their aspirations with a teammate. The teammate will then check in with the player throughout the season to hold them accountable for their goals.
And their work ethic has proven effective. Despite losing their co-captain Brown to an ACL tear, the Academy Jaguars defeated the Berkley Buccaneers 12 to 10 on March 1. A notable feat as, in the team's eight year history, the Jags had never beat the Buccaneers. 
Perhaps cause for greater celebration, their standout performance has earned the team the coveted position of 1A top seed (that is, they are the highest-ranked team in their competition bracket). The Tampa Lax Report, a local non-profit that highlights players and reports game statistics from teams in the Bay area, has gone so far as to label the 2022 team as the "best team the Lady Jags ha[s] ever had."
Tampa Lax Report's 1A Girls Poll for week 3 is up!https://t.co/WiLn0vA9pa pic.twitter.com/2SP8WWHIQL

— Tampa Lax Report (@tampalaxreport) March 6, 2022
The Jaguars are set to play Gulf Coast High School on Thursday, March 17. The game will be held at home at 6:00 pm.