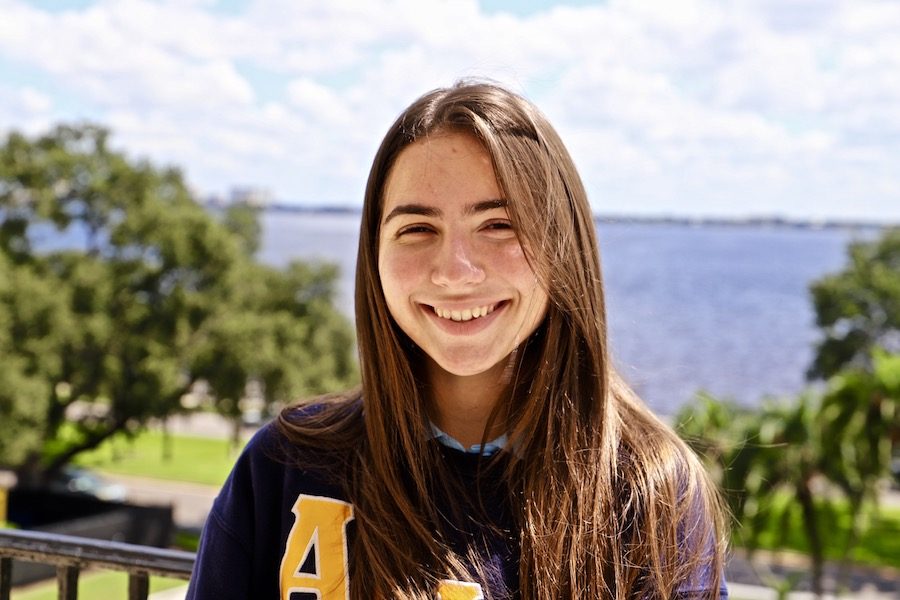 Adrianna Radice is a senior staff writer for Achona. This is her first year on staff, and, driven by her love of writing, she is looking forward to learning about the world of journalism. She is a member of Ambassadors, a club at Academy of the Holy Names that travels to different schools and explains to eighth graders, who are deciding where to attend high school, the many benefits of attending AHN. Adrianna's love for AHN makes her reluctant and scared for college. The application process is the most stressful part for her, at the moment. Although  Adrianna never wears makeup to school,she uses makeup as an art form to create new looks and try new products. Also, her all-time favorite comedian is John Mulaney. She enjoys participating in theatre. Her two most recent productions have been the one act "
Trifles"
and "
The Girls of the Garden Club"
, which, in both, she had a leading role. During her free time, she likes to be with her friends and family. Adrianna is especially close with her younger brother, Kevin. Reading and listening to music helps her relax and escape from the stress of school. She makes Spotify playlists dedicated to people she admires, consisting of one hundred songs each. For instance, her love of the
Marvel
movie franchise and superheroes has sparked playlists dedicated to characters such as Bucky Barnes, played by Sebastian Stan. Adrianna has a passion for social justice. She attended the Women's March in St. Petersburg, Florida and the March for Our Lives, hosted in Downtown Tampa, Florida. Understanding where other people are coming from and speaking up for those who do not have a voice makes up a huge part of who Adrianna is. She does not sit back and watch, but she participates and voices her opinion on different issues.
Adrianna Radice, Senior Staff Writer
Apr 30, 2019

Academy Seniors Endeavor to Enact Change

(Story)

Apr 08, 2019

Academy Goes to Prom 2019

(Story)

Mar 29, 2019

Why Are People So Obsessed with True Crime?

(Story)

Mar 25, 2019

Who is the "Manic Pixie Dream Girl"? (OPINION)

(Story)

Mar 05, 2019

Trump Administration Defunds Planned Parenthood

(Story)

Feb 13, 2019

Academy Students Reveal Their Love Languages

(Story)

Jan 31, 2019

Academy Discusses the "No Food, No Drink" Policy

(Story)

Jan 22, 2019

Why Society Hates Teenage Girls (OPINION)

(Story)

Jan 11, 2019

Kevin Hart's Oscar's Scandal

(Story)

Dec 11, 2018

How People Perceive Makeup in the Social Media Age (Opinion)

(Story)

Dec 03, 2018

Ways to Stay Empowered After a Break-Up

(Story)

Nov 16, 2018

Getting to Know Academy's Favorite Latin Teacher, Ariana Louder

(Story)

Nov 05, 2018

"Bohemian Rhapsody" Storms the Box Office (Movie Review)

(Story)

Oct 31, 2018

How People Form Their Political Ideologies

(Story)

Oct 22, 2018

How to Avoid Cultural Appropriation on Halloween

(Story)

Oct 12, 2018

"A Star is Born" Hits Theaters

(Story)

Oct 03, 2018

Teens' Normalization of Fatalistic Humor

(Story)

Sep 25, 2018

The Inherent Toxicity Surrounding "Call-Out Culture" (OPINION)

(Story)

Sep 20, 2018

Nationwide Prison Strike 2018

(Story)

Sep 17, 2018

Academy's Opinions on Dating in High School

(Story)