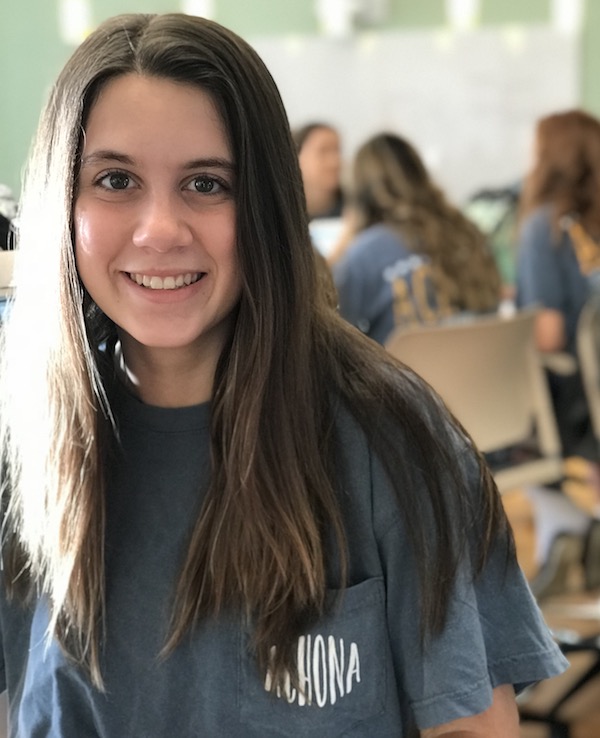 Olivia Fernandez is a second-year Junior staff writer for Achona. She has been a part of Student Council (going on three years) and is currently holding the treasurer position. She enjoys watching
Netflix,
as she is currently binge-watching
American Horror Story
. She also is an ambassador for a company called
Sand Cloud,
in which she has to promote their products and their purpose as a brand by posting pictures and telling people about it. In her free time she loves taking photos with her friends, places she travels, or of herself and posts them to her
Instagram.
She began working at a surf shop called
Surf Outfitter
, located in Hyde Park Village, in February of 2017. She is passionate about working with technology and hopes to attend New York University and work with video production. Going into her Junior year she is excited for Junior Ring because she feels it's one step closer to almost being a senior. 
Olivia Fernandez, Junior Staff Writer
Apr 30, 2019

ACHONA Rant Wheel: Part 5 (VIDEO)

(Story)

Apr 08, 2019

Easy Mini Empanadas

(Story)

Apr 02, 2019

Top 5 Go-To Dress Websites

(Story)

Mar 25, 2019

Hulu Release's New Original "The Act"

(Story)

Mar 05, 2019

Netflix Releases New Unsolved Series

(Story)

Feb 11, 2019

Easy Valentine's Day Desserts

(Story)

Feb 05, 2019

Netflix Releases "Conversations with a Killer: The Ted Bundy Tapes"

(Story)

Jan 22, 2019

Ciccio Cali Review

(Story)

Jan 11, 2019

Asking Students About Fake Music Festival Performers (VIDEO)

(Story)

Dec 11, 2018

AP Computer Science Students Begin Designing Apps

(Story)

Nov 27, 2018

Friendsgiving 2018

(Story)

Nov 05, 2018

Student Council Rolls Out the Red Carpet for Father Daughter

(Story)

Oct 29, 2018

A Weekend At SASC (Video)

(Story)

Oct 16, 2018

Shane Dawson Takes Fans Inside "The Mind of Jake Paul"

(Story)

Oct 03, 2018

Let's Taco 'Bout It: Best of the Bayshore (VIDEO)

(Story)

Aug 22, 2018

AHN's Top Summer Music Picks

(Story)

May 30, 2018

97X Backyard BBQ Returns To Vinoy Park

(Story)

May 24, 2018

Class of 2018 Honors Convocation

(Story)

Apr 13, 2018

Rant Wheel: Fortnite and More

(Story)

Mar 23, 2018

2018-2019 Student Council Officer Elections

(Story)

Mar 08, 2018

6 Ways To Keep Up Your Immune System

(Story)

Feb 26, 2018

Annual Mother Daughter Dinner 2018

(Story)

Feb 22, 2018

HQ Takes AHN By Storm

(Story)

Feb 12, 2018

DIY Valentine's Day Treats

(Story)

Feb 01, 2018

ACHONA Rant Wheel

(Story)

Jan 30, 2018

Student Council Explains Schools Theme at Convocation

(Story)

Jan 26, 2018

Do People Believe in Horoscopes?

(Story)

Jan 17, 2018

Top Memes of 2017

(Story)

Dec 18, 2017

97X Next Big Thing Returns to Tampa

(Story)

Dec 01, 2017

Student Council Hosts Annual Cakewalk

(Story)

Nov 13, 2017

Sephora Adds ColourPop to Their Shelves

(Story)

Nov 03, 2017

ReVAMPing Halloween Candy Part 2

(Story)

Nov 01, 2017

AHN Student Council Announces Formal Date Change

(Story)

Oct 25, 2017

"Stranger Things" Returns for its Second Season

(Story)

Oct 13, 2017

How To Prepare for A Blood Drive

(Story)

Oct 06, 2017

Three Easy Snacks For After School

(Story)

Sep 28, 2017

AHN Seniors Embark on Costa Rican Mission Trip

(Story)

Sep 28, 2017

AHN Class of 2019 Pushed to New Heights at the Junior Retreat

(Story)

May 25, 2017

Underclassmen Honors Convocation

(Story)

May 17, 2017

AHN Speech and Debate Club's Hira Khan

(Story)

May 03, 2017

Spring Sports Attend Banquet

(Story)

Apr 26, 2017

Top 5 Free Things To Do in Tampa

(Story)

Apr 07, 2017

Which Bikini Best "Suits" Your Personality

(Story)

Mar 31, 2017

Threading vs. Waxing: Which is The Most Effective?

(Story)

Mar 27, 2017

Sophomores Embark on College Trips

(Story)

Mar 05, 2017

Guess the Makeup Brand by it's Logo

(Story)

Feb 26, 2017

Student Council Visits FASC

(Story)

Feb 13, 2017

Top 6 Chick Flicks on Netflix for Valentine's Day

(Story)

Feb 03, 2017

Five Insta Worthy Tampa Murals

(Story)

Jan 26, 2017

DIY Acai Bowl and Homemade Granola

(Story)

Jan 18, 2017

8 Beauty Hacks to Reduce Acne

(Story)

Jan 18, 2017

Footloose: The Musical UPDATE

(Story)

Dec 06, 2016

Class of 2017 Presents Movie On The Lawn

(Story)

Nov 17, 2016

Sophomore Projects for "All Saint's Day"

(Story)

Nov 10, 2016

AHN Is Officially An "Apple Distinguished School"

(Story)

Nov 08, 2016

ReVAMPing Halloween Candy

(Story)

Oct 24, 2016

Which "Friends" Character Are You Based on Your Starbucks Order?

(Story)

Oct 18, 2016

10 Struggles Only People With Unique Names Will Understand

(Story)

Oct 06, 2016

Drugstore Duplicates to High End Products

(Story)

Sep 27, 2016

Easy Halloween Themed Treats

(Story)

Sep 20, 2016

AHN's Welcomes New Gender Equality Club

(Story)

Sep 09, 2016

QUIZ: Which Harry Potter Mythical Creature Are You Based on Your Zodiac Sign?

(Story)

Sep 07, 2016

Hyde Park Village's Newest Additions

(Story)