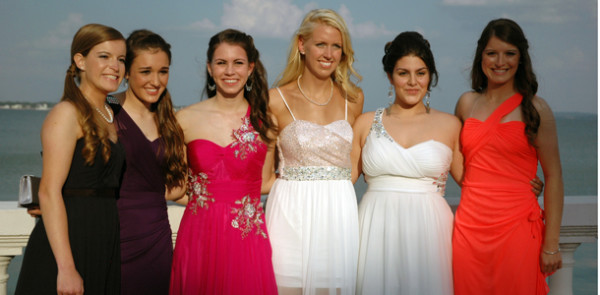 The "Secret Garden" Academy Prom theme lived up to its expectations this year when Academy students walked into the beautifully decorated ballroom of the Floridian Hotel on Friday evening, April 26.
Balloon columns wrapped with lights set off the dance floor, surrounded by dinner tables adorned with hydrangea center pieces.  The mood was set, and Academy girls were ready to party.
Juniors and Seniors personified the  definition of style whether the arrived with a group or solo. Beautiful gowns of all different styles and colors brightened the ballroom.
Guests took their seats at tables and ate a fabulous dinner consisting of A chicken marsala entree, a salad, and gourmet chocolate cake for dessert.
By the time Justin Timberlake's  'Suit and Tie' came on girls could no longer resist stepping on the dance floor.
The memorable evening came to a conclusion when Seniors Alex Diaz and Caroline Dolan were announced as Prom Princesses. Ashlee Wallace was crowned Prom Queen.
Wallace could not have been more ecstatic in hearing her name called by the Prom Committee.
"I threw both my arms up in the air and I just couldn't stop smiling", she confesses, "It just really means a lot to have so much support from my sisters and that they would crown me as Prom Queen!"