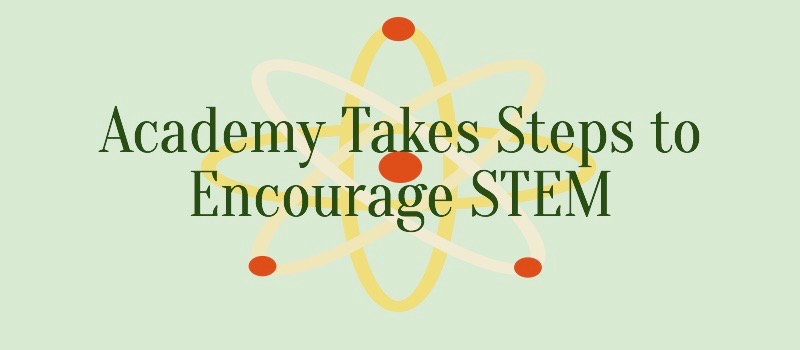 Photo Credit: Juliana Ferrie/Achona Online
STEM programs have taken high schools across the United States by storm by working to increase the number of students that will go into STEM-based careers. STEM is an acronym for science, technology, engineering, and math. The goal of these programs is to help peak the interest of high school students who have the potential to go into a STEM-based career, but have not been completely exposed to the opportunities that a career in one of these fields could offer.
"You can't be what you can't see" – Melanie, founder of @learningcode on importance of female role models for girls. #STEM #STAN2017

— Jess Tang (@jesstang7) February 22, 2017
STEM has become an important part of the academic lives of the students at the Academy. New classes have been added to the students' options for next year in order to not only increase student interest in STEM, but to also match the interest that already exists. Through clubs like Robotics, students have been able to pursue their own interest in STEM.
Sophomore Colleen Duffy, who is a member of the Robotics Team said, "I love robotics because it's a place where you can be you and once the robot is done, you feel so proud to know that you built it."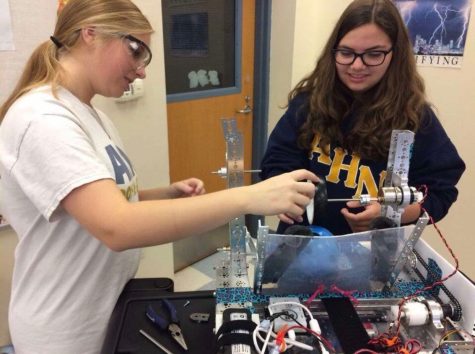 Some of the awaited classes promoting STEM include Introduction to Engineering Design, Advanced Placement Computer Science Principles, and Math Analysis/Trigonometry.
Within the Introduction to Engineering Design class, math teacher Anne Mikos, who will be teaching the class, plans to cover an introduction on how to create engineering designs. In addition, the class will teach students how to apply math and science, as well as to create 3D designs. To be in the class, students must have already completed geometry. The class is open to sophomores, juniors, and seniors.
Mikos said, "I am really excited that we are offering this class in general. I used to be an engineering major. I think it will be really good for our girls to be able to see what they are getting into if they are thinking about going into engineering in college."
In addition to the new engineering course, Academy will also begin offering an Advanced Placement Computer Science Principles class. The class will allow students to obtain an understanding of how computer science works, and will be taught by math teacher Jessica Lamm. As described by the Academy of the Holy Names 2017-2018 High School Course Guide, the class will place an emphasis on how technology has the power to change how the world works.
Academy will also be introducing a Math Analysis/Trigonometry class into the curriculum. The class could potentially be taught by Lamm. The Math Analysis class will cover previously learned concepts introduced in the Algebra II/Trigonometry class. Students will learn how to use problem-solving skills and will tackle several different types of functions, such as quadratic and linear functions. Students must have taken Algebra II in order to enter into this class.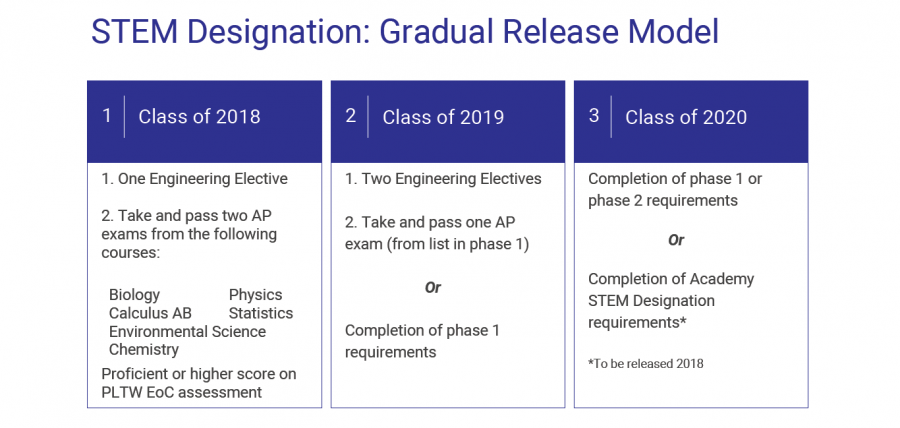 Some students have already become accomplished in the world of STEM through Academy's clubs, as well as already existing classes. One example of a student who has made strides within the world of STEM is senior Meredith Butler. Butler is not only the president of Academy's Robotics Team, but she is also the Project Manager of the Robotics Team at Jesuit. In addition, Butler has been involved in other areas of STEM, which includes her founding the SWAT, or Scientific Women Are Terrific, Club, which helps to encourage women to participate in the world of STEM. Recently, Butler won a prestigious award for her achievements within STEM.
Butler said, "I won the Central Florida Southwest Award for high school women who show leadership and dedication in computing."
Butler has taken classes such as AP Computer Science in addition to her participation in Academy's STEM clubs.
When asked about what motivated her to become involved in STEM, Butler said, "My dad really encouraged me to participate in STEM. He would wake me up in the middle of the night to see things going on with NASA. In addition, I watched Animal Planet when I was younger instead of other shows."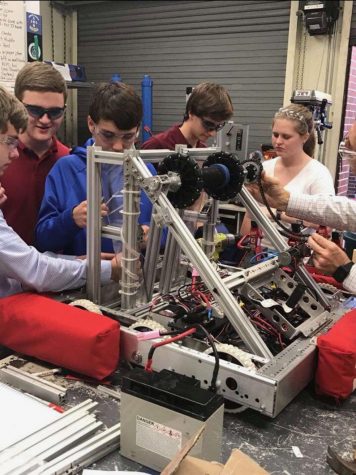 Through Academy's various classes and clubs, students are able to obtain a foundation in different parts of STEM. Academy's newest classes will help students begin to excel in not only the skills that are important to these careers, but they will also allow them to follow their own interests.