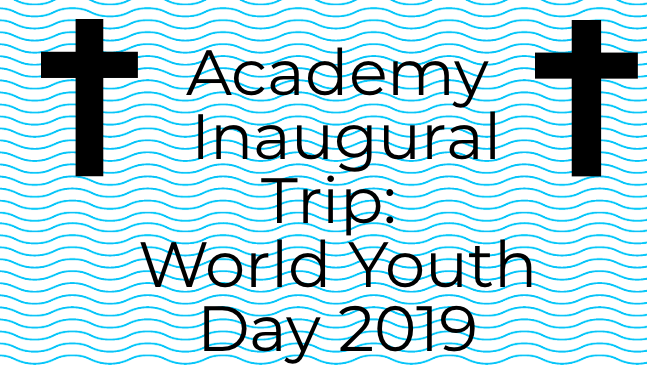 World Youth Day is an international Catholic event focused on religious faith and youth. World Youth Day 2019 will be held in Panama City, Panama. The event begins on Tuesday Jan. 22 and ends on Sunday, Jan. 27.  
In 2019, Academy students will embark on their first group trip to the event which takes place every three years. Students must apply to be members of the trip because there are limited spots to attend.
Myah Rhines ('19) says, "I think this trip is a good idea because I think everyone should have the opportunity to experience new places, especially overseas. It allows for us students to become more cultured individuals and meet new friends from around the world. I'm so upset that I can't attend in the summer."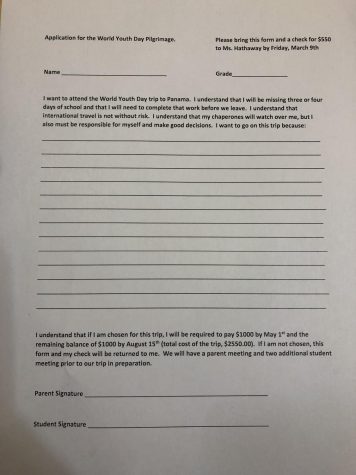 The event schedule begins about a week before the events start with Catechetical sessions being held in the host and nearby dioceses. On Tuesday morning, the official welcome for pilgrims will take place, and that evening, the opening ceremonies which is holy mass celebrated by the local ordinary of the hosts diocese will occur. Wednesday will include shows, music, prayer, and reconciliation opportunities. The Pope will deliver his welcome address on Thursday, and Friday will hold a stations of the cross in the evening. Saturday will consist of the walking pilgrimage in the morning followed by shows, music, and prayer once again in the afternoon, and an evening vigil with the pope in the evening. Finally, Sunday is the closing ceremonies which includes morning prayers led by bishops, Holy Mass celebrated by the Pope, and the next host diocese is announced by the Pope.
Dorothy Pickard ('20) says, "I want to go on this trip because I wanna meet other young people that share my faith in a new place because I have never been out of the country."