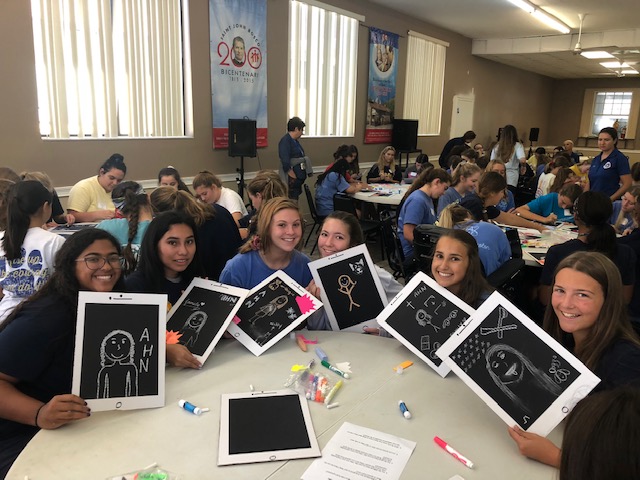 Photo Credit: Emily Pantelis/Used with Permission
On October 16, 2018, the annual Sophomore Retreat took place at Mary Help of Christians from 8:30 am to 2:15 pm. From the Academy of the Holy Names, sophomores, along with the chaperones, took buses to Mary Help of Christians, which was no more than a 30 minute drive.
The chaperones included Theology Teacher Jaime Meyer, Foreign Language Teacher Darlene Lanfranconi, English Teacher Sara Moses, Personal Counselor Emily Pantelis, Learning Resource Specialist Olivia Martinez, and Campus Ministry Coordinator Katie Holland. Holland worked with the team at Mary Help of Christians to plan the itinerary filled with fun activities that allow the students to grow closer with God and one another.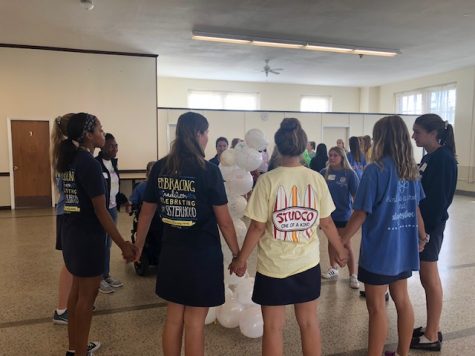 Pantelis said, "Retreats are designed for personal reflection and time spent closer with God. This specific retreat had a focus on 'Made in God's Image.' Therefore, activities at Mary Help were planned with that in mind.  It is more about what each individual feels they got out of it rather than what our hope is because each individual has a different relationship with God and themselves."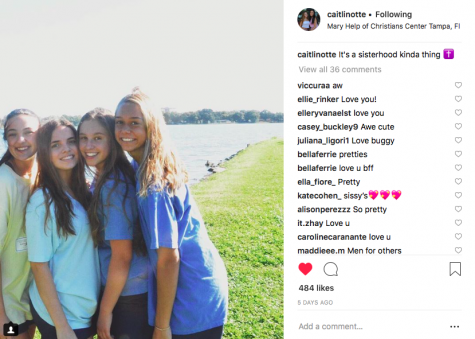 The day began with some activities aimed towards team building. The sophomores, who joined in hands, played Hula Hoop Pass, which involves getting the hula hoop through each person around the circle without unlinking hands. Next, each student, who was given a name tag, went into their groups.
Once they got into groups, the sophomores blew up balloons and wrote qualities in which they admired about friends and themselves. Each group was then given a few minutes to build a tower with solely balloons and tape. Shortly after measuring the height of each tower, they were given directions to pop all the balloons, which was accomplished in seconds.
However, the game had a symbolic purpose. It was more difficult to build the tower than destroy it, showing that building friendships takes patience and hard work, but demolishing them can take mere seconds.
Qemamu Reddick ('21) said, "I did think it brought us closer together and using it as an example of how we break our friend groups, and we can build them back up really helped explain that we should be nicer to each other. I do think it [the retreat] was planned well. I liked it better than last year, and I liked the activities. It was a lot more involved."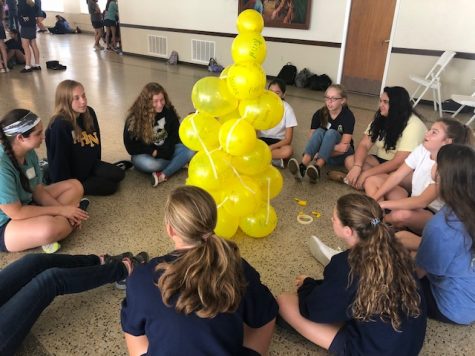 After the games, the sophomores convened in the lunchroom where a lady Antoinette Lloyd-Evans—a part of the Mary Help of Christians retreat team—gave a presentation focused on the importance of sisterhood, anti-bullying, mission work, and the love of God. She also intertwined Blessed Marie Rose and the school motto—"Esse Quam Videri"—to remind us to follow God's path and stand with one another. Next, Sarah Loos–the retreat coordinator–reminded the sophomores of the importance of face-to-face communication in a world where media and technology has taken over. Students were given their own makeshift phone, made of cardboard, where they drew their own Snapchat or Instagram story.
Meliza De La Cruz ('21) said, "The balloon part I felt like it gave like a really vivid representation of our friendship with each other. And I really liked the story one because it was relatable to us teenagers, and it was like a very fun activity, and we got to share, with new people that we really don't talk to during school, a little bit about ourselves."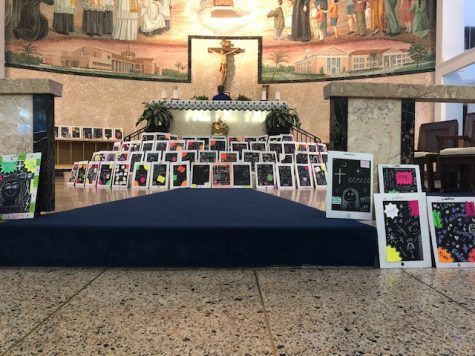 Next, sophomores took part in adoration, where Reconciliation was also offered. Another major factor in the retreat was the prohibited use of cell phones.
Abby Miller ('21) said, "I think it [social media/technology] really has taken over for people my age. I think my friends are pretty good at like making sure to not let our phones hinder our communication, but I think it is a big problem."  
Once adoration finished, sophomores convened in the lunchroom where there were cuban sandwiches with salad. Quickly after lunch, sophomores participated in Mass to conclude the retreat.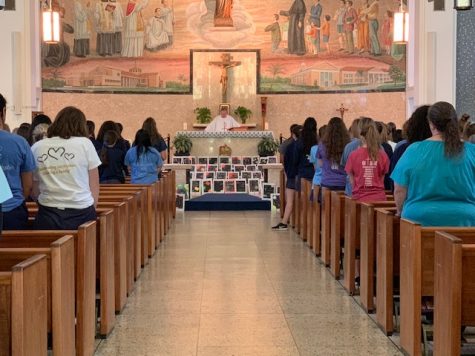 Pantelis said, "As for me, witnessing the sophomores spend time together in Adoration, Reconciliation, and Mass was beautiful. It is not often that we get that time to reflect or that time to just be in the presence of God without anything obstructing our path to Him. It showed the unity of this class, their relationship with God, and reminded me that Yes! We are all made in His image and how lucky we are!"