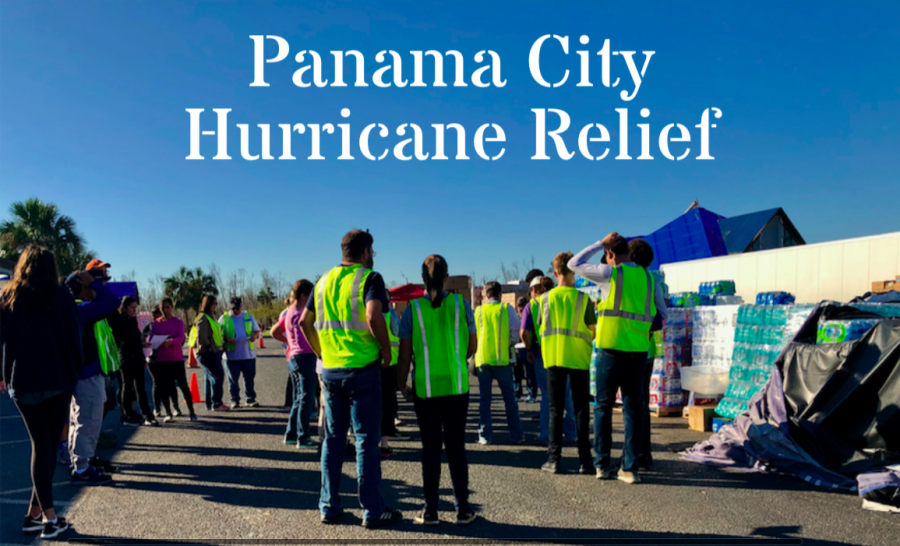 Photo Credit: Mei Lamison/Achona Online
On October 26, 2018, 15 Academy students traveled to Florida's panhandle to assist victims of Hurricane Michael. The girls were accompanied by Theology and Art Teacher Sister Lisa Perkowski, Administrator Rhona Wisniewski, Guidance Counselor Emily Pantelis, Principal Stephanie Nitchals, and President Art Raimo. Leaving Tampa at 12 p.m. on Saturday, the faculty and students drove eight hours from Tampa to Panama City.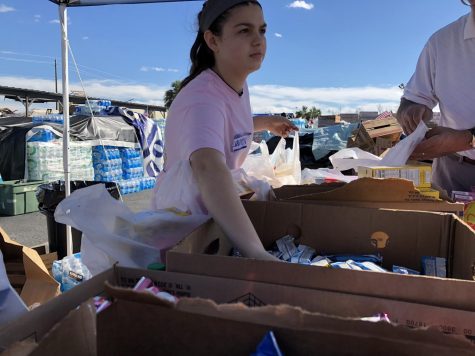 "It was a really big experience for me. I didn't think the area would be as bad as it was. When I looked at pictures and videos online, it didn't seem as bad. When you actually come to Panama City and actually see everything, your eyes just open so much wider. It's nothing like you've seen before. It's is a really big impact on a person," says Lauren Lidros ('22).
Hurricane Michael was the third most intense hurricane to ever make landfall on United States soil. With winds of 154 mph, the hurricane crashed into Florida's panhandle as a category four storm. There has been 45 U.S. deaths attributed to the storm, 35 of which occured in Florida alone.   
"My parents and many adults around me did tell me to prepare myself before coming on this trip. No one knew what they were going to see. I still was not prepared. The destruction was so much worse than what I had imagined. Seeing it was so upsetting," says Abby Miller ('21).
United States fighter jets, which were destroyed in the storm, cost an estimated $6 billion at Tyndall Air Force Base. At least $1.5 billion have been filed in U.S. insurance claims. Losses to agriculture and timber alone exceeded $3.68 billion.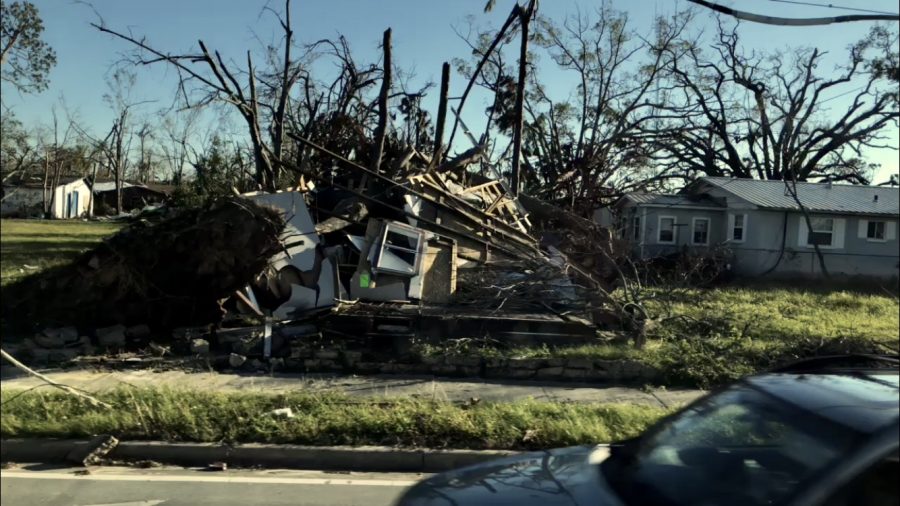 Most of the destruction is located in the cities of Mexico Beach and Panama City. Numerous buildings were damaged due to extreme winds, storm surge, and fallen trees.
"The trip was really eye-opening. You look at pictures in the news and on the internet, but you don't truly care or realize the destruction until you see it yourself," says Chloe Moussa ('20).
On both Saturday, Oct. 27, and Sunday, Oct. 28, the Academy faculty and students worked with Catholic Charities at St. Dominic's Catholic Church.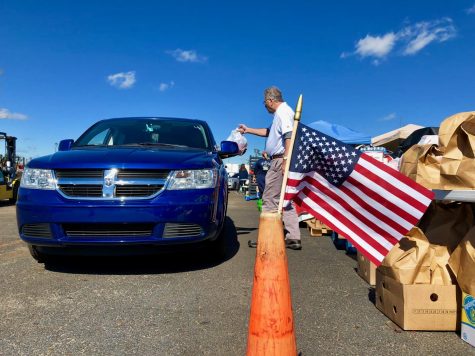 Although the church itself was severely damaged by the storm, St. Dominic's and Catholic Charities organized supply drives in the St. Dominic parking lot.
"I really didn't know what I was going to see coming down here. I realized how much damage there is here because of the impact of the hurricane. I'm just amazed with how people still have such a sense of hope inside. People who are just grateful to have electricity come back on or who are open minded to moving somewhere else or taking a new job somewhere else. People are letting go of where they have lived. These people are just taking it day by day. Some of the volunteers themselves may have damaged homes, but yet they are still here helping. I think that is what surprised me the most," says Perkowski.
Upon arrival at St. Dominics Catholic Church, students and faculty divided into small groups and were put to work at various stations. Each station handed out different needed supplies to hurricane victims. Stations included baby supplies, dry meals, snacks, pet food, toiletries, and other miscellaneous tools. 
"I gave people paper plates, cups, paper towels, and other basic things like that," says Laboy. "When people came through with kids, I would laugh with them and make them smile. The experience was incredible."
The students worked alongside other volunteers from both across Florida and the United States. Together the small groups handed out supplies both on Saturday and Sunday from 10 a.m. to 5:30 p.m. 
"There was something so unique about seeing everyone still being so happy. Despite the destruction there were smiles everywhere. No one had a bad attitude, everyone was thankful, and people were emotional. I saw all of this as I handed out supplies. It was amazing. The trip was such a wonderful experience, and I would definitely go again," says Moussa.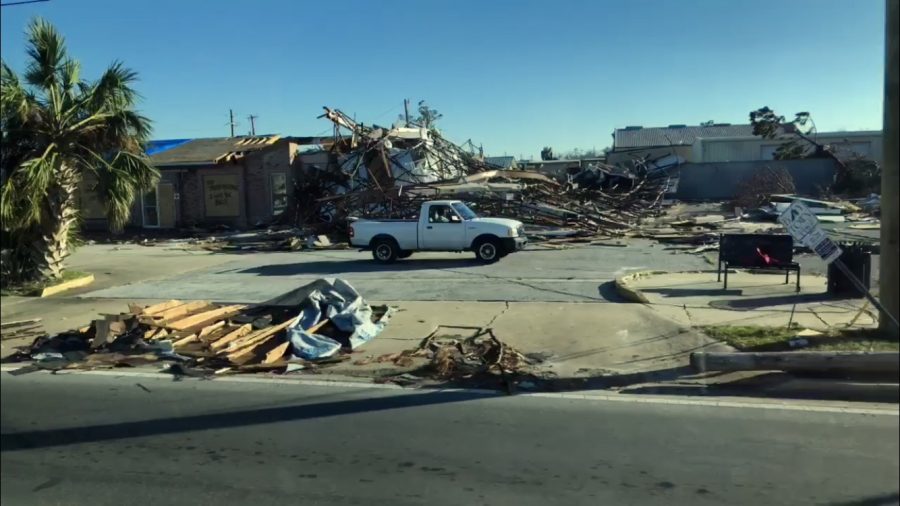 Along with offering their regular church services and other various supplies, St. Dominics also offered free medical care and hot meals during the day. These benefits were giving to anyone who came seeking help.
"It was really nice to be able to help people in need. It was also so rewarding to see how grateful all the people were. It was amazing to be able to witness an entire community come together," says Miller.
St. Dominic's is not able to hold services within its chapel. During the time of the trip, mass was held outside in the church's garden.
"I thought the trip was filled with a lot of joyful loving service. Really, everyone had such a great attitude working together with other people who just wanted to lend a hand. It was amazing to also see the faith and strength from those who came to receive goods. It was also very moving to see the mass itself. To see all these faithful parishioners come and gather outside in a grotto and celebrate the Eucharist and be able to realize that they can give faith to one another with all they still have," says Perkowski.
The Academy students were also able to travel to Panama City's Jinks Middle School and meet with the Principal Britt Smith. While talking to Smith about possible plans for reconstruction,  faculty and students were able to witness the hurricane's damage to the school. Jinks' gym, cafeteria, locker rooms, and some classrooms were destroyed in the storm.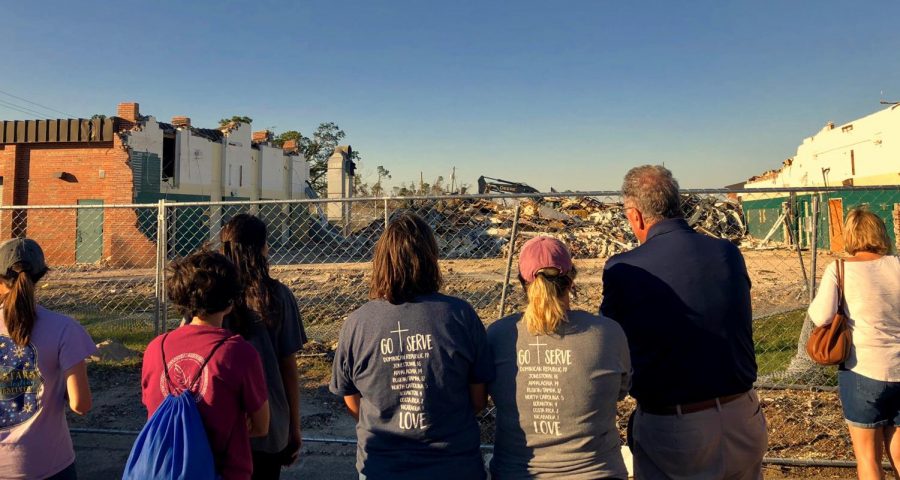 "The locker rooms have been condemned and of course the gym as well. We have also lost three portables and about a third of our cafeteria. Many of our classrooms were saved but the high school down the street lost about seventy percent of their classrooms," says Smith.
Due to the damage, classes at Jinks Middle School will not resume until late November.
"I wished more people had signed up for this. This was amazing. I cannot wait to do it again. Going out there and helping these people when they have nothing was just incredible," says Laboy.
To support the victims of Hurricane Michael, click here or here.  
To support Catholic Charities, click here.
To help rebuild St. Dominic's Catholic Church, click here.