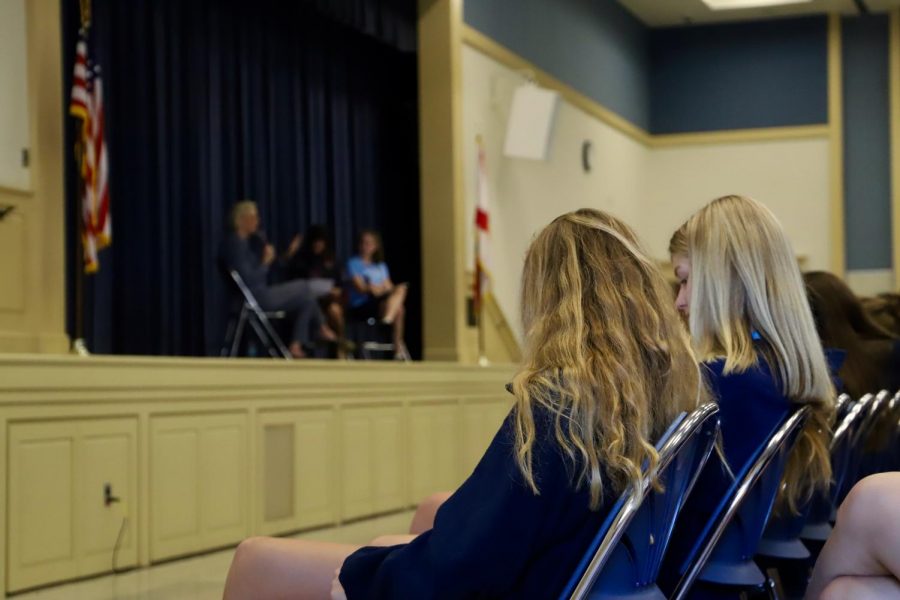 Photo Credit: Mei Lamison/Achona Online
On Monday August 26, Mayor of Tampa, Jane Castor, spoke to AHN's high school students during their first convocation of the 2019-2020 school year. 
Castor touched on various topics including her personal journey to mayor, her experience as Police Chief, female leadership, and women empowerment. 
She chose to have a Q&A session formed convocation where students emailed their questions to High School Principal Stephanie Nitchals beforehand. Castor later addressed those specific topics on the Brady Center stage. 
Achona Online was able to ask Castor a few questions after the assembly. 
A: What made you want to come to Academy? Is it because it's an all-girls environment?
Castor: "I do enjoy speaking to groups of young women, just about my experience and about their potential and possibility in today's world."
A: Did you have anyone growing up or later in your career encourage you to take on those bigger roles, even as a woman?
Castor: "My mother was always a great mentor, and in my family I was never told I couldn't do anything. It was just whatever you do, give it 110 percent. Unfortunately, though my career in the police department, the majority of my mentors were men, but I have had strong women certainly that forged a path for me when I was young. I don't consider myself a trailblazer because there were so many women that came before me, and I hope that all the young women at the Academy have many female mentors and examples that they can look up to and make their path that much easier to travel."