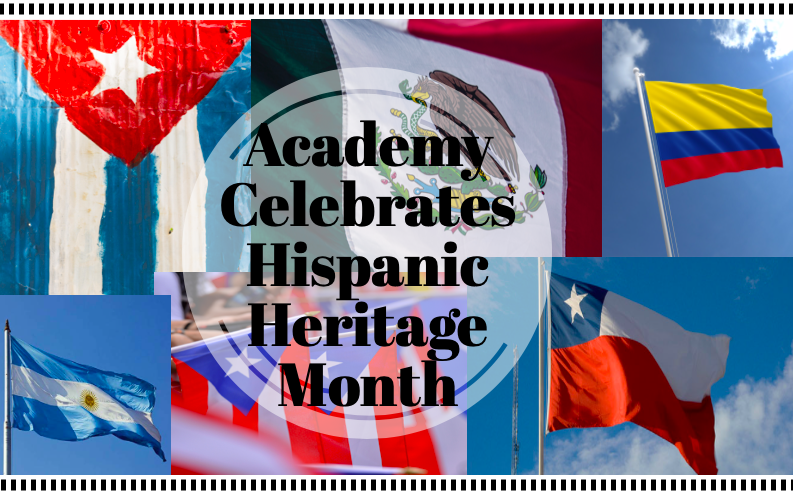 Photo Credit: Emara Saez/Achona Online/Piktochart
National Hispanic Heritage Month officially kicked off on Sunday, Sep. 15. The month celebrates the contributions of Hispanic and Latino Americans to the history, heritage, and culture of America and lasts until Oct. 15. Hispanic Heritage Month originally started as Hispanic Heritage Week, signed into law by President Lyndon Johnson 1968; it was expanded to cover a whole thirty day period by President Ronald Reagan in 1988.
Sep.15 was chosen as the start date because it is the anniversary of independence for five Latin American Countries: Costa Rica, El Salvador, Guatemala, Honduras, and Nicaragua. Mexico, Belize, and Chile also celebrate their independence days throughout the 30 day period.
"I think it's important to celebrate Hispanic Heritage Month because of the diversity present in the community. We should educate others and celebrate all of our differences. We may speak the same language, but we have so many unique traditions, foods, and cultures. Hispanic Heritage Month really highlights the diversity of the Hispanic community," said Ashley Canal ('22).
According to the Pew Research Center, the U.S. Hispanic population now stands at 57 million, making Hispanics the nation's second-fastest-growing racial or ethnic group. As a result, Hispanic Heritage Month is celebrated all around the country. Cities often hold parades and festivals all month long in celebration. Tampa's main celebration is the Viva Tampa Bay Hispanic Heritage Festival. The event is a cultural festival celebrating the contributions of Tampa Bay's Hispanic communities.
2018 VIVA TAMPA BAY HISPANIC HERITAGE FESTIVAL

Gracias Tampa por su apoyo. Disfruten el video del festival ViVa Tampa Bay Hispanic Heritage FestivalThank you Tampa for your support. Enjoy the video of the 4th Annual Viva Tampa Bay Hispanic Heritage Festival.Rumba 106.5 Gasolina USA Florida Restaurant and Lodging Association Ybor City Chamber of Commerce Pirulo Y La Tribu Charlie Cruz Official Los DUROS The Family Tampa Bay Federal Credit Union Dom Law, PA Tampa Bay Rays HCC Ybor Campus Ybor City Development Corporation Ybor City All American Music Productions, Inc. Course of Action Foundation

Posted by ViVa Tampa Bay Hispanic Heritage Festival on Tuesday, October 16, 2018
"Being Hispanic is important to me because it is a large part of my identity. Celebrations of my heritage blend my Cuban culture with my American culture. The blending of those two cultures reminds me of the diversity of the United States," said Isabella Ruano ('21)
Here at Academy, POWER (Passionate Outstanding Women Encouraging Respect) and Spanish Club are in charge of running Hispanic Heritage Month celebrations. Both clubs have worked in conjunction to plan several events throughout the month. In the morning, every week during the month, POWER members have been sharing "Spanish Phrases of the Week" over the intercom with the school. On Oct. 2, POWER and Spanish Club plan to give out Hispanic goodies, such as cafe con leche and guava pastries in the morning. POWER board members are also working on various projects throughout the month. Casey Martin ('20) is putting together a playlist of Hispanic songs to share with the school. Catie Berg ('22) put together a video about countries of origin and what it means to be Hispanic for Academy girls.
Spanish Club also put up posters about influential Hispanic heroes near the language rooms on the second floor. During lunch on Oct. 3, Spanish Club will hold a karaoke session featuring Hispanic songs and dance. If you are interested in participating, contact Casey Martin ('20). On Oct. 4, in honor of soccer's importance in Hispanic communities, POWER and Spanish Club are encouraging girls to wear their favorite soccer jerseys with their uniform bottoms.
"I am Cuban, and my great grandfather was from Spain. As a Hispanic person, it means a lot to me to see what POWER and Spanish Club are doing for Hispanic Heritage Month. It's important to recognize your heritage and where you came from. Never forget your roots and recognize what your ancestors and previous family members sacrificed for you," said Riley Rubio ('23).