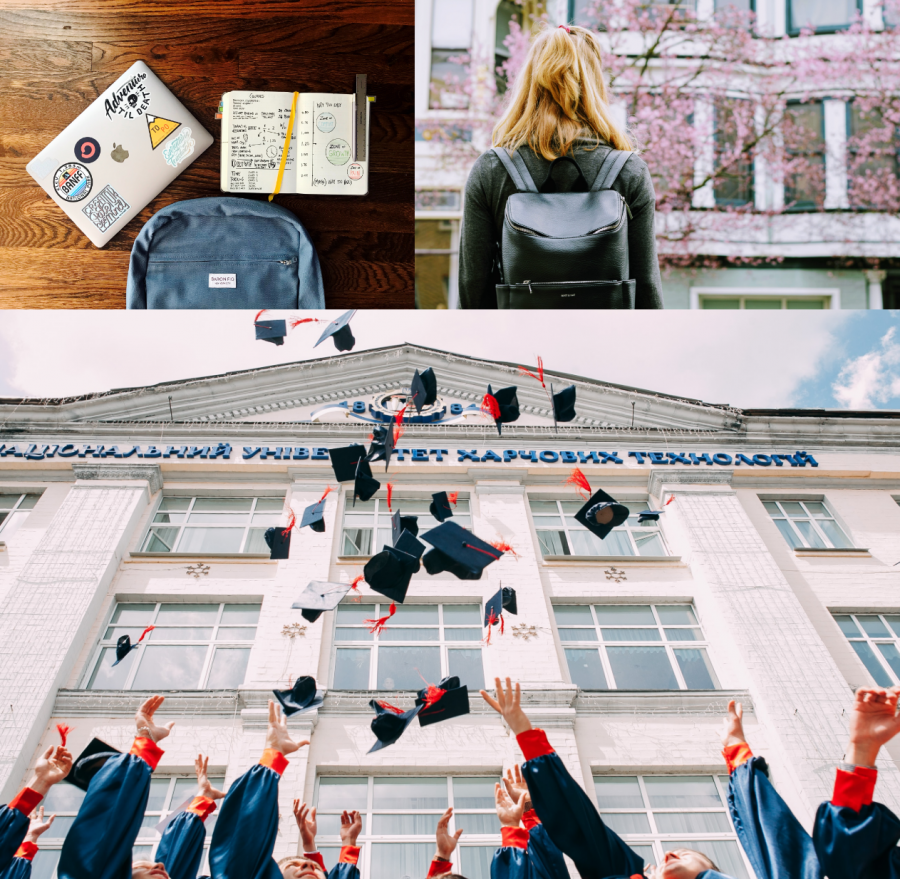 Hope Joffray/ Achona Online/ Piktochart
On top of juggling new schedules, sports, and other activities, the Class of 2020 is making their way through the college application process with deadlines quickly approaching. Many would say that filling out college applications, creating activity resumes, writing supplementals, and perfecting a personal essay is a completely separate class itself. With many seniors also juggling a large sum of Advanced Placement and Honors courses on top of college applications and other out-of-school activities, the workload piles up. As a result, the Class of 2020 is learning the value of time management. 
Lauren Jones ('20) said, "I've always tried to take advantage of any free time I have in order to get stuff done, but I can easily get off task. Since many of the application deadlines are so close together, it has forced me to get as much done as possible with any extra time I have outside of my other school work and activities. I've realized that each application is unique and you have to put your best foot forward in each, so it's important to take your time even if it means turning the application in a little later than the counselors want us to. The time crunch of filling out college applications has really made me take advantage of my nights." 
There are several components of the college application process. Many students underestimate the amount of time they will spend on just one single application. Deciding what schools to apply to is a whole other story. Questions arise regarding what type of school environment would be best for the student. How far from home do they want to travel? How much is their family willing to spend? Does the school they are applying to have programs that fit their needs? Are they considered a competitive applicant among the applicant pool? Does the school have other activities that the student could get involved in? Applying to college is a thoughtful process. 
Mary Kelly Cardillo ('20) said, "I do believe I underestimated how long the college application process takes. There's so much more that you don't think about. For example, the SSAR, Common Application/Coalition Application, and separate applications for each school you want to apply to. Also, if you want to apply to the Honors College of a school or for any particular scholarships there's a separate application for that. I would say applying to college is a whole extra class on top of your schoolwork and out of school activities." 
me taking a break after writing my name on a college application pic.twitter.com/mh7fXAFmZA

— 𝔸𝕊ℍ𝕃𝔼𝕐🧸 🍯✨ (@xbbg_ashleyx) September 30, 2019
With a large sum of the Class of 2020 applying to Florida schools, Florida Bright Futures comes into play. The requirements for the scholarships are as follows: 
Florida Academic Scholars (FAS) → A minimum weighted GPA of 3.5, a minimum 29 ACT or 1290 SAT, and no less than 100 service hours. 
Florida Medallion Scholars (FMS) → A minimum weighted GPA of 3.0, a minimum 26 ACT or 1170 SAT, and no less than 75 service hours.
Receiving a Bright Futures scholarship is a great financial option for students who wish to go attend college in-state. Receiving money to attend a college could be incredibly beneficial and prevents the student from having to pay off student loans after they graduate. On the topic of finance, many students are unhappy with the fees for each application, ranging from $30 to as much as $90. With the price of college itself, adding an extra fee just to apply seems a bit ridiculous to a number of people.  
Maria Paula Owens ('20) said, "I personally think application fees are a bit ridiculous. They can cost up to $80 which adds up when you want to apply to multiple schools. The more colleges you decide to apply to, the more expensive it is. For a lot of students, it's their duty to pay for application fees whether or not they have a job. You also never know the chances of you getting into the school so it could potentially be a waste of money. Another thing that adds to the expenses is sending your SAT scores to colleges, which is $12 every time you send one." 
Often times, students are confused about the difference between early decision and early action plans. With the help of AHN's college counselors, seniors are no longer confused about the meanings. The main difference between an early decision and early action plan is if a student applies ED the application is binding, meaning they must attend the college. When applying ED, if the student is accepted they have to revoke all of their other applications in order to show the college that they will be attending. Students primarily apply ED if it is their dream school and their family can financially support ir. An early action plan simply means that the student submits the application at an earlier date, which if accepted, allows them priority access to dorming and they find out if they are accepted at an earlier date.