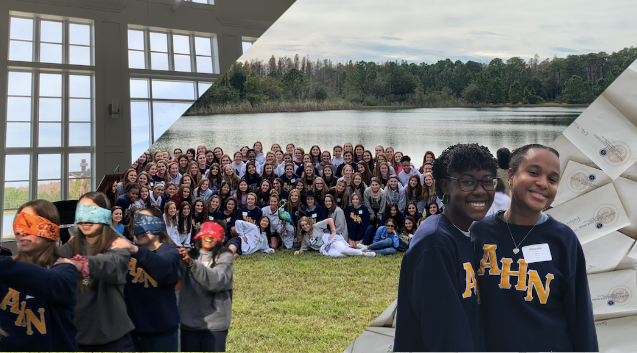 Photo Credit: Reagan Finch/Achona Online/Piktochart
This past Thursday, 130 freshmen, their senior leaders, and various faculty all headed to the Bethany Center for the annual freshman retreat.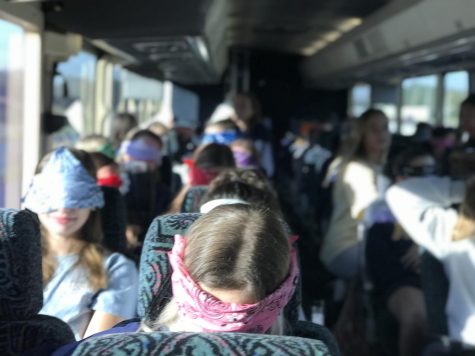 The retreat started differently than some upperclassmen remember- all freshmen were blindfolded. Girls held hands and shoulders blindly walking from the bus to the grass outside the Bethany Center. 
"I ran into a golf cart, but other than that I thought the activity was kind of funny," said freshman Alana Young.
The activity is intended to teach girls to trust their sisters, but seniors chose to include it because they were blindfolded their freshman year. And the seniors who lead their freshman retreat were blinded, and so on and so forth. It's a tradition that happens every three years. 
Then, seniors Tress Jacobs and Julianne Hahn led icebreakers to help welcome the freshmen and set the tone for the day. Games included 'I Love My Sister', and a hand raising game.
"I really liked all of the games, especially I Love My Sister," said Mary Grace Nash ('23). "It was a really great way to start off the day."
Once inside the building and an opening prayer, senior leaders began to give talks to give advice for the freshmen. The first was a video made by senior Reagan Finch, about Blessed Marie Rose and the history of AHN.
The next talk was given by Katelyn Chau ('20). In her talk she discussed our school's motto, Esse Quam Videri, and the true meaning behind it. She also discussed being authentic in a world filled with high expectations set by social media. 
"Esse Quam Videri urges us to be authentic and true versions of ourselves. Authenticity gives us freedom to be who we truly are. It allows us be comfortable in our own skin, letting us connect with other people in a meaningful and genuine way," said Chau.
Freshmen were then split into small groups, each led by one senior. In these groups they discussed the first two talks, along with strengthening their faith at AHN. Freshmen enjoyed talking to girls they had never met before, while also making connections with their senior leader.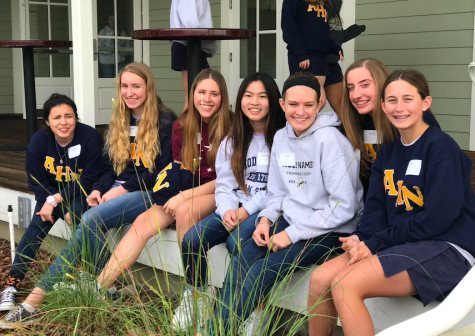 "I liked the small groups, the activities were really fun and I got to know everyone in my group well," said Alaina Salathe ('23).
Another talk was given by seniors Madeleine Gallagher and Samantha Weaver, discussing Academy Life. The two talked about how various clubs, athletics, and religion all affect students' time at Academy. 
"You do not understand the amazing four years that you have in front of you. I know the days seem long but don't wish them away because the years go too fast. Instead, take it all in and make them count before time you have left at Academy runs out. Before you know it, you will blink and be standing in a cap and gown with red roses in your arms, too," said Gallagher.
Freshmen then went back to their small groups to make bracelets, but with a twist. Each bead color had a corresponding question that girls had to answer, asking about their transition to AHN, how to make new friends, and more. Plus, they got a keepsake at the end.
After lunch and a quick group photo, the group headed to the Bethany Center's chapel to listen to the final talk, given by Kara Kivenas ('20). Kivenas keeping their faith strong, and various obstacles their faith would face in high school, and throughout life beyond Academy.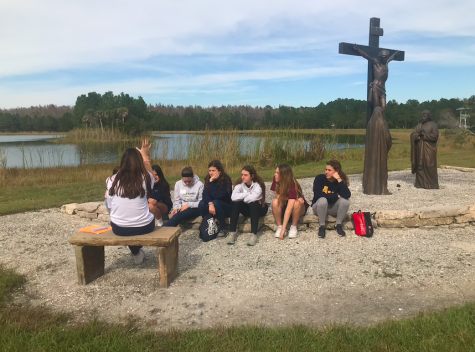 Soon after, the freshmen wrote a second letter to themselves, the first being at orientation at the beginning of the year. Girls were asked to go in depth and talk about everything they were feeling about AHN at the time. They will open it at their overnight senior retreat. 
Freshmen enjoyed the day and thought the seniors did a great job planning the retreat. Activities ran smoothly, and the girls felt closer not only to their fellow classmates, but also to their senior leaders.