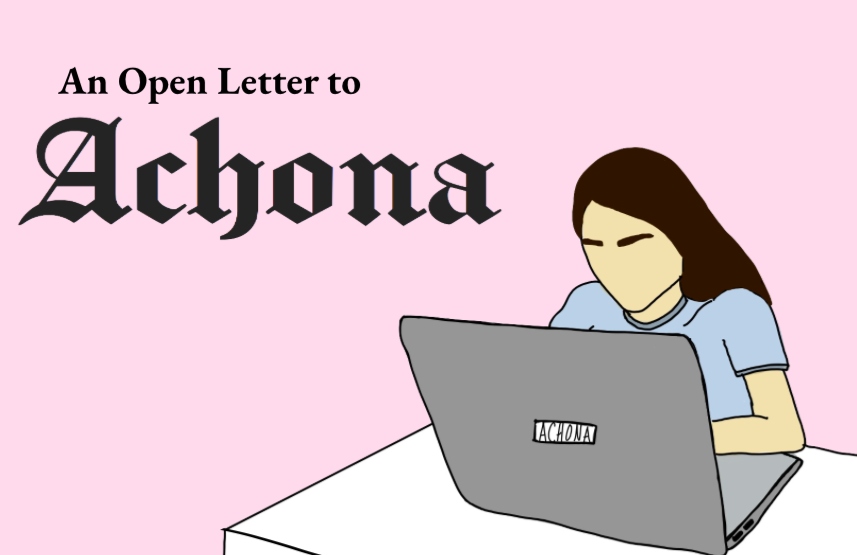 Photo Credit: Mei Lamison/Achona Online
Dear Achona, 
Three years and over 80 stories later, here we are. I'll admit, I've been procrastinating this letter. After all, given the class of 2020's current corona circumstances, the year seemed to end abruptly. No water wars, senior skip day, running of the halls, or traditional graduation. I spent our very last Achona class in my bedroom over a google meet call. Even though I am technically done with the school year, I knew that my Academy experience wouldn't really be over until I published my last article. 
So I waited. I kept pushing the task to the bottom of my to-do list and the back of mind. As excited as I am to begin college in the fall, I don't want my life to change and I especially don't want Achona to end. 
The past three years have been filled with absolute joy. No matter how I was feeling or what was going on in my life, I always knew Achona class would bring me some type of smile. Whether it be chatting with Juliana Ferrie sophomore year on the ilab floor, sitting in the back of Jaclyn McCauley's car during a junior year Parking Lot Karaoke video, laughing until I couldn't breathe with this year's staff writers, or venting to Ms. Cox about yet another AP Literature assignment, Achona always gave me with a warm and accepting space. In class I could talk about anything with anyone and form new friendships with people I would've otherwise never met. 
Achona, you have provided me with an outlet. You pushed me to ask questions, think deeper, and be creative. You taught me how to write on a deadline, how to talk to new people, and how to communicate effectively. You validated my opinions and provided me with the opportunities to share my passions with the rest of the Academy community. From editorials encouraging female participation in politics, to opinion pieces pushing for gun reform, to movie and concert reviews, you Achona, allowed me to truly express myself. I loved every single moment. 
Publishing my last story, however, would signify the end of this chapter. After this, I will no longer edit articles, look for new stories ideas, or beg my peers for quotes during the five minute break before Achona class. That, again, is why I am writing this today, nearly two weeks from when I was originally supposed to have this article published (sorry Ms. Cox). I don't want to leave Achona just yet. 
Not to mention, this year's writers were especially incredible. Georgia and Ella always reported on the most interesting and informative topics. Kristin wrote the most touching feature stories. Sawyer cooked the most delicious meals. Hope wrote the most amazing reviews. Casey made the most creative cover photos. Sydney created the most incredible Spotify playlists. Reagan edited the most hilarious and heartwarming videos. Alexa poured her heart into every story she wrote. Every single class period I was surrounded by the most talented, intelligent, and determined young women. I know they are going to go on to change the world. 
Reflecting back on the time I spent in the class, I now realize how lucky I was to be a part of something so empowering, inspiring, and beautiful. Achona is a truly amazing thing and I wouldn't be who I am today without it. Now, new adventures await. I know I will take the lessons and memories of you with me wherever I go. 
Achona, you always have been and always will be my favorite thing about the Academy. Even though I am officially signing off as Editor-in-Chief, I know that new writers who are poised, passionate, and curious about the world around them will soon take my place. 
Thank you Achona, for everything. 
Love, 
Mei Lamison