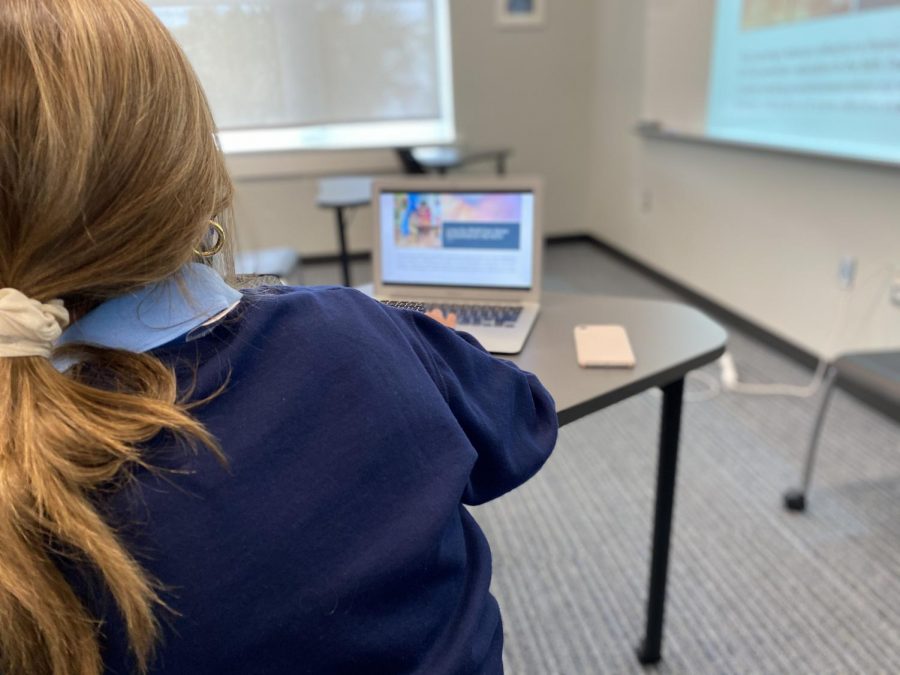 Photo credit: Melissa Cox/Achona Online
On September 9, 2020, Academy had its first high school prayer service run by the Mission and Ministry Peer Team. This new team is made up of students who have a desire to grow in their faith, and who want to walk with their peers on their faith journeys. The team also runs different activities, such as the prayer services. While I am part of this team, I would like to share the perspectives of other team members and their experiences.
The prayer service was a presentation about living the SNJM Core Value of Education in the Faith. It included quotes, songs, and reflection questions.
"It was truly special to interact with my AHN sisters in other grades, especially about something so near to my heart," said junior Laura Caroline Jung. 
Education in the faith is an SNJM core value. Faith is an extremely important part of attending a Catholic school, and sharing faith is essential.
"All around us, we can see all the wonders God has placed on the Earth. Even if we have faith in Him based on the world and what we see, we must also have faith spiritually and know He is always with us. We have to trust that God is and always will be there for us especially in our time of need. We can express our faith throughout our everyday life, and be the example for God's goodness," said freshman Bridget Moore.
Because this was the first advisory prayer service, not everyone opened up right away. Hopefully, in future prayer services, everyone will be more open to sharing in discussions.
"It was a little hard to get everyone to share at first, but once they saw it was really a safe place to talk about faith, so many opened up to their personal thoughts and beliefs. It was like a chain reaction; one after the other contributed, and it really made our discussion great," said senior Olivia Scarpo.