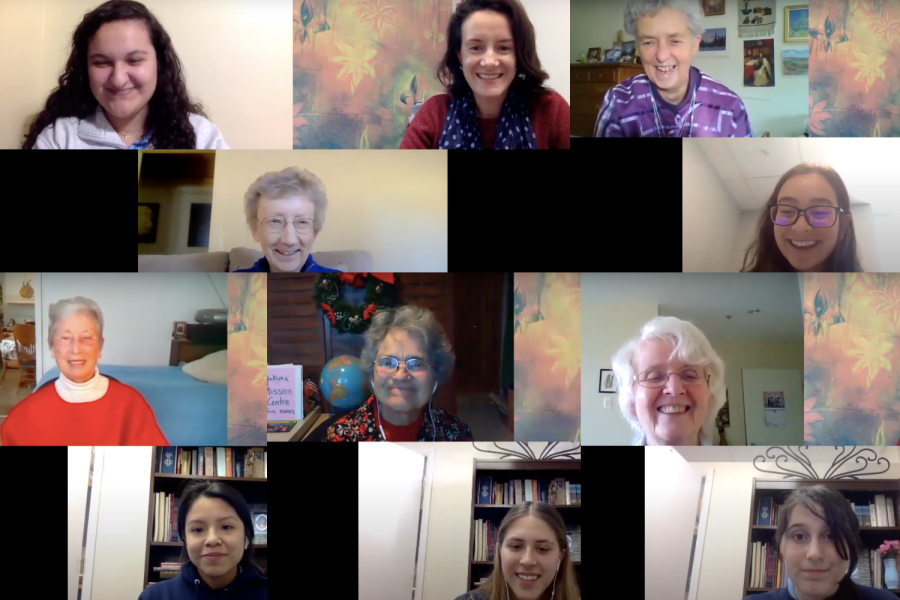 (Photo Credit: Adriana James-Rodil/befunky/Achona Online)
On Jan. 11 and 13, five Achona Online staffers each interviewed a Sister of the Holy Names of Jesus and Mary which were recorded on Zoom. First-year Campus Ministry Director Lisa Perkowski wanted to conduct these interviews with the Sisters whose reflections will appear in the yet-to-be-released annual Rose Project journal, which Achona got early access to in order to ask appropriate questions and engage in fruitful discussions relating to each of the stories of the SNJM's.
On day one of Rose Project Week, Sister Cynthia Canning relates her reflection to the virtue of seeing; on day two, Sister Kathleen Ross writes about learning and analyzing; on day three, Sister Mary Ellen Robinson intertwines her narrative with praying; on day four, Sister Marylyn Gibney reflects on the virtue of acting; and finally, on day five, Sister Kay Burton writes regarding evaluating.
Below are paragraphs written by each staffer regarding their interview along with trailers that include a few clips from their conversation, prefacing the release of each interview in full that will be shown to all Rose Project teams during Rose Project Week — one or two each day (these videos will also be released on the Achona website in the future as well).