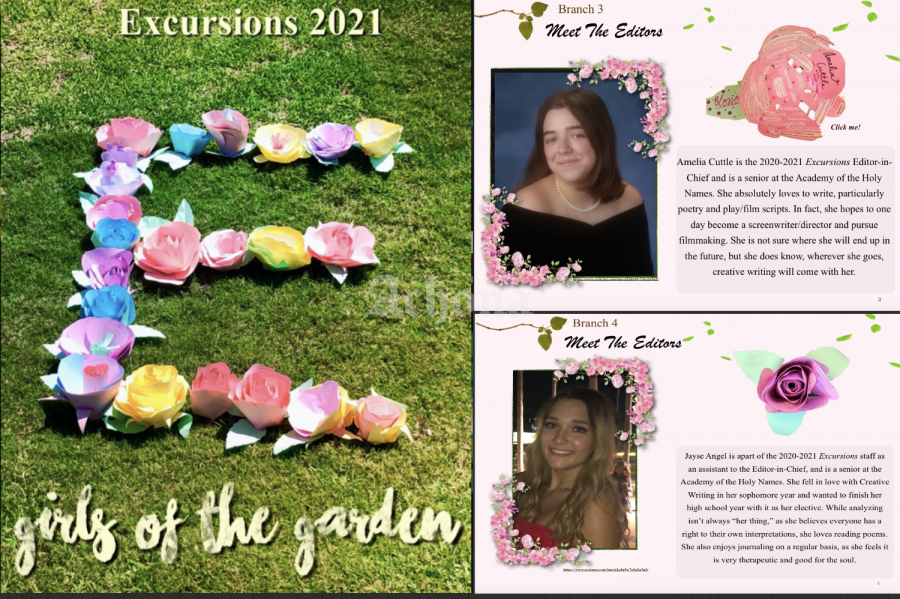 Photo Credits: Kimberly Egoavil / Piktochart
The 2021 edition of the Excursions literary magazine is now available in Apple books to be downloaded. This magazine focuses on works from students that were part of the creative writing class in the 2020-2021 school year.  The concept used this year is "Girls of the Garden" which can be seen throughout the detailing in the magazine, there are a total of eight flowers. Each branch is filled with a piece of writing; it could vary among a poem, an essay, a "black-out poem" or a short story.
Amelia Cuttle ('21), the Editor In Chief, said in the prelude, "I can compare it to a flower blossoming into its beauty. It's a slow process, an agonizing process, beginning from a moment a seed falls into Earth. As it grows, a flower will find itself deformed, struggling… sometimes it even dies in the process. But, with patience, with hope, with time — a flower will eventually blossom into its truest form. A form that, whether it is unique or plain, small or large, remarkable or lackluster… is, in its own way, beautiful." Each chapter of the magazine is an individual flower that is connected to what the writing will be about. For example, in flower two, the rose represents romance. "In this section — taking on the rose's aura of love — readers will be consumed in both lovely and cruel mystery of romance, mystique, and charm."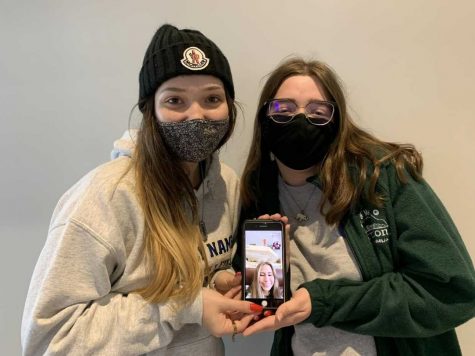 Sofia Girgenti ('23)  said, "I think that the magazine is a great opportunity to have your work showcased in a space where you feel comfortable for it to be shared; I am certainly excited to have a piece included because being alongside our classmates' pieces creates a sense of community."
Girgenti the author of "Childhood Neighborhood Adventures" said about her piece, " I started thinking about things that we all (mostly) experience in our lives, and I immediately thought of how as children, we just went on these "adventures" even if they were just in our front yard or in our small neighborhoods. But we thought of them as "adventures" because that was our perception of our surroundings and we, at that point, were not able to convince ourself that life was mundane. And I have such vivid, happy memories of those times that were spent in such simplicity, I wanted to write about how we can still go back to some of that childhood appreciation for what we have, for nature, for the little adventures, if only we were to look at it in a different way. And I tried to compare it to our feelings about things now, just to show that time and age make us more ashamed of things, but we weren't always that way."
The pieces for each edition of Excursions are selected from the work of students in Creative Writing I and II, and in this specific edition, 19 pieces were picked.
"We were all so impressed with the work of all the creative writing students this year, so we had so much to choose from! I do not think people realize how freeing writing is, and it was so amazing to see students who would typically never view themselves as writers create some really profound, beautiful stuff!" Cuttle said.
This magazine as well as the other editions from previous years are available for free download in iBooks. With the variety of writing found in "Girls of the Garden" there is something for everyone to enjoy.
With the final words of Editor in chief Cuttle, "I speak for my entire editing them when I say that I just really want everyone is able to really get something out of all of this. Because, ultimately, you open "Girls of the Garden," what you're getting is a unique, beautiful collection of the words and voices of so many people and the valuable lessons they hope to share."
Download "Excursions Literary Magazine 2020-2021: Girls of the Garden" here.
https://books.apple.com/us/book/excursions-literary-magazine-2021/id1565581951?ls=1