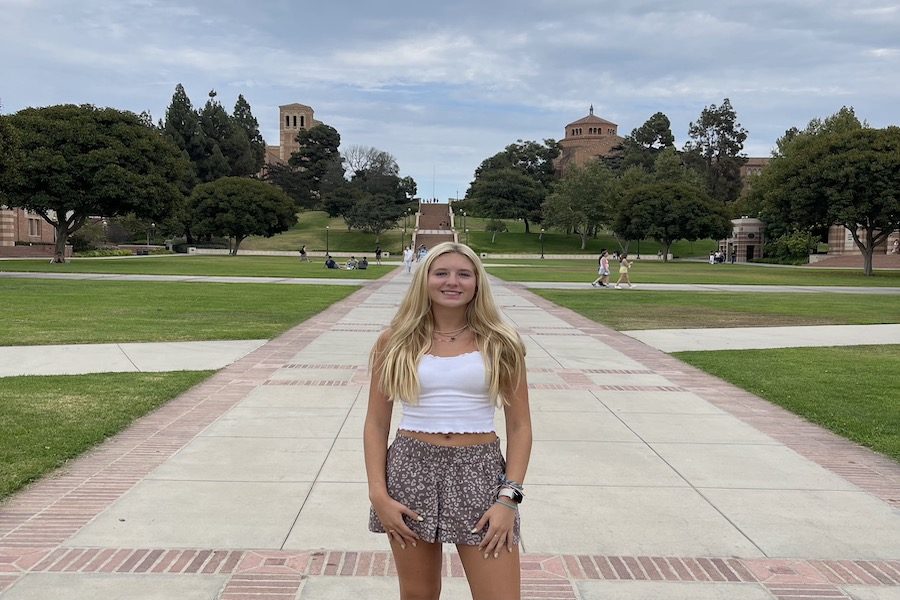 Photo Credit: Abigail Chudzinski/Used with permission
After-school clubs and volunteer opportunities play a prominent role in Academy life. Whether it be Math Team, Best Buddies, or Feeding Tampa Bay, students participate in organizations that are meaningful to them. This year, junior Abigail Chudzinski has decided to take on a more significant volunteer role. She will now serve as executive director of Cross Out Cancer, which seeks to raise donations for the families of pediatric cancer patients.
As a solely student-run organization, Cross Out Cancer aims to make an impact in the fight against pediatric cancer for Johns Hopkins All Children's Hospital in St. Petersburg, Florida. Academy alum, Lizzie Dolan (A'17), created this foundation in 2015 with the goal to raise money explicitly for the families of patients suffering from cancer. Over the past six years, the organization has raised more than $400,000 for hundreds of different families. This year will mark the seventh annual Cross Out Cancer 5k.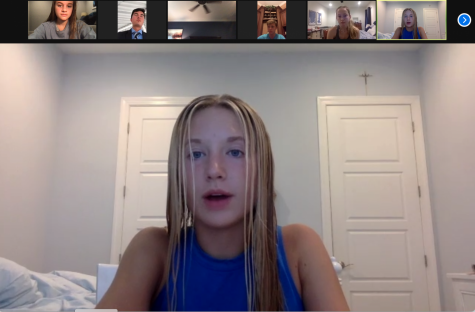 "Being executive director of Cross Out Cancer is very meaningful to me because I feel that I get to help so many people," explains Chudzinski ('23)
Chudzinski joined the Cross Out Cancer board in the fall of 2020 and immediately took on the role of communications director, where she worked closely with the former executive director, Grace Odmark ('22). Chudzinski organized meetings, answered questions posed by other volunteers, and handled any task Odmark needed her to take care of. Other volunteers agree that her hard work and dedication will make her a successful executive director.
"I know Abigail will be a successful director because of how hardworking she is. She's already taken on so much responsibility and has so many great ideas to make the race better," comments Grace Odmark ('22).
There are approximately 15,780 children who are diagnosed with cancer each year in the U.S. and over 300,000 globally. While survival rates for some cancers are increasing, cancer remains the second leading cause of death in adolescents ages 1-14. Cross Out Cancer seeks to provide these families with supplemental funding to take some of the expenses off their shoulders so they can focus on treatment for their children.
View this post on Instagram
"Cross Out Cancer is such a great organization not only because of the amount of financial aid we are able to raise every year but because it brings together students and businesses from all over Tampa," says board member Elise Favret ('22)
It's imperative that Cross Out Cancer brings in as many donations as possible because hundreds of families are counting on the extra money to cover car repairs, loans, groceries, treatment not covered by insurance, and anything else they need on a day-to-day basis. The average cost of pediatric cancer treatment in 2018 was an estimated $833,000, which failed to include time taken off work and cancer relapses for the patient. Unfortunately, parents pay more money per hospital stay because pediatric cancer progresses quicker and more aggressively than the cancer adults develop. 
"I feel that our donations really help the families that need it most, so taking a stressful burden off someone's shoulders so they can focus on their sick child is such a good thing," Chudzinski.
COVID-19, unfortunately, prevented an in-person 5k from happening last year, so instead, a virtual race took its place. The organization received the fewest donations it has seen since the fundraiser began in 2015. Chudzinski is working towards a more cohesive and collaborative board in an effort to make this year's race the most well-attended and well-funded funded event in the history of the organization.
When asked about her goals for Cross Out Cancer, Chudzinski said, "My goals for this year are to build a more constructive board in order to have a successful race and get a sufficient amount of funding."