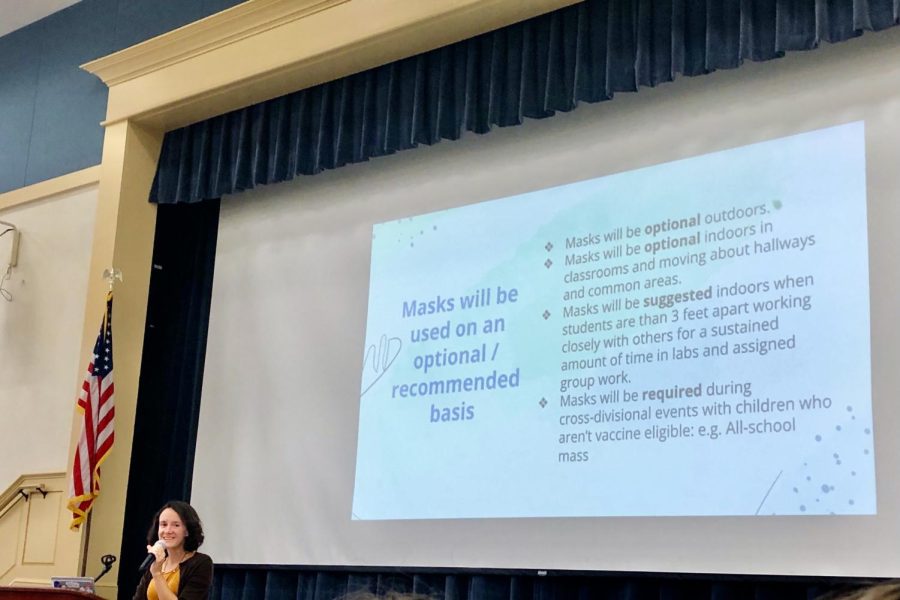 Photo Credit: Elise Favret/Achona Online
On Monday, October 18, students, faculty and staff gathered for a mid-semester convocation to break down the updated expectations for the rest of the semester. Among a revisit to the growth mindset ideals we are working to implement this year, as well as a look at the upcoming school events, Assistant Principal Erin Krukar and Principal Sister Lisa Perkowski explained the new mask and lunch policies as well as reinforced expectations for student behavior.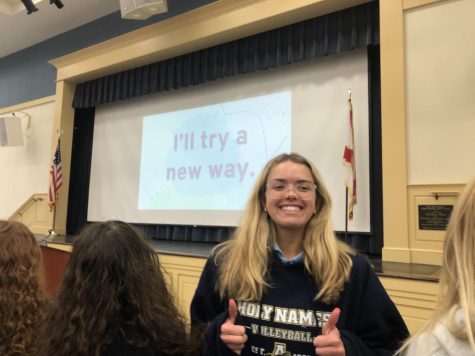 First outlined in an email sent to the students and parents by Academy President Kevin Whitney last Wednesday, October 14, the new mask policy is as follows: 
Masks will be optional outdoors.
Masks will be optional indoors in classrooms and moving about hallways and common areas. 
Masks will be suggested indoors when students are less than 3 feet apart working closely with others for a sustained amount of time in labs and assigned group work.
Masks will be required during cross-divisional events with children who aren't vaccine eligible: e.g. All-School Mass, work-study
Perkowski explained each point of the new policy and also gave examples of situations in which wearing a mask, although not required, may be encouraged. She advised the student body to use their best judgment in situations where individuals might feel more comfortable with both parties wearing masks such as one on one meetings with teachers, or group projects where social distancing is not possible.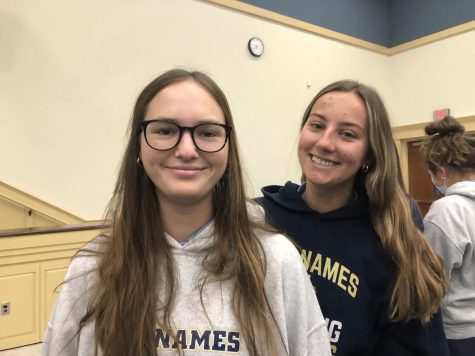 Following Perkowski's explanations, Krukar came to the podium to outline the new lunch policies. She explained the freshmen will now be eating in the Oak Grove, while sophomores and juniors have the option to eat in the Brady Center or the Oak Grove. Much to their excitement, seniors will now be eating in the four-square courts, the Brady Center, or the senior lounge depending on which they select in the Sign-Up Genius Krukar sent to the grade. 
Senior Katia Huddleston says, "I am so glad to be out of the oak grove and into the four-square courts, especially since the weather just got nice too."
Krukar, after acknowledging the student body's excitement at our steps in the return to normalcy, then explained that with the removal of the mandatory mask policy, and the reinstatement of student activities regretfully canceled last year due to Covid, the expectations for student behavior is also changing. She explained that a return to normal requires a return to the expected behaviors administration had become lax with in the last 18 months. Uniform checks, primarily including skort lengths and proper outerwear, will be conducted. Further, phone policies will be stringent, as all phones can now return to the phone pockets that were neglected during Covid. Finally, mass attendance and behavior will be closely observed. Krukar explained that a failure to meet expectations would result in after-school detention the day following infringement of the rules.