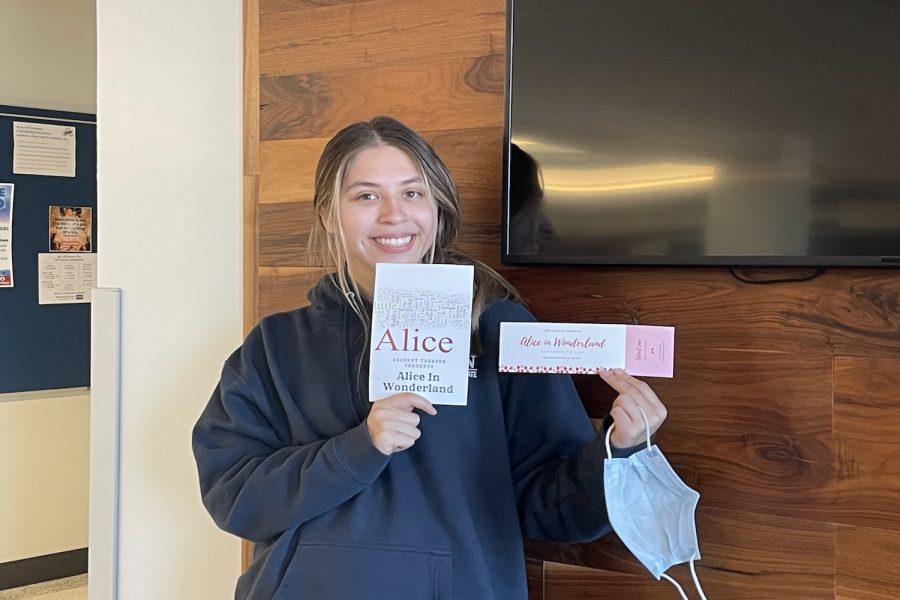 Photo Credit: Raquelle Elson/Achona Online
On November 7 and 8, Academy's theatre production put on a production of Alice in Wonderland. Directed by theatre department head Vivian Kimbler, the performances took place in the Bailey Center and were open to the public.
The production of this classic was a joining of three performing arts classes: Advanced Acting, Intro to Acting, and Technical Theatre. The show was starred in by the Advanced Acting students: Amelia Thibodeau ('24) as Alice; Julia Artz ('24) as The White Rabbit, one of the Fish Footman, and one of the Sheep; Guiliana Seise ('24) as The White Rabbit and the Dormouse; Sabrina Grayson ('24) as the Mouse, Gryphon, Humpty Dumpty; Ximena Sanchez ('23) as the Lory, March Hare, and the White Queen; Bella Otte ('24) as Eaglet, the Duchess, and the White Knight; Isabella Fisher ('24) as the Caterpillar, the Mock Turtle, and one of the Sheep; Amanda Stephens ('24) as one of the Fish Footman, the King, and the Voice of the Jabberwocky; Emily McClelland ('24) as one of the Fish Footman and the Red Queen; Georgia Head ('22) as Cheshire Cat, the Queen of Hearts, and Tweedledee; and Mikayla Croissant ('22) as DoDo, Mad Hatter, and Tweedledum. Art teacher Melissa Lima allowed her cat Henry Wallace to star as Alice's Cat Dinah.
Thibodeau said, "I really enjoyed working on the show. I was able to work with and become friends with people I thought I would never talk to. I was a little overwhelmed at first but we were able to pull it together and I am so happy with how it turned out."
View this post on Instagram
The performances of the Advanced students were enriched by that of the Intro to Acting students: Mia Bento ('25) as Card 8; Jennon Hassoun ('25) as Card 2; Sophia Hogarth ('25) as Card 5; and the birds played by Bela Browning ('25), Karly Luikart ('24), Madison Minick ('25), Bridget Moore ('24), Raquel Rosado ('25), an Ruby Sobus ('25).
The show was produced and perfected were manned by the crew, led by stage manager Isabel Bequer, consisting of the Technical Theatre students: Adeline Angelone ('24), Kylie Bell ('22), Emily Bennett ('22), Nicole Bianchi ('25), Addison Brown ('24), Colleen Buckhorn ('23), Bella Burns ('22), Grace Callahan ('25), Reese MacDiarmid ('24), Gabby Martinez ('23), Morgan McPherson ('24), Gabrielle Morrison ('22), Marcela Perilla-Pena ('25), Meagan Price ('24), Emme Shoop ('24), and Jude Whittlesey ('25).
Tech theatre students Gabby Martinez ('23) and Colleen Buckhorn ('23) said, "It was a high stress environment, but it was all worth it in the end. The collaboration between the cast, crew, and Ms. Kimbler ultimately led to the success of the show. It made us feel very important to be in charge of stages right and left."