Asolo Theatre Returns to Academy for Ninth Year
October 23, 2017
 The Asolo Conservatory Program is a three year graduate degree program, through Florida State University, that has been performing at the Academy for nine years. This year's performance was Shakespeare's "Julius Caesar".
Credit: Sam Garateix/Achona Online
The students that perform for the Academy are all in their third year of the program and all have intentions of continuing their acting career after college.
"My wife and I are looking to move to a city that benefits both of our talents; she is a costume designer," says Andrew Bosworth (Julius Caesar).
Bosworth said, "Most of our actors have intentions on moving to New York or Los Angeles to continue their acting careers."
The actors have extensive training in front of live audiences and perform anywhere from five to seven times each week.
The actors spend about four weeks on average preparing for a show, however this production was only practiced for about two and a half weeks due to Hurricane Irma.
Credit: Sam Garateix/Achona Online
Before each show the actors do a brief group warm up, but are also expected to warm up on their own.
"When we have a long drive to our destination we do an extremely abbreviated warm up, sometimes 20 minutes, because for an early morning show no one wants to wake up at 3:00 a.m. to do a full warm up for a 7:00 a.m. show," said Bosworth.
The Asolo traveling theatre only performs for high school and middle school audiences.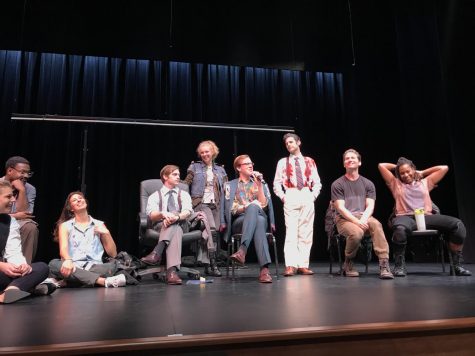 "It's great [performing for student audiences] because there is an understanding that this is not perfect theatre; we get more candid reactions from students than adults, we feed off of that," said Bosworth.
"I really liked the modern take on Julius Caesar and as a senior I have enjoyed watching them for the past four years and hope that I am able to see them again after I leave Academy," says Jaed Seymour ('18).
Bailly Gray ('20) said,  "I thought it was very interesting and I really liked how they took the play, made it modern, and put it in a different time period to make it more interesting."
Most of the conservatory's actors have been performing from a young age. Bosworth recalls first performing on a stage in middle school.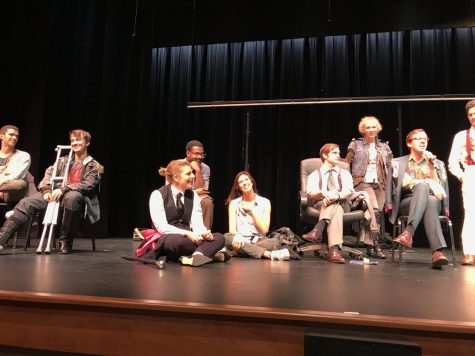 "A lot of us like to say that we have been dramatic since we were little, but most of us did not start acting on a stage until middle or high school," said Bosworth.
"The times when you can see people, communicate with your audience, speak to people, and have a sort of conversation are my favorite parts about performing for a live audience," said Bosworth.