Greta Dieck plans Cross out Cancer 5k
October 13, 2017
The third annual Cross out Cancer 5k will take place on Nov. 18, 2017 starting at 9 a.m. The 5k run was started by Academy alumna Elizabeth Dolan ('17) who now attends Yale University.
The project was passed on to Greta Dieck ('19) to plan and carry through. Dolan, Dieck, and Lindsay Calka ('17) worked together to create the event and reached out to high school cross country teams in the Tampa Bay area to help spread awareness about the run.
"Last year Lizzie was in charge, so I shadowed her to an extent and I did additional side jobs. Taking it on this year has been a larger responsibility. It has been a little more stressful because a lot more of it is my responsibility. It's been more difficult to manage especially because both Lizzie and Lindsay graduated and they are the founders."
Dieck chose Katie Jones ('19) and Alexa Frederiks ('20) as board members to help her plan the event.
"One of the prerequisites is that the board members have to be cross country runners. I chose Katie and Alexa because they are both incredibly responsible and I know they would put everything they had into the project. "
Dieck shares the important steps about planning the race, "First is the park application, which sounds like it would be pretty easy to do, and it was, but in my mind it snowballed into this much larger thing. It was a big thing to get in. Coordinating meetings with the representatives was also difficult. Another big thing we've been planning are the logistics of the race and how it is going to look on race day."
Last year's Cross out Cancer was able to raise over $65,800 beating their goal of $50,000. All of the money was donated to help cancer patients and families at All Children's Hospital. Dieck's goal for this year's run is to raise $65,000 and to host over 600 participants. "$65,000 is a pretty big goal and it's intimidating but that just means that we have to work as hard as possible to get that down and secured," Dieck said.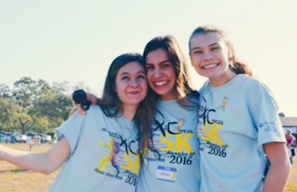 Dieck isn't the only one encouraging others to participate in the race, teachers are getting involved as well. Spanish teacher, Mickey Stagg, is offering five extra credit points to students who go if they write a short reflection on it. Theology teacher, Brian Butterly, is giving all of his students a free quiz or discussion post pass if they attend the race. Math teacher, Jessica Lamm, will also give a free homework pass to her pre-calculus class for those who attend. The history department is debating giving credit to those who go to the race.
Register for the Cross out Cancer 5k here.