Music Appreciation Week
March 21, 2017
The first annual AHN Music Week this year is being hosted by the Tri-M Music Honors Society and Quarter Notes. The month of March is recognized as National Music in Our Schools Month (MIOSM). MIOSM is the National Association for Music Education's annual celebration promoting the benefits of high quality music education programs in schools. MIOSM began as a single day statewide celebration in New York in 1973 and grew to become a month long celebration in 1985. The purpose of MIOSM is to raise awareness of the importance of including music in a child's education and remind school's of the importance of providing students with the opportunity to grow in their musical education.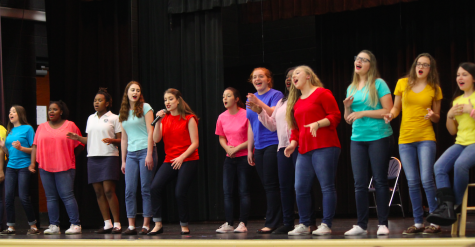 Senior Rachel Tata says, "We thought it would be fun to celebrate for a week and have lots of fun, engaging events and performances for everyone! I think it's a really great way to unite everyone and showcase the amazing talent we have here."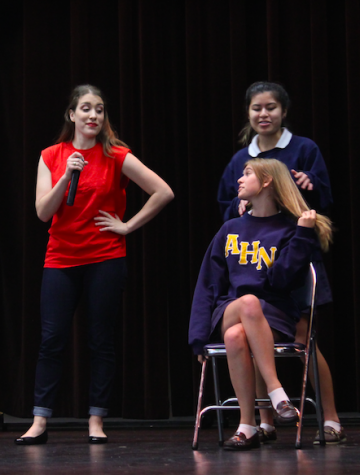 Throughout the week, activities will be held during lunch in the Brady Center to celebrate Music Appreciation Week. On Monday, Broadway day, the Quarter Notes and guest stars sang songs from Rent, In the Heights, and I Miss the Mountains. Tuesday was 60's day, where there was performances of "California Dreaming" by the Mamas and the Papas, "Chapel of Love" by the Dixie Cups, and "Ticket to Ride" by the Beatles. On Wednesday there were various performers for open mic day, which is when anyone can sign up to perform. They sang everything from High School Music to "Wannabe" by the Spice Girls. English teacher, Dr. Lauren Oetinger even joined in on the fun performing with Junior Maddie Obregon. On Thursday, Classic Rock day, there was performances of the classic songs "Don't Stop Believing" and "Livin' on a Prayer". On Friday, there was another open mic day to close the week. Senior Samantha Stagg performed "Unfaithful" by Rihanna. There was also a performance by Senior Liz Benjamin and Sophomore Mia Leto singing "Closer".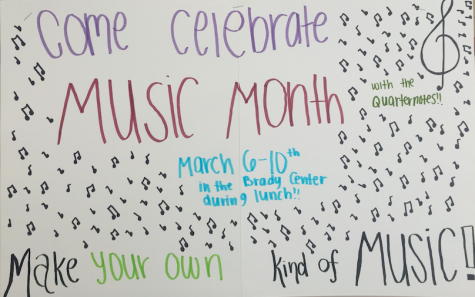 Senior Liz Benjamin says, "As a member of the band Donezo, I love to perform on stage and get the crowd going. I have never taken music classes during my time at Academy but I wish I had."
Sophomore Mia Leto says, "Open mic was a great idea. It was really fun and got a lot of students involved in the celebration."
To increase AHN student participation in Music Appreciation Week, Friday was declared a tag day where students could wear any band, concert, artist or music T-shirt to showcase their love for music.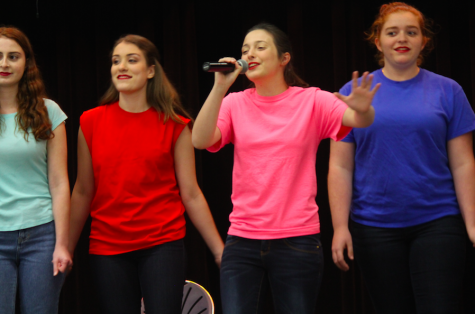 Tata says, "Not many schools celebrate National Music in Our Schools Month, and I think, if planned right, it would be really amazing if we did it every year. I love seeing everyone from every grade just having fun, getting into the performances and not stressing for just a short 30-45 minutes every day."