Academy Puts on "The Savannah Sipping Society"
December 11, 2020
This year, Performing Arts Director Vivian Kimbler directed Academy students Abigail Chudzinski ('23), Ximena Sanchez ('23), Mikayla Croissant ('22), Natalia Guzman ('23), Isabel Becquer ('23), Julianne Bland ('21), and Andie Rogas ('22) in "The Savannah Sipping Society." 
"Together," Kimbler describes, "[the characters] discover lasting friendships and renewed determination to live in the moment and, most importantly, realize it's never too late to make old new friends. So raise your glass to these strong Southern women and their fierce embrace of life and say, "Cheers!" to this joyful and surprisingly touching Jones, Hope, Wooten comedy!"
To comply with social distancing guidelines, the drama department offered students the opportunity to view the play digitally with this link.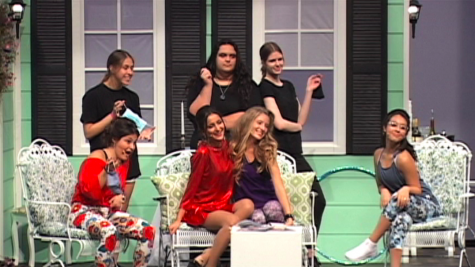 The show starts with Randa, played by Chudzinski, describing how she recently lost her job at a big architectural firm. Randa decided that to expand her social circle, she would take up hot yoga, but the character was in for a surprise when she found out there was more exercising than socializing at the class. At the class, Randa meets Marlafaye and Dot, played by Croissant and Sanchez, who were both equally exhausted by the class. The three strike up a conversation, and Marlafaye and Dot wind up inviting themselves to Randa's home for happy hour. 
While enjoying themselves at Randa's, Dot reveals she invited a fourth woman to their party. To Randa's dismay, the woman is revealed to be Jinx, played by Guzman, the same woman she had had an altercation with over the line at a grocery store earlier. Quickly, though, Jinx and Randa bond over Randa's cheese sticks and the four become fast friends. 
As the women begin talking, it becomes apparent that all four are struggling as they age. Marlafaye is getting over a nasty divorce, Randa doesn't know what to do with her newfound unemployment, Dot grieves the death of her husband, and Jinx is trying to take care of her declining older sister. Jinx reveals to the group that she hopes to become a life coach and that Dot, Randa, and Marlafaye would make the perfect first clients. Jinx then leads them on a series of adventurous outings including salsa dancing, attending a renaissance fair, and asking men out for Valentine's Day dates. The women eventually realize that they've found comfort with one another, and the play ends with the group taking a trip to Paris.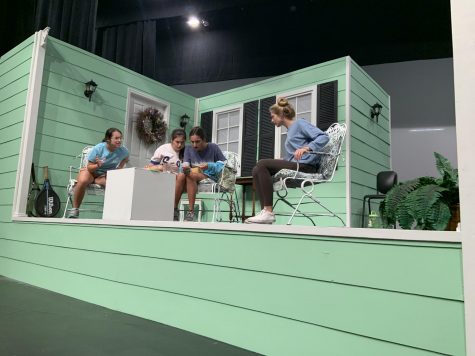 While the story could not have been better picked for an all-girls school for the mere fact that the women realize they don't need a man to be happy, it was really the cast and crew that made it so entertaining. Every member of the cast was nothing but comfortable on stage and each delivered a needed aspect to the play. Croissant nailed Marlafaye's Texan charm and crass outlook on life while Guzman truly mastered her character's carefree and positive personality. Sanchez's performance was also excellent, as she expertly showed Dot's progression from reluctant to risk-taking. Finally, Chudzinski perfectly showed her character's neurotic, work-obsessed side while also balancing it with her witty, encouraging side. The set design was also beautiful and greatly supported the play's Georgian setting.
Croissant says, "We only rehearsed all four of us together for one week." One certainly wouldn't know it from watching the play. If anything, it seemed as though the group had been rehearsing for weeks. Though she was sad she wasn't able to perform the show for a live audience, Croissant also looked at the positive side. "The fact that we were working in class was much better than staying after school two days a week."
Up until the final week of rehearsals, Sanchez had been working with the cast virtually. "It was hard to keep motivated," says Sanchez. "You can see their chemistry building and to work through a laptop is not the same at all. I was worried I was going to be lost but it ended up being okay."
Still, Sanchez and Croissant enjoyed their time working on "The Savannah Sipping Society."
"My favorite part was getting to work with such a small cast. In comparison to big musical numbers, there was a lot of bonding. We're already starting another play called 'Overtones'," says Croissant.
Sanchez says, "It got exhausting but having only four of us there helped things go more sleekly. I felt much more comfortable with the material because we got to work on it every other day in class."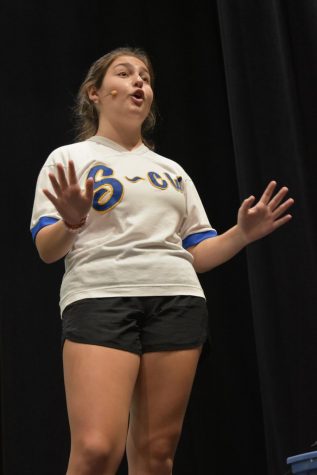 In all, the play was wonderfully done, hilarious, and overall entertaining. And, if you haven't had the opportunity to already, I highly recommend watching it at the link above.