Olivia Wilde's surprises many with new film "Don't Worry Darling"
October 6, 2022
As a massive Harry Styles fan, Olivia Wilde's "Don't Worry Darling" has been on my mind for about two years now. I walked into this movie with very high expectations. Not only because my favorite artist stars in it but also because Florence Pugh, one of this generation's best female actresses, is also in the a lead role. 
The movie is set in a  perfect, romantic 1950s life full of sunshine and a beautiful wardrobe. I thought Olivia Wilde did a wonderful job displaying just the right amount of eeriness growing within the environment as the movie went on. At the beginning of the plot, nothing weird about the town "Victory" was evident, but towards the end the music in the background and focus on the setting made the audience know that this indeed was not the perfect life. 
The other aspect that made the film stand out was the acting. Since the film's release, the public has been criticizing Styles' for his "poor performance" as Jack Chambers. I fully disagree with these statements. I thought his performance was quite impressive for his first major role in a popular film. I must especially give him credit for acting next to the iconic Florence Pugh. Harry perfectly captured an innocent and love-struck character, and as the movie went on the audience saw his actions become much more intense and it was not at all what I was expecting.
.@oliviawilde's 'Don't Worry Darling' starring Florence Pugh and @Harry_Styles stayed top of the box office for a second consecutive weekend.

The film:

• Topped the charts every day last week
• Is up to a strong £6.2m total so far

Full details: https://t.co/8dUdzW875m pic.twitter.com/EVA1qUFvxf

— Screen International (@Screendaily) October 3, 2022
Florence Pugh was also absolutely incredible. I have loved her work ever since I watched Little Women for the first time, where Pugh starred as Amy, and she did not disappoint. Her acting was like a breath of fresh air and was quite real and liberating. Every aspect of her acting shined, as even the way she spoke had my eyes glued to the screen.
Ava Politz ('23) said, "I had absolutely no clue what this movie was supposed to be about. It was kind of confusing at the beginning, but I loved putting all the pieces of the plot together and trying to come up with my own theories about the ending. It was probably one of the most creative movies I have ever seen."
Olivia Wilde's direction of the movie is also superb, and, the concept of this movie is mind-boggling. I was genuinely so invested but also left with so many unanswered questions. At first, I thought that was frustrating, but truly I believe that was Wilde's intention with this psychological thriller. How she combined modern technology with a past environment was very satisfying to watch, and it brought the utopia-turned-dystopia to light.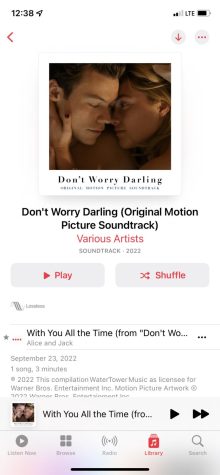 "I am a huge fan of Florence Pugh. Seeing her acting in this movie almost brought me to tears in the theater. I cannot even describe it, but she is just amazing and this movie is a must-watch," said Lauren Brown ('23)
I hope to go back for a fourth time to see this blockbuster sometime soon because I think this might be my favorite movie I have seen all year. Because the film was so anticipated by the public and my expectations were so high when I was surprised when I was actually drawn to the plot because usually, that is not the case with movies that have such a large following.