The Ice Cream Cleanse Phenomenon
October 24, 2016
When one thinks of a low-calorie, high-protein, and low-sugar snack, the idea of ice cream does not come to mind. Now, thanks to a creamery in Los Angeles, a healthy version of ice-cream called Halo Top is the new craze for dessert enthusiasts nationwide. 
Healthy ice cream sounds too good to be true but according to halotop.com healthy ice cream is a new reality.
The website states, "While Halo Top is low-calorie, high-protein, and low-sugar, we use only the best, all-natural ingredients to craft our ice cream so that it tastes just like regular ice cream."
In regards to how one achieves an authentic ice-cream taste while maintaining these nutrition standards, the company claims, "We use organic stevia. Stevia is a plant native to Paraguay that's been used to sweeten foods and beverages for more than 200 years. And, because it's so tasty, we use it as a sugar replacement. We also use Erythritol, which though it has a rather scientific-sounding name, is actually another all-natural sweetener found in fruits like pears and grapes. Though it's technically a sugar alcohol, it's unlike the others because erythritol doesn't affect blood glucose or cause bloating."
While this is simply a dessert craze for many, for some, it has become a staple for the Halo Top Diet,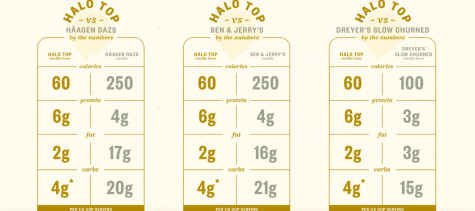 The Halo Top diet is a cleanse that entails eating absolutely nothing but Halo Top from one week to ten days with the goal to lose weight. After all, if one were to eat 5 pints a day, he or she would consume around 40 grams of fat and 120 grams of protein, all in which equates to about 1,200 calories a day. Though the caloric and protein intake on this diet may initially sound like a convenient and appetizing way to lose weight, it has developed into a form of restrictive dieting, promoting an unhealthy lifestyle.
This ice-cream diet fad started when GQ journalist, Shane Snow, reported losing 10 pounds from eating absolutely nothing but Halo Top for ten days straight.
On day ten, Snow reported, "My stomach felt empty. My body was tired, but…inexplicably clean. Perhaps it's the light at the end of the ice cream tunnel, but I felt like I turned a corner. I'd stopped being miserable eating one thing over and over again, and I felt light. I was light, it turns out. I was the lowest weight I've been in years: 144 pounds."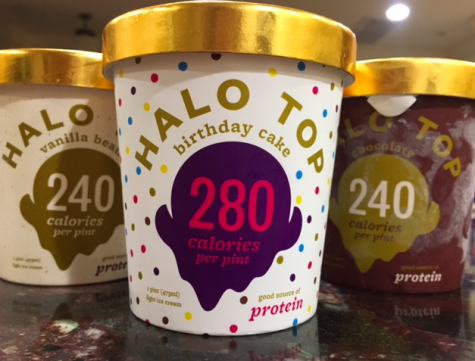 After Snow's experiment proved itself a successful way to lose weight, many have started to follow this 10-day plan.
Following the so-called "cleanse" for herself for only one week, Meredith Davin of spoonuniververisty.com concludes,  "I've always been a proponent of a healthy lifestyle, but it wasn't until now that I fully understood the phrase, "calories are not created equally." I was eating over 1200 calories a day, which theoretically should have been enough, but I was entirely lacking whole grains and vegetables, important complex carbohydrates that are necessary for focus and energy. Throughout this process, I realized that by publicizing my ice cream diet, I was inadvertently promoting restrictive dieting. This was far from my intention, as I am adamantly opposed to quick-fix diets. I received countless texts from girls asking how the "cleanse" was going and if they should try it. I want to be clear that I DO NOT recommend this to anyone."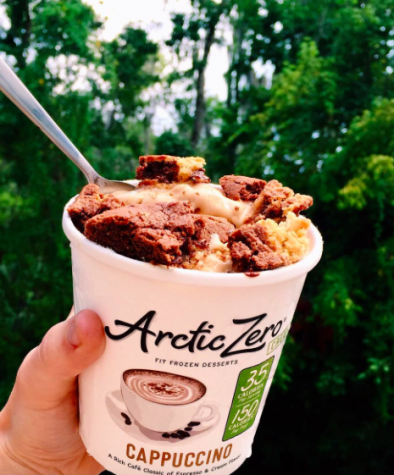 In agreement with Davin's conclusion of this unhealthy experiment, Academy Alum, nutrition enthusiast, and owner of a fitness/lifestyle instagram @msfitfoodie Christina Thompson (A'16) claims, "Even though Halo Top ice cream is a better alternative than regular ice cream, it still isn't that good for you. It is still processed. It is better to have dessert made with all natural ingredients. I can't imagine just how many vital nutrients one would be lacking by eating just ice cream for a whole week. If one is that serious, they are much better off going the healthy diet/exercise route to achieve their goal weight."