Myah Rhines Crowned Homecoming Queen
October 29, 2018
At this year's Jesuit Homecoming Football Game, Myah Rhines ('19) was crowned Homecoming Queen. Along with Rhines, Jesuit Senior Andrew Kynes was announced as Homecoming King.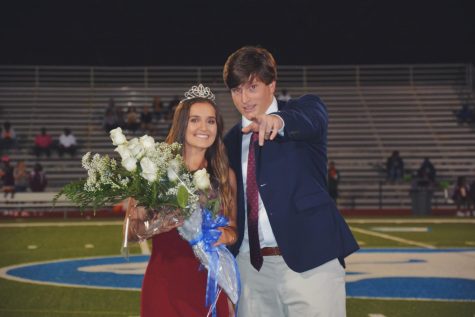 Rhines has been a Jesuit cheerleader during her entire high school career, and she is an active member in the Jesuit environment. Friday, Oct. 26, 2018, was also Rhines' Cheer Senior Night.
"I decided to run for the court because I felt like I was pretty involved at Jesuit, and also all of my friends at Jesuit convinced me to run. I was excited for the game because I remember as an underclassman always looking forward to watching the Homecoming Game, and this time, I would actually be a part of this experience," said Rhines.
Rhines was announced as a member of the Homecoming Court on October 16. The court consisted of seven Academy students: five seniors and two juniors. In order to be a part of the court, students had to complete the Jesuit Court application, submit a teacher recommendation letter, and a statement about their personal involvement with the Jesuit environment. The Jesuit student body voted on which AHN students would be on the Homecoming Court.
"When it was announced that she won, I was so happy for Myah becoming queen. All the girls looked so beautiful on the field, and I was proud of all my sisters," says Katherine Fernandez ('19).
Rhines' favorite part of the overall experience was the waltz class that she had to take before Homecoming. She also enjoyed being on court with all of her friends. The Homecoming Court had to attend one waltz class, which took place on Tuesday, Oct. 23, 2018. The Court performed the dance at the actual Homecoming on Saturday, Oct. 27, 2o18.
"Overall, this was an amazing experience, and I cannot wait to tell this story to my kids some day," said Rhines.