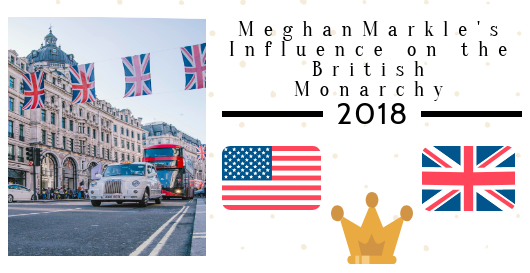 (Photo Credit: Adriana James-Rodil/Piktochart/Achona Online)
Meghan Markle's Influence on the British Monarchy
December 13, 2018
The Wedding.
On May 19, 2018, American Actress Rachel Meghan Markle (although referred to as Meghan) married Prince Harry at St George's Chapel, Windsor Castle, becoming the Duchess and Duke of Sussex.
Markle has positively impacted the royal family by breaking royal traditions as a biracial, Catholic, American-divorcee and through her numerous charitable acts.

Loading ...
Asha Sneed ('21) said, "I think she's breaking royal tradition kinda like Diana [Princess Diana] was back then. She's making them more relatable to common people, instead of being closed off, so I think she's opening up to the public."
The Royal Wedding was rooted in inclusion. Reverend Michael Curry professed a sermon in which he quoted Martin Luther King Jr.—"Love is the only way." It addressed the history of the African-American church. Also, a gospel choir, led by Karen Gibson, performed Ben E. King's "Stand By Me," and Sheku Kanneh-Mason played a solo on the cello, symbolizing change and the celebration of black culture.
According to Nielsen data, 29.2 million Americans, between 15 different broadcast and cable networks, watched the marriage between the Duke and Duchess, not accounting for social media or mobile device streaming networks. As a result, there were more viewers than for the wedding between the Duke and Duchess of Cambridge (William and Kate) in the United States.
Ava Olivia ('20) said, "I watched some of the wedding. She's representing so much of [the] African American community, and I think it's really important because she's also such a good person. She has really good values, and I think she's doing an amazing job of representing them, influencing them. I really think she's a good influence and I think she's doing a really good job of representing them in the community."
Watch: Reverend Michael Curry, bishop of the American Episcopal Church, delivered a sermon about love at the wedding of Prince Harry and Meghan Markle. #RoyalWedding https://t.co/wffKb9aDC2 pic.twitter.com/3wnTzF7iVx

— NBC Bay Area (@nbcbayarea) May 19, 2018
Although the Super Bowl had 103.4 million American viewers, resulting in it being the most-watched program in 2018 as of now, Markle's marriage into the British Royal Family, nevertheless, sparked interest throughout the US.
Sneed comments on the inclusion of black culture within the wedding, "I think it's good because it shows like more representation in one of the biggest royal families in the world. I think it was exciting for a lot of people to see like one of their own people becoming a princess, and being 'inducted' into this royal family."
Before becoming a princess.
Before becoming known as the Duchess of Sussex, Markle created a name for herself through her own career and charitable works.
Oliva said, "She's 36 or 37 [37 years of age], and I think she's showed that you don't need to be [married]. You can wait and live your life. You don't have to get married really young if you don't want to. And it shows, like, she was married prior, and she had an entire career before she got married to Prince Harry, so I think she's really shown that you don't need to get married quickly, and you can take your time and focus on yourself, and I think that's really important. She definitely made me feel like 'Go women!' Her and Priyanka Chopra are such strong and cool women. They just made me feel like I can do it. Be a self-made woman, and go me."
She attended Northwestern University where she dual majored in theater and International Relations, and, during her time in college, she took part in an internship at the U.S. Embassy in Buenos Aires, Argentina.
As an actress, Markle is most recognized for her role as Rachel Zane on the television series "Suits." Alongside acting, she also edited and managed her lifestyle website "The Tig," in which she wrote about social issues, such as gender equality, food, and fashion.
Although, now, Markle's role as the Duchess of Sussex allows her to be a part of numerous charities, she has been influencing the community since the age of 11 when she famously reached out to a company to change the sexist remark made on one of their commercials.
From ages 13 to 17, she volunteered at a soup kitchen in Skid Row, Los Angeles. In 2015, Markle became the UN Women's Advocate for Women's Political Participation and Leadership, which allowed her to travel to Rwanda to meet female parliamentarian leaders. In addition, she had active roles with One Young World and World Vision.
Katie Taulbee ('19) said, "She's doing a good job of really reaching out to other people. That's just almost a part of her job description too. Since she already has that experience [of helping others] and background, it's good that she's using that in her position now almost to like boost and help other people."
Charity work as the Duchess of Sussex.
Markle continues to strike cords within the Royal Family with her latest support of the community cookbook "Together: Our Community Cookbook" hoping to unite people through food. The cookbook is supported by the Royal Foundation, and it was published by Penguin Random House companies. It includes 50 recipes created by the women of the Hubb Community Kitchen who were affected by the Grenfell Tower Fire in west London in 2017, which resulted in 72 deaths.
Lily Lopez ('22) said, "I feel like she's just had a really big influence on a lot of people because she's so different from all the other princesses that there are. And she's done very different things that have kinda like changed people's views on the monarchy. I feel like it's really good that she's raising money for them because it's obviously a really big deal that there was a fire, and it hurt many people. And so I feel like it's really good that she's raising money for them. And I feel like a lot of people don't raise money for certain things."
These women first gathered together as a community in the summer of 2017 in the Al Manaar Muslim Cultural Heritage Centre in West London in order to heal through food—the best cure. It then transformed into the Hubb Community Kitchen, in which Markle felt inclined to support.
Markle said, "I immediately felt connected to this community kitchen; it is a place for women to laugh, grieve, cry and cook together."
The profits earned by the cookbook go towards the Hubb Community Kitchen and similar projects spearheaded by The Royal Foundation.
Click here to purchase "Together: Our Community Cookbook."
In her own words.
The Duke and Duchess on an invitation from four Commonwealth Realms (Australia, Fiji, Tonga, and New Zealand), visited these countries, giving speeches along the way.
Markle took the initiative of writing her own speeches, unusual amongst the Royal Family, spending days perfecting them. She gave a moving first royal tour speech addressing the right all people have to receive an education.
Meghan Markle has given her first royal tour speech in Fiji https://t.co/VzcRghDgDq pic.twitter.com/tbLEeOnL6o

— TIME (@TIME) October 25, 2018
The Royal Family needs the public to like them, and those closest to Markle reveal she has an emotional connection to people. Queen Elizabeth II seems to believe so as well, being spotted smiling and laughing with her.
Her efforts to an activist, humanitarian, and role model are noticed as Markle was one of the 2018 nominees for TIME's Person of the Year.
Markle is modernizing The Royal Family as she became the very first American married into the Royal Family.
Click here to watch ABC's "The Story of the Royals: Part 2."