The "Not Like Most Girls" Phenomenon
September 24, 2020
Not long ago, a trend on Twitter was declaring that a "movie's villain" was not the "real villain" of the film or series. One that particularly caught my eye was a comparison of Janis and Regina from the film "Mean Girls". While Regina is, in all senses of the word, "mean", Janis was no better, turning Cady from a sweet, innocent girl to someone who despised and hated Regina, long before Regina stole Cady's crush. Janis changed her hair and entire look to seem different from Regina and girls like her, but, in actuality, she was just fitting into another category of girls: those who are not like most girls.
The "Not Like Most Girls" phenomenon has been present in media for a long time, revealing itself in hit songs like "Sit Still Look Pretty" by Daya or the 1999 novel and later 2012 film "The Perks of Being a Wallflower."
"Sit Still Look Pretty" is all about demonizing girls who "wanna wear expensive things" or that "dream of picket fences". Likewise, Charlie, the Perks of Being a Wallflower's narrator claims he would prefer a "smart girl" who would "talk about books and issues." He also claims that he personally finds '"super models" strange.'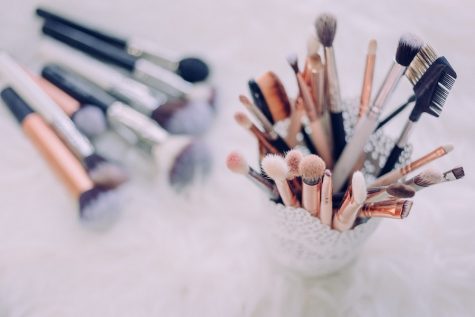 This idea that a girl cannot be smart and beautiful or wear pounds of makeup and discuss important issues is rooted in outdated stereotypes and misogyny. The girls who demonize "basic" girls for liking things like LuluLemon or pop music only add gasoline to the fire that is sexism. Men who already think women and girls are incapable of holding higher jobs and taking part in important debates are only supported by the idea that girls cannot be both feminine and intelligent. 
"Of course women can be both beautiful and intelligent. The misconception that "pretty girls" aren't smart or vice versa is damaging to young girls and flat out misogynistic," says junior Elise Favret.
The idea is even present in supposedly feminist films like "10 Things I Hate About You." The film's protagonist, Kat Stratford, diminishes her younger sister, Bianca Stratford, for liking frilly things and wanting a boyfriend. Kat says to her sister "You don't always have to be who they want you to be, you know?" to which Bianca replies, "I happen to like being adored, thank you!"
Women all around us perfectly embody feminity while also being strong and independent of men. Amal Clooney, arguably one of the most beautiful women in the public eye, is a perfect example of this. Not only is she a human-rights lawyer, humanitarian, and mother but also a Vogue cover girl and fashion icon whose femininity extends past the red carpet. She attends conferences and gives exceptional speeches while dressed in designer clothes and stilettos. 
Emma Watson, a UN Women Goodwill Ambassador and actress, is not only drop-dead gorgeous but also incredibly talented and intelligent. With a degree from Ivy-League school Brown University and over 87 awards and nominations for her acting abilities. 
"I love fashion. I think it's so important, because it's how you show yourself to the world," says Watson. She used this typically 'feminine' trait to make the world a better place by working with People Tree, a British fashion company that promotes fair trade. 
"A strong female role model for me would be Anna Wintour because of her hard work to maintain one of the most popular magazines and publications while also being a mother and style icon," says Eleanor Amoriello ('22). 
Sabrina Pedregal ('22) looks up to Representative Alexandria Ocasio-Cortez. "I think she is strong in a male-dominated field of work," says Pedregal. "What I think compliments her fierce personality is her femininity. She dresses professional, but stylish, and she often wears a bold red lip shade."
I will agree it is absolutely necessary to have strong female characters that have more traditionally masculine traits such as being assertive. Girls don't have to be anything they don't wish to be. However, just because a girl likes pink or dresses doesn't mean she can't be just as strong and powerful as a girl who doesn't. Feminism, by definition, is "the theory of the political, economic, and social equality of the sexes" and nowhere implies that women must abandon all aspects of femininity to achieve this.