'The Case of: JonBenét Ramsey' Recap
September 26, 2016
     Almost twenty years ago to this December, a six-year old pageant queen, JonBenét Ramsey, was found dead in the basement of her parents' Boulder, Colorado mansion. Hours later, her mother called 911 to report a ransom note revealing that her daughter had been kidnapped.
Since then, this case has developed into one of the most followed investigations in history, leading thousands of Americans to question- what really occurred in the Ramsey home that night?
        "Mr. Ramsey,
        Listen carefully! We are a group of individuals that represent
        a small foreign faction. We xx respect your bussiness
        but not the country that it serves. At this time we have
        your daughter in our posession. She is safe and unharmed and
        if you want her to see 1997, you must follow our instructions to
        the letter."
Following the introduction, the letter consisted of several threats to kill JonBenét, claiming the key to saving her was to deposit $118,000 to this "foreign faction".
It was eight hours later when her father, John Ramsey, after being directed by a detective to search his house for the second time, found the body in the basement. Ramsey then carried the body upstairs and laid her down on the living room floor. The body of JonBenét had appeared to be violently garroted, along with taser marks and trauma to the skull. Autopsy reports would later conclude strangulation and trauma to the brain was the cause of death for the six-year-old.
What was at first seen as a horrifying tragedy soon became a crime of impossible circumstances. Why would a criminal leave a ransom if his or her victim was already dead? How did the family not hear a single scream or loud noise during the night? How was there no evidence of a forced entry, or any entry at all? Why did Mr. Ramsey quickly move his daughter's body from the crime scene after discovering it, tampering with the potential of discovering a criminal's DNA?
     Twenty years later, these questions still remain unanswered. On September 18, CBS released the well -anticipated documentary, 'The Case of: JonBenet Ramsey', to shed light on the unsolved case by using modern technology to re-test possible theories of what actually occurred in the Ramsey residence that Christmas night.
https://twitter.com/TheCaseOfSeries/status/772924557371973632
     On the series-conclusion, the team continued to re-analyze original evidence, focusing on the pineapple found in the 6-year-old's digestive system shortly before the murder, injuries attributed to a taser, as well as the odd behavior of JonBenét's brother, Burke Ramsey, in order to prove the intruder theory incorrect.
https://youtu.be/zX-HQmRauxA
     After all the time, work, and money put into the re-examination, the team of experts finally think they have discovered the murderer of JonBenét Ramsey: Burke Ramsey.
But how could a 10-year-old boy be capable of killing someone? Here's how the investigators think he did it: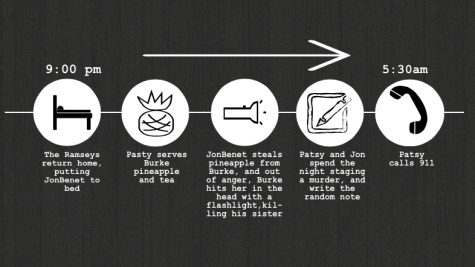 The Ramseys claimed to have returned home Christmas night around 9:00, and immediately put JonBenet to bed. After Patsy served Burke pineapple and tea, JonBenet came downstairs and stole a piece of fruit from her brother. Out of anger, Burke hit JonBenét on the head with a flashlight, accidentally cracking her skull. Upon realizing JonBenét was dead, John and Patsy Ramsey contrived a plan to stage the murder of JonBenét in order to protect the only living child they had left.
     After the premiere of the CBS special in which theorized Burke as the murderer, the lawyer representing the Ramsey family, Lin Wood is threatening to sue CBS over misinterpretations of evidence and false accusations.
In a statement made to Rolling Stones, Wood claims, "In its desire to match or surpass the ratings and profits achieved by other networks in recent true crime series, CBS juxtaposed lies, misrepresentations, distortions and omissions with very few grains of truth to falsely accuse Burke Ramsey of killing his sister, JonBenét, in its docuseries The Case of: JonBenét Ramsey. In doing so, CBS perpetrated a fraud on its viewers – there was no new investigation by the phony TV 'experts.'"
 CBS responded to Rolling Stone, stating, "CBS stands by the broadcast and will do so in court."
JonBenet Ramsey's brother to sue CBS after network claims he is responsible for killing his sister https://t.co/w8tSP585y3

— Daily Mail US (@DailyMail) September 21, 2016
     Despite CBS concluding a theory in which blames the death of JonBenét Ramsey on her brother, Burke, questions still remain over the lack of Ramsey DNA on the evidence, leading many to believe that the Ramsey family had nothing to do with the brutal killing of JonBenét.
To the thousands of people who have followed the case since 1996, many are desperate for a final answer over what really occurred in the Ramsey residence that Christmas night.
Junior and forensics student Samantha Garateix states, "Overall, I think that JonBenét's brother killed her and that his parents covered it up for him. I think that it is such an interesting story and I wish that the case was solved so that JonBenét could have justice for the horrible things that someone did to her."