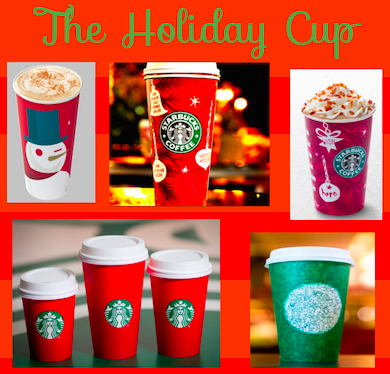 (Credit: Olivia Porcaro/Acohna Online)
Holiday Cup Controversy
November 8, 2016
On November 1, Starbucks announced the official cup design of the holiday season, otherwise known as the "red cup season." However, to many customers' dismay, the cup is green and features a mosaic illustrated by Shogo Ota.
Junior, Hailey Eckermann, claims "I wish the new holiday cup was red instead of green because it would get me more into the holiday spirit."
Meant to display the coffee company's connection between customer, employee, and the whole community, the mosaic of 100 faces encourages people to be nice to everyone. Since the faces are all drawn in a continuous line, it reminds people of the unity in our community.
Starbucks CEO, Howard Schultz, put out a statement saying, "The green cup and the design represent the connections Starbucks has as a community with its partners (employees) and customers. During a divisive time in our country, Starbucks wanted to create a symbol of unity as a reminder of our shared values, and the need to be good to each other."
However, the new cups are spurring more controversy than any type of community unity. Many Americans are infuriated because the cup has nothing festive about it. The new cup has no illustrations of ornaments, reindeers, Santa, Jesus, Jewish Star, Menorah, snowmen or any other traditional holiday figures. Backlash about the color and faces on the cup has been expressed on Twitter, Facebook, Instagram and more.
Starbucks is using green cups Green? The color of the Grinch who stole Christmas? Do you need any more proof that they hate Christian values pic.twitter.com/PdDdo92rXw

— danny 🏳️‍🌈⃠ (@kingdanimals) November 5, 2016
When it's red cup season but Starbucks is giving out green ones 🙄 #GetItTogether

— Isabella (@itzabella_matuk) November 1, 2016
Unfortunately for Starbucks, this is not the first time the company has received online criticism. Last year, the Seattle based coffee cafe released a plain red holiday cup, which caused backlash about the cups not having enough holiday flair. Starbucks was even called "anti-Christmas."
On the contrary to these unhappy customers of both 2015 and 2016, many coffee lovers are not bothered at all by the color and illustration. In fact, some love the message of unity and harmony because it unites everyone regardless of their gender, ethnicity, or religion.
Freshman, Grace Orama states, "I like that the cup does not have anyting about a certain religion on it because I feel like if it said 'Merry Christmas' it would offend people of other religions and cause even more problems for the company."
Agreeing with Orama, Sophomore, Grace Buckhorn exclaims, "I love the message of the green cup! There is no reason for people to get outraged over a cup. It is ridiculous."