Jesuit Cheerleading Celebrates Senior Night
October 23, 2017
Jesuit cheerleading and football teams celebrated their Senior night on Friday, Oct. 13, 2017, the same night of Jesuit's annual homecoming game. Amidst the chaos of the biggest football game of the year, the seniors were still able to enjoy time with their family and friends, celebrating their hard work for the teams.
https://www.instagram.com/p/BaZuYb3AG0E/?hl=en&taken-by=js.ly
This year, Jesuit cheer had seven seniors: Feraby Hoffman ('18), Kelsie Killian ('18), Julia Lavoy ('18), Mia Lopez ('18), Lauren Perez ('18), Jaed Seymour ('18), and Gretchen Swenson ('18).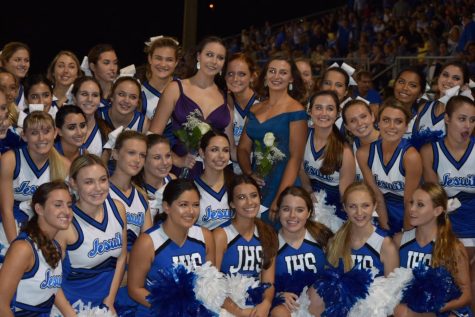 Aside from celebrating their senior night, Hoffman and Swenson were also on homecoming court. 
Hoffman said, "It was slightly stressful having to change in and out of my uniform at the game, but overall I had a lot of fun."
Every year, the seniors, along with family members, walk across the field before the game and are announced. After being recognized, the girls shake hands with cheerleading head coach, Brittney Patterson; Jesuit president, Father Richard Hermes; Jesuit principal, Mr. Barry Neuburger; and Jesuit football head coach, Matt Thompson.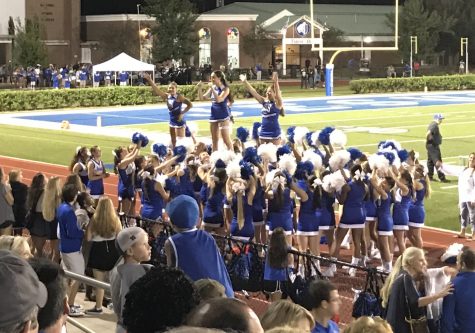 A fun tradition that the seniors have for senior night is to participate as flyers.
Seymour said, "I actually consider flying the highlight of my last four years, and it was a blast. I enjoyed Blue Tide laughing at me because I wasn't very graceful, but all my friends were cheering me on. It also gave me a newfound respect for the position flyers play in cheerleading, because it's not as pretty as it looks."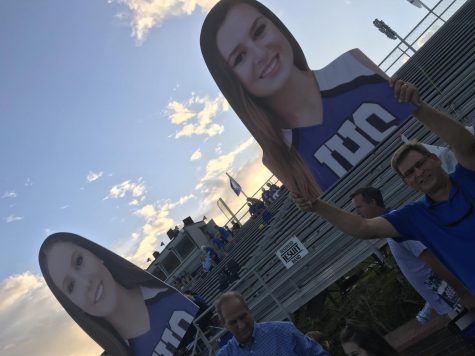 This year, the senior parents decided to surprise the girls daughters with fatheads, from Signs Now, to cheer their daughters on from the stands.
Perez said, "It was definitely weird seeing my head on a big cardboard poster, but it made me laugh really hard."