Academy's Softball Team Competes in Miss Tampa Preseason
September 27, 2018
This is the first year the Academy softball team has participated in Miss Tampa, a fall preseason. The purpose of the preseason is to… The team started practicing towards the end of August. After training for almost a month and the first few games getting cancelled, the Jaguars came back and won their first preseason game against Chamberlain, Wednesday, Sept. 19, with a final score of 5-2.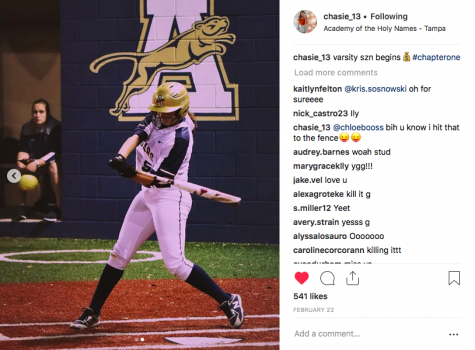 Samantha Miller ('20) is an Academy softball veteran. She's been playing softball at Academy since seventh-grade. She said, "I think preseason is a great opportunity to be able to meet the new players and become closer as a team."
The preseason ends at the end of November with roughly ten more games.
Chase Cordoves ('21), a second year playing for Academy softball says, "Preseason is really fun and I enjoy it because I can start to get close with my teammates again before the real season starts."
The regular Spring training will begin with tryouts in January followed by training and the regular season matches.
Gelmi Pasquier ('19) commented, "My main goals for the team are to get back into the flow of things, include girls who have just been added to the team, and for everyone to become stronger in their specific positions."