Humans of Academy: Junior Caitlin Shannon Appears on the Harry Connick Jr. Show for Non-Profit Organization
April 25, 2017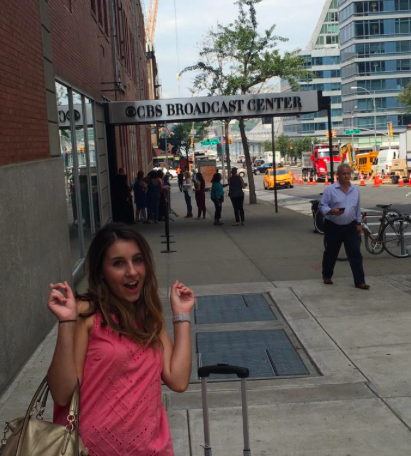 Junior Caitlin Shannon is changing the lives of chronically ill patients one care package at a time. Shannon, creator of Sparkle Power, has worked with numerous pediatric patients for two years, showering them with small toys and gifts in a package to brighten their day.
On April 14, 2017, Shannon made her national-television debut on Harry Connick Jr.'s show, Harry. Upon her return to Tampa, Achona received the chance to chat with Shannon about her once-in-a lifetime experience.
Achona: What exactly is Sparkle Power?
Caitlin Shannon: "Sparkle Power, Inc. is a 501(c)(3) non-profit charity that I started when I was 15.  After spending a significant amount of time in the hospital and in outpatient centers, I noticed that children often needed a boost in the middle of the week or on a random weekend so that they could get through their recovery or treatment.  I decided that I wanted to bring sparkle to these patients by bringing them goodie bags in the hopes that they would give them the power to have a speedy recovery or tackle a tough round of treatment. My goodie bags are filled with personal comfort items such as small toys, coloring books, mini puzzles, Play Doh, stickers, fuzzy socks, and hand sanitizer.  Although most of the recipients are pediatric oncology patients because of their long hours and stays in the hospital, children in the process of or recovering from any medical issue can receive a bag.  I regularly hand deliver bags to local hospitals such as All Children's Hospital, St. Joseph's Children's Hospital, and also make frequent trips to Shands Children's Hospital.  I also ship Sparkle packages weekly to children in hospitals across the country."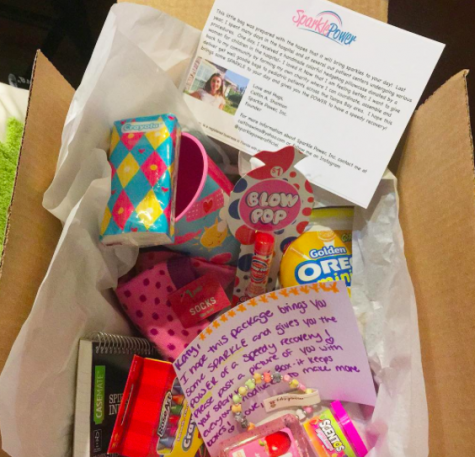 A:When were you first contacted about the show?
CS:"One of Harry's producers contacted me in August of 2016.  She told me that she loved what I was doing and that they wanted me to tape a segment for the show's 'Leading Ladies' segment."
A: What was it like to arrive in New York?
CS: "Harry and his staff flew my mom and I up to New York City for two days in late August.  His team took care of everything from putting us in a gorgeous hotel near Central Park, arranging for a car service to take us to and from the airport and taking care of our meals."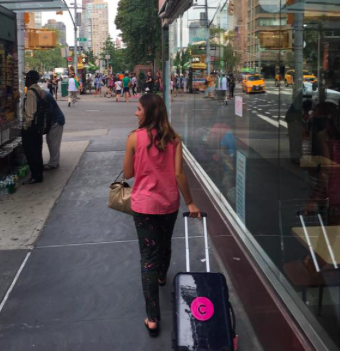 A: How did you prepare prior to filming your segment?
CS:"Before my mom and I arrived at the set, we saw a long line of people waiting outside of the building in the hopes that they would be selected to be part of the live audience.  Once we were escorted into the building and went upstairs, we found out that we had our own dressing room!  I was asked to bring a few different outfit choices, so I tried everything on for the producer and she ended up picking out a pink top, patterned pants, and black sandals.  After deciding what I was going to wear, we went over to hair and makeup and had a blast with the stylists while they got me camera ready."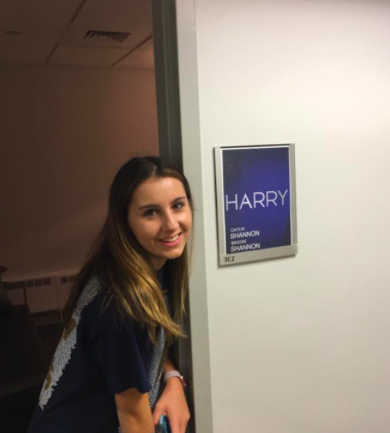 A: Tell us about being on the show itself/your interview?
CS:"After hair and makeup, I was escorted to the backstage area of the set and was able to hear the live band and Harry while he filmed another segment. As I was walking on stage, a home video that we made of me making goodie bags and visiting a patient played in the background so that the audience could see the behind the scenes details of Sparkle Power. I talked with Harry about why I started Sparkle Power and told him that I wanted to go to medical school and work in pediatric medicine. I was completely taken aback when he surprised me with the very generous gift of $15,000 worth of toys from Hasbro!  I truly had no idea that he had come up with the idea and arranged for that to happen- it was a very genuine surprise to me.  Even though I was nervous about the interview itself, I felt very humbled that a celebrity wanted to share my story and promote my charity. It was a great experience for me, but also, more importantly, raised awareness for pediatric cancer."
A: What did you take away from your experience?  
CS:"I learned from the experience that one person can make a difference.  As of today, the Harry TV Facebook video has had almost 30,000 views.  I've been contacted by groups wanting to make bags and companies wanting to donate.  Pediatric cancer receives less than 4% of funding for research; something needs to be done to change this. If I can help one child get through a tough day of chemo, inspire one teen to find their passion and act on it, or encourage one adult to take a step towards learning about the importance of research, then I think I've taken a step towards making a difference."
For more information on volunteering or donating, go to Sparkle Power, Inc. on Facebook or @sparklepoweroffice on Instagram