Class of 2021 Academy Impressions
September 2, 2017
A new school year for Academy girls can mean new friends, new schedules, and new perspectives, especially to Academy's newest and littlest sisters, the Class of 2021.
On Monday, Aug. 21, 125 freshman (the largest class in Academy history) entered the Brady Center to officially begin their Academy journey at Freshman Orientation. After a warm welcome from Student Council representatives, a few hours of ice breakers, singing, and teacher introductions, the class began to warm up to their soon-to-be sisters.
Alexa Groteke ('21) says, "Freshman orientation was really fun and refreshing because I was able to meet a ton of new people but also see the students that already attended Academy who told me they love it. We did dances and also spoke in small groups with a student council member about Academy life. So far, I'm really looking forward to the sisterhood and for what the rest of freshman year has set out for all of us 9th graders."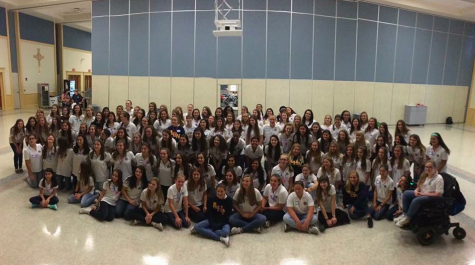 Student Council representative Caroline Lamoreux ('20) says, "As a class they seem really comfortable with each other. They were extremely friendly from the get go and weren't afraid to put themselves out there at orientation. The girls were enthusiastic and excited to be there."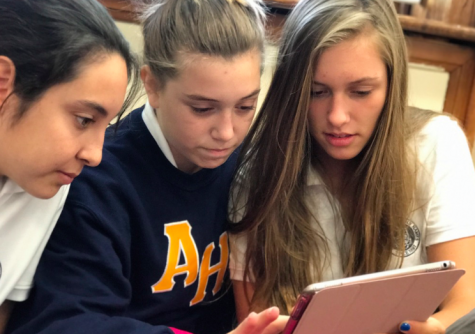 Upon beginning their first official days of high school, the class was eager to begin new courses, get to know their teachers, and walk on the left side of the stairwell. 
When asked about her first impression of Academy, Abigail Weaver ('21) said, "I really love it. So far I've met a lot of new people. As for the workload, it's not too hard, but definitely a good enough challenge. Compared to middle school, I have a lot more teachers and classrooms, but I like that a lot. There is also the all girls factor which I like a lot, because I feel there is less drama. During these next four years, I'm most excited for being in the sisterhood and to start interviewing for clubs and mission trips."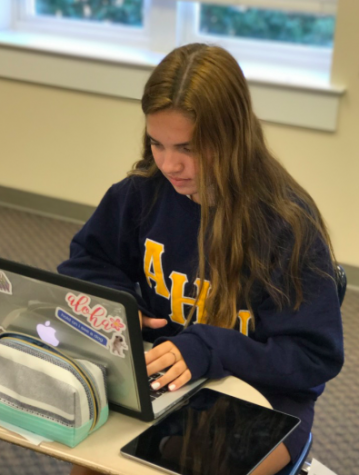 Natalie Gillis ('21) says, "There are a lot more people, the building is bigger, and I honestly don't know where I'm going half of the time. But so far I love my classes, my teachers are all nice, and it has been a good transition for me."