Pulitzer Prize Winning Journalist Lane DeGregory Visits Academy
January 26, 2018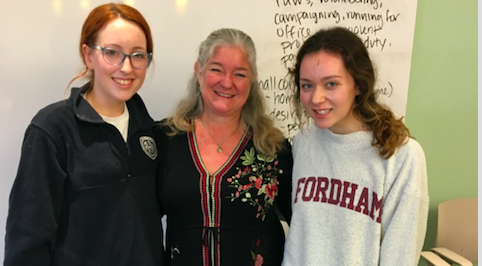 On Friday, Jan. 12, Pulitzer-winning writer Lane DeGregory visited Academy. The staff read and discussed DeGregory's awarded feature article, "The Girl in the Window", before the visit.
"What I really liked about [The Girl in the Window] was the audio version. Even though I could tell she was trying to be an objective storyteller, the inflection in her voice in certain parts of the story was obvious. My heart really broke while I listened to her speak. Her writing is so unique – it's hard to put into words. It's not weird or different, it's actually pretty simple, but there is just something so special about it," said Sam Garateix ('18).
DeGregory began by describing her career in journalism, which spans 30 years and multiple states.
"My editor in Virginia would take away my notes. He would say, "You're the writer. You know the story better than your notes."
She also gave advice to the staff about being young writers.
"If you're looking for an internship, bring three ideas with you. Show them you can come up with your own ideas," DeGregory said.
The Q&A lasted over an hour, and the students were obviously attentive and appreciative.
"I'm really glad she took time out of her day to come and talk to us. It was really interesting. It's amazing how some of her stories can take a week and some can take years," said Haiqa Mian ('18)
Watch the Q&A below:
https://youtu.be/nuyPI2gZ250
To read more of Lane DeGregory's writing, click here.