AHN Offers Metropolitan Ministries Service Opportunity
February 26, 2018
After the service day that AHN participated in on Jan. 30, math teacher Jessica Lamm and Megan DeVaney ('19) decided to help arrange a service project to Metropolitan Ministries every third Wednesday.
Assistant Principal Erin Krukar sent every student an email with a sign up attached. The email detailed that students who participate can receive either beta or service hours, and there are four opportunities for participating in this event, and each service group is comprised of 20 students and faculty members.
Lamm and DeVaney mutually decided to bring this mission to Academy.
DeVaney said, " I was a community service day liaison there, and after we went they mentioned that they need the most help at the dinner shift, so Mrs. Lamm and I decided we would start something that would be for the students and faculty to reflect what we did on community service day."
DeVaney is not a stranger to volunteering here.
She said,  "I go to Metropolitan Ministries quite frequently, and people are really grateful there, and it inspired me to bring other people there. Also, you do something different every time which is fun."
There already has been a service project that happened on Feb. 21.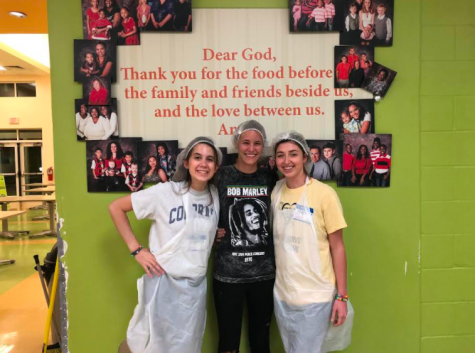 The head of the religion department, Brian Butterly, was also in attendance of this event.
He said, "It was great and absolutely fabulous because of the camaraderie of the groups working together. I will most definitely go back. It's fun being able to give back."
#MondayMotivation – Last year we saw a 13% increase in the number of meals we served. Thanks to your help, we were able to serve more people, but that means there were that many more people in need.

YOU can #BeHope to hungry families by giving now: https://t.co/wDBSj8OuM3 pic.twitter.com/2NKiuCJLV4

— Metropolitan Ministries (@MetroMinistries) January 29, 2018
The remaining dates for participation are Mar. 21, Apr. 18, and May 16.
Aine Campion ('18) is signed up for one of the upcoming dates, and is excited to attend.
"I volunteered with Metropolitan ministries before, and everyone is really friendly. I think it is a great environment, and love the organization, and I need to get more service hours," said Campion.
Many other students have already signed up for each shift, and there are limited spaces available for anyone who decides they would like to participate later on.
DeVaney said, "We will continue doing it next year too on every third Wednesday."
This means if any of the dates do not work for an interested student or faculty member, there will be lots of opportunities in the 2018-2019 year. 
Email [email protected] or [email protected] for questions or more information.