A non-vegan Pumpkin Spice Latte riles up vegans
As all coffee lovers know, Fall brings Starbucks' Pumpkin Spice Latte. This is a big year for PSL, as it is the drink's 10th year anniversary. Most everyone feels happy for the extra opportunities to enjoy a PSL, since it came out earlier this year for celebration, but not everybody. Vegan coffee drinkers everywhere became outraged after discovering that the PSL does not have a true vegan option. The Los Angeles Times calls it "a bona fide, first world food problem".
Starbucks has confirmed that the syrup used to make the controversial PSL contains condensed milk, which is basically sweeter milk. This has prompted a group of Starbucks-loving vegans to write up a petition for a vegan PSL. Brent Caldwell, the creator of this petition, describes the veganless option for a PSL as "a total bummer". Caldwell remarks that he and his girlfriend make a trip to Starbucks at least four times a week and are usually offered a vegan option for their favorite drinks. However, the couple was shocked to learn that Starbucks does not offer a milk-less PSL. All they want is to enjoy the warmth of a PSL without the guilt of taking advantage of a cow.
Starbucks has vegan alternatives for most of their coffees, except the PSL. However, they do offer vegan VIA Pumpkin Spice coffee and a vegan Pumpkin Spice topping, but can anything really replace the autumn goodness of a true PSL?
Brent Caldwell and 8,558 supporters of the petition say no.  The petition still needs 1,442 more signatures. This is a chance for vegans and lactose intolerant people alike to take a stand! Maybe this petition will prompt Starbucks to take action, as they did in the last response to a Change.com petition for dye without crushed beetles in it.  Apparently, people are still mad about that. It just goes to prove that Starbucks drinkers take their coffee seriously, and these vegans seem passionate about their cause. They refuse to stop until all pumpkin heads, as Starbucks call PSL lovers, can enjoy their favorite Fall beverage.
About the Contributor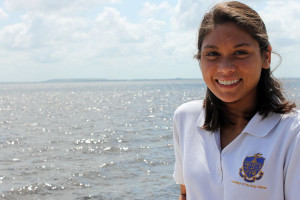 Margret Shumake, Senior Staff Writer
This is Margret's first year on the Achona staff. She attends swim practice regularly during the week, and enjoys thrifting and DIY projects in her free...