Bayshore car line: race against time
You wake up early in the morning and everything is going smooth. You did not oversleep, you have all your school stuff in order, traffic is light, and you catch every green light. Everything is perfect, so there should be no reason you get to school late, correct? You are sadly mistaken when you approach Academy on its scenic Bayshore side and the drop off line leaks from the driveway and into the traffic of the winding road.
After waiting ten minutes for the line to move so you can exit your parent's vehicle, you have only one minute to get to homeroom. How can you make it? It's impossible. Instead, you irritably trudge to Mrs. Henry to sign in tardy at 8:01 AM.
You should have been on time, but that car line has now crushed your dreams of perfect attendance.
Juniors Rachel Anderson and Paola Farah gave opposing reactions to the scenario.
"That line is backed up to China!" exclaims Rachel, "You cannot avoid it. You're stuck once you're in it. If you aren't in that line before 7:45, just consider yourself late."
Paola could not relate to Rachael's complaint, "I'm always here before seven. So there is no line; in fact nobody is here yet."
Admissions Director, Mrs. Pam Doherty and some of her other colleagues understand the car line frustration. Every morning she and others stand at the other car lines around the school trying to expedite the process.
"We're trying to get people out more quickly; take their lunchboxes, close the hatches. We try to avoid that line that everyone sees."
Having been doing this since she began working at Academy three years ago, Doherty does not know whether the Bayshore car line has always been this bad. However, she does affirm that the bulk of traffic is from 7:50 to 8:00 AM.
Mrs. Kathy Henry has the joy of seeing the lovely faces of every late individual on a daily basis. She does not know the circumstances of each tardy student unless they get a call from a student's parent.
"If I get a call, then they are excused; but I know those who are habitually late, and I tell them to be careful or they'll receive a detention."
To avoid the car line, and avoid a possible detention, the only other option is to enter school via the MacDill side of Academy; that drop off line moves much quicker as there are three lanes versus Bayshore's single lane. However, if Bayshore is the only option to get to school, then one will have to sacrifice extra time from their sleep to leave earlier and hopefully avert the morning rush.
About the Contributor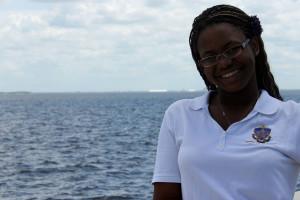 KeTaira Phillips, Golden Veins Editor
KeTaira Phillips, Achona's Creative Media Editor, greets the room with a bright smile and charisma to spare. In her free time she's normally doodling,...