Top apps for the studious Academy girl
Ever since Academy gave 400 high school girls iPads, strictly for school related material, Academy girls have been searching for the best free apps, for all their academic related needs.  Although it is already one quarter into the school year, it is not too late for an Academy girl to get ahead on the rest of the school year.  Compiled below is a list of "school-related" apps that every good Academy student needs.
1. Notability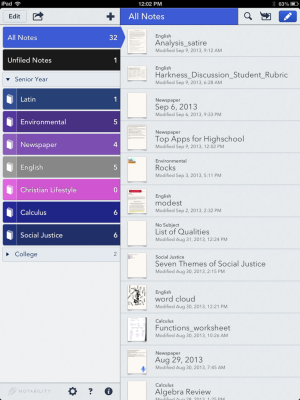 Notability is the best note-taking app by far. After trying out a couple options, Notability seems to be the easiest to use, especially for non-techies.  Notes can be divided into dividers and subjects. It is like a compact binder for all a student's notes. Notes can also be emailed or saved to dropbox for convenient sharing. A user can also download online pdfs with ease. There have been some issues with the notes saving to a backup drive, but most glitches have been fixed, and I personally have never lost my notes.
2. Quizlet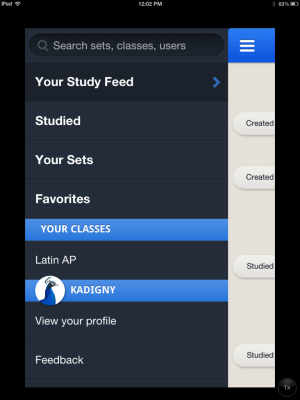 Most students use the online website to make flashcards. Now, Quizlet has made an app that takes all of a member's made flashcards and recently studied flashcards and puts them in an easy collection on the iPad.  The notecards are neater and more convenient than the set online. The only function the app does not perform that the website does is make a set of flashcards.
3. Evernote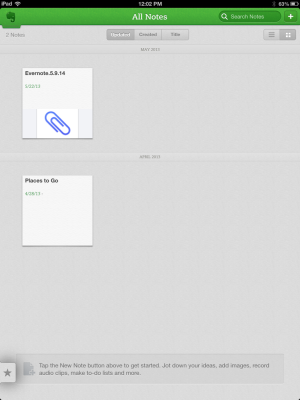 While Evernote is not the most simple note-taking app, and certainly not the most organized, it does provide a way to search all the notes. Because the app is organized by the date of the created note, being able to search for a specific word and then being able to see all those notes at once becomes important. The notes can contain text, pictures, and recordings, but not handwriting.
4. Quick Graph: Your Scientific Graphing Calculator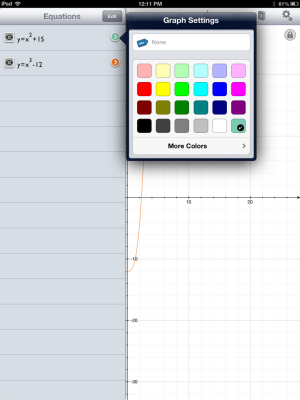 Basically, this is a TI N-spire in an app. A student can plug in a function and get a color coated graph. The functions can be viewed on a sidebar beside the graph for comparison between graph functions. Really convenient for Pre-Calc and Calculus students.
5. Quick Office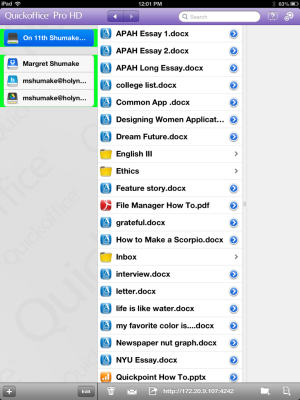 An app version of Microsoft Word, Excel, and PowerPoint, Quickoffice is easy to use and has a similar layout as the Microsoft product.   A student can type up papers and make power points that look like Microsoft ones.  The power points do not have all the creative capabilities as a Microsoft, but it is still easier to make than downloading one made on a computer.  The only downside is the price. However, $19.99 gets a student many products.
6. Pocket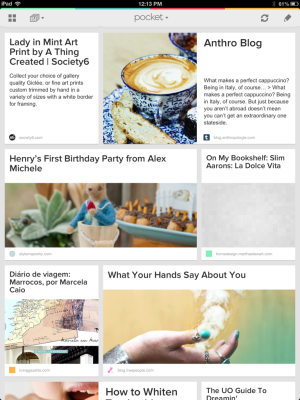 Pocket allows members to save websites for later viewing by emailing it to a specific Pocket account.   These saved aricles can be downladed from anywhere with wifi and viewed even without wifi is they are downloaded.  This eliminates the use of bookmarks in Safari. The format also gives a little preview of the article as well as the article's title. Everything saved is set up in an aesthetically pleasing design with colorful borders and either a grid or a list format.
7. iBooks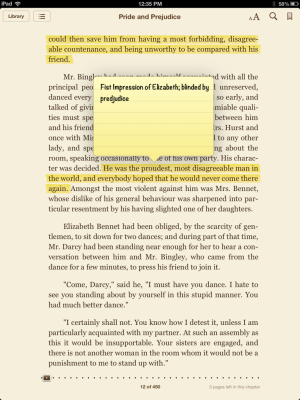 Apple's app provides free classic novels. This helps with required English class novels. The print can be enlarged or shrunk and the paper color can be changed. iBooks also makes annotating easy. A student may highlight by selecting the passage and opening the tools pop up and selecting a colorful highlighter. Sticky notes can also be "posted" on a page as opposed to writing in the margins.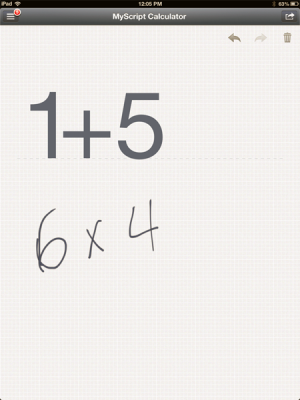 Myscript Calculator is a really easy way to solve easy math. Basically, a student can add, subtract, multiply, divide, set a number to a power, roots, and basic trigonometry functions. While it does not have the full capabilities of a graphing calculator, it is convenient for basic math. The best part is the app reads the handwritten math problem, converts into computer text, and solves the problem!
8. Dropbox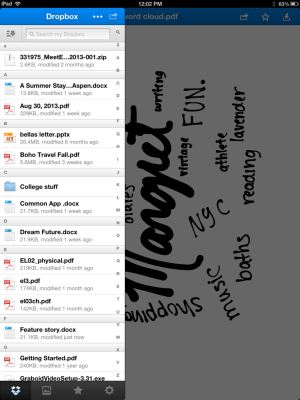 Dropbox is a lifesaver for procrastinators. A document can be typed on an iPad, saved on Dropbox, and printed from a library computer for a class the next set. Dropbox is also a really easy way to back up notes from an iPad online.  Turning in typed papers from iPads on a computer becomes easy with an online Dropbox account.
About the Contributor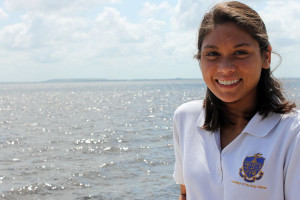 Margret Shumake, Senior Staff Writer
This is Margret's first year on the Achona staff. She attends swim practice regularly during the week, and enjoys thrifting and DIY projects in her free...