Academy Girls Create Their Own Robots
September 26, 2016
Academy's high school Robotics club, Jagwires, is preparing for an intense season of robotic design and competitions. They are challenged in the FTC and FRC with building their own robot every year that will complete tasks and games created by the main organization, FIRST.
FIRST Tech Competition just had their season kickoff this month and each team competing during the year has to build a robot for the game announced at the kickoff. The qualifying season runs from October to April, and if Jagwires qualifies, they will go on to compete in the regional championships.
Junior Cristina Alarcon states, "Last year, it was so much fun to see the other teams and how their robots worked."
Senior Cris Renner's team and their alliance team won second place at the regional level last year. Unfortunately, only the first place winner is allowed to advance to the state championship.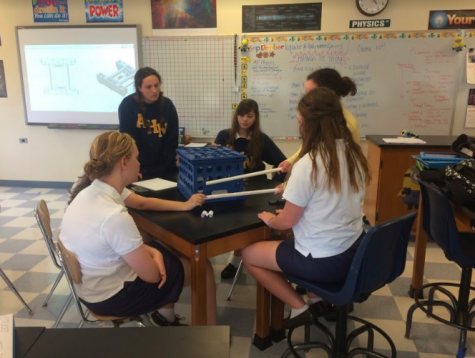 FIRST Robotics Competition will have their kickoff on January 7, 2017. FIRST describes FRC as "the ultimate sport for the mind. High school participants call it the 'hardest fun you'll ever have.'"
In past years, Academy teamed up with Jesuit's Robotics team in both the FRC and the FTC. This year, however, Jagwires will compete in FTC as their own team.
Sophomore Colleen Duffy explains, "I'm most excited this year to see us beat Jesuit, because last year we were a combined team but now we're an all girls Academy team."