AHN's Welcomes New Gender Equality Club
September 20, 2016
Unlike most schools, Academy of the Holy Names has over twenty clubs available to students. With a massive variety of clubs, every student is bound to find their perfect place.
This year, Juniors Jaed Seymour, Gracie Wipfli, and Gabi Jordan, have developed the Gender Equality Club, which is open to all students.
The Gender Equality Club's purpose is to raise awareness of gender issues and encourages women to be involved in charitable activities benefiting feminism. This year, members plan to raise money for women's health issues, organize social gatherings, and help collect and work with the data of the Independent School Gender Project.
The 2016 Presidential Election has brought gender issues into focus like never before. Given that a woman is in the running, the media has focused on Hillary Clinton's external appearance, rather than what she has to say in her campaign and her qualifications.
"I hope we talk about the election this year because it's so different seeing a woman in the election and gender equality has become a huge role in this year's election," explains Sophomore Brielle Gentile.
https://twitter.com/jfmcphillips/status/773470377024561152
Many members of the Gender Equality Club have stated that they intend to further discuss the role gender has played in this election.
Students of all ages have joined the Gender Equality Club for multiple purposes.
Sophomore Gloria Bufano states, "I think that it's really great that Academy now has a Gender Equality Club. Since we are an all-girls school, I think that it's smart for us to have a club where we discuss the gender inequalities in our society today."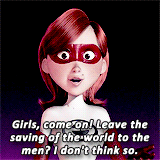 Courtesy of giphy.com
Although the members have their own reasons for joining the club, they all have the same motive: to raise awareness of gender issues.