Spooked Students Share Their Halloween Stories
September 26, 2016
Halloween is one of the most exhilarating and exciting times of the year, well at least for some people. Towards the end of October, there are many activities and events like Howl-O-Scream, Halloween Horror Nights, Zooboo, Haunted Hay Rides, Halloween parties and even Haunted Houses. As Halloween gets closer and closer, AHN students share their spooky and hilarious stories that make Halloween so memorable.
Senior, Lexie Diez,  reflects on the Halloween where her and her friends dressed up like characters from Toy Story and Diez decided to dress up as Jessie, attached to the costume was Bullseye the horse. As her friends and her were running to get on a haunted hayride, she tripped on the legs of the costume.
Lexie Diez comments,"I was so excited to go on that hay ride, but sadly I didn't get to, because I was crying on the ground for a long time while my friends got to go on the hay ride."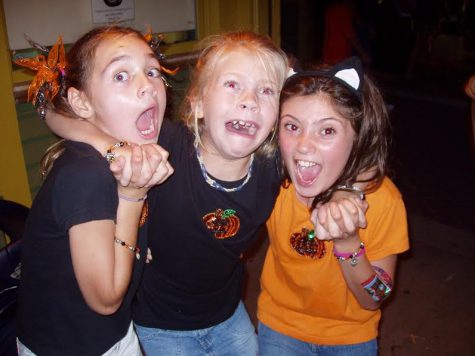 Senior, Grace Neal, randomly bought a hot dog costume in 7th grade and never wore it anywhere. When she was going through her closet last year, she came across the hot dog costume and decided to wear it to the Taylor Swift costume on Halloween.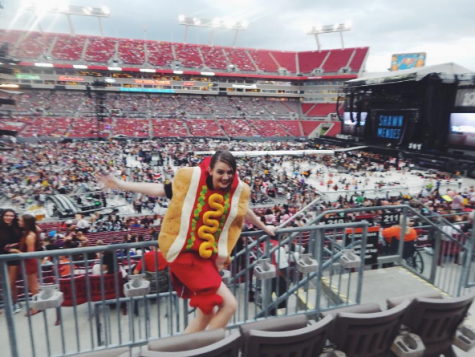 Freshman year, Senior Rachel Tata and her family had just gotten brand new, clean trash cans that resembled industrial ones that the garbage trucks pick up. So Tata hatched a plot to scare people when they came by to trick-or-treat at her house. Tata hid in the trash can at the end of the drive way and popped out when kids walked by.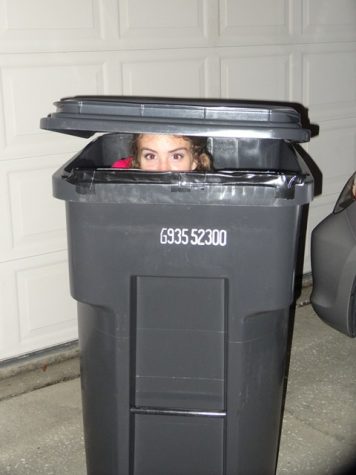 "It was so funny to see people's scared reactions as they walked by. They had no idea I was in the trash can."
Senior, Laura Henry, went trick-or-treating sophomore year with a few of her friends around Henry's neighborhood. As the night went on, the girls already had a bag full of candy but still proceeded to trick-or-treat around the neighborhood. When they approached one house, the man who was giving out candy refused to give them anything because he thought they were a little old to be trick-or-treating.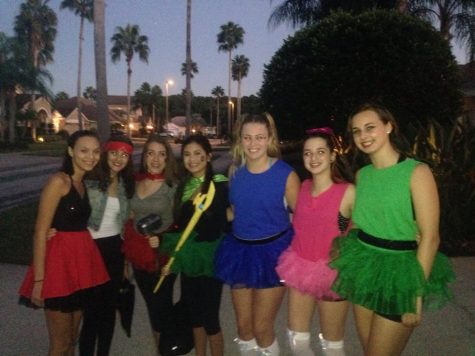 Junior, Gillian Garcia, was trick or treating around her neighborhood with her friends three years ago when a car pulled up close to her and her friends and a boy wearing a scary costume got out of the car and chased them with a fake knife.
She comments, "I've never been so scared in my life, we just kept running and never turned around."
However, not everyone has a memory that they can look back at and laugh. There appears to be a trend with talking to ghosts, AHN students share their paranormal experiences as children.
Junior, Alexis Alvarez, lives in a really old house built in 1910, and around when she was four years old, a man would start telling her to get out of the house because it was his house and every time she would hear this voice no one was in the room. It started happening every night for a week straight and Alvarez would throw up every night.
Senior, Chloe Paman, as a child could see dead people. Each time Paman would walk into her godmother's daughter's room, she would start crying because bad people were in there… but no one was there. Since Paman would freak out everytime they walked into the house, her godmother's family moved out of the house under the suspicion there actually was something there. Whenever Paman and her mom drove around the town, Paman would tell her mom to speed up whenever they passed through residential areas because "something bad was there."
Senior,  Teresa Toranzo, as a child had an imaginary friend but would only "talk" to her at night. Supposedly, Toranzo would ask her parents if she could go out to play with her imaginary friend at around 11:00 pm. Toranzo's father told her to tell the friend that they were not allowed to be friends if they only play at night. From that day, Toranzo never had an imaginary friend.
Senior, Allie Weachter, says, "In my old house that we rebuilt, my great grandma passed away in her bed that is now where our guest room bathtub is. My mom said that when I was little I asked her who the woman in the bathtub was and that I would sit in the bathroom and talk to her."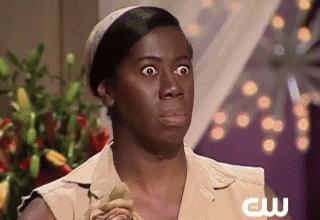 Freshman, Miranda Gonzales, lived in Japan for about six years and the first house her family lived in was in an area called Camp Shields. When they first got to the house, they didn't realize how old the house was. When the inspector came to the house, he put his hand up the vent and his hand came out entirely black. As the nights went on, Gonzalez dealt with multiple spirits including a woman who would walk through her hallway wearing a long red dress. Also, one day her mother was doing the laundry and had all of the clothes in a basket and when she turned around all the clothes were scattered everywhere.
Although most people look back at their Halloween stories and chuckle about their unflattering costumes or their hilarious trick or treating stories, some AHN seniors get goosebumps as they remember and think about their spookiest stories as a child. As Halloween is about a month away, some students can't wait for it to be over.