AHN Students Share Family Recipes
October 18, 2016
The art of cooking and baking brings families closer together and spreads their traditions and culture to other people. The academy student body is full of parents and students that create or polish recipes that do not disappoint. Many families have signature dishes that are popular for bake sales, potlucks, and social gatherings. Certain ingredients, preparation, and measurements can make a dish into something amazing that is passed down through generations. Through the joy that each bite of happiness brings, students from all grades are connected by family recipes.
Academy students share their baking skills with others because they have a passion for good food. Students dust off family recipes during the holidays or for birthdays throughout the year. An article by the San Francisco Gate discussed the advantages of a home cooked meal. Processed foods are harmful to the average American's diet and attribute to the growing obesity issue. Health advocates suggest eating at home because of the dangers of food allergies and preventative safety against food-borne illnesses. In addition, family meals provide opportunities for sharing the day's events and creating a relaxing transition from busy daytime activities to slower-paced evening ones.
Cooking meals at home and involving your children in food preparation is the best way to teach them healthy eating habits.
Several students share their best recipes that have been crafted from their own homes and recipe books.
Garbanzo Bean Soup-Cris Renner 
1 bag of Garbanzo Beans
1 medium onion- chopped
2-3 cloves of garlic- chopped
1 bay leaf
1 tsp oregano
½ lb of ham
Short ribs
4 small potatoes- peeled and chopped
Olive oil
2 pieces of chorizo- chopped
salt & pepper to taste
Instructions:
-Soak beans overnight with salt
-Next day, rinse beans with pressure cooker with new water
-Sautée in olive oil, onions, garlic, oregano, and bay leaf
-Cook meats for 15 mins with a small amount of water
-Pressure cook beans and all ingredients for 20-25 mins
-When the beans are done, puree a small amount to thicken the soup
-Add or take out water, as needed
-Add salt and pepper to taste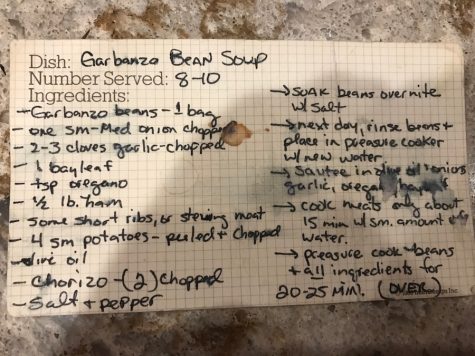 Senior Cris Renner adds, "On Sundays my abuela and papa cook all the food and we all go over there to eat with my mom's two sisters and their families. That's really nice because I have the opportunity to be really close to my cousins and I really think of them as my siblings."
Oreo Cheesecake- Teresa Toranzo 
Ingredients:
1 egg
1 pack of cream cheese (8 oz)
1 tablespoon of vanilla extract
1 can of sweetened condensed milk (14 oz, La Lechera is my go to brand)
1 pack of Oreos
Making the Cheesecake:
-First, crush 18 Oreos in a large sandwich bag until they become a coarse powder. Add a few table spoons of melted butter until the Oreos come together. When you are able to press it against the pan and it takes its shape, it's ready to go. If not continue to add more crushed Oreos and slowly add half a tablespoon to the mix.
-Next, take the rest of the ingredients (egg, sweetened condensed milk, vanilla extract, and cream cheese) and put them in a bowl. Mix them together until it becomes a smooth liquid.
-Cut as many or as little Oreos as you want into fourths to sprinkle them into the filling.
-Pour the filling into the crust, and pop it into the oven at 350 degrees for 25-28 minutes.
-Take it out and place it in the fridge for a few hours to completely cool.
Other students have fond childhood memories of watching an important family member cook a meal for them. It served as a bonding experience and memories that they may pass on to their children.
"My grandmother makes these homemade rolled out noodles, and I remember being little and sitting on the counter, watching her make it," Senior Meredith Butler comments. "It's like carbs on carbs on carbs."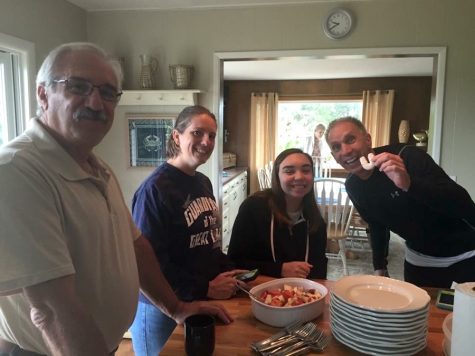 Brown Butter and Peach Brioche Buns- Bella Cartaya 
-1 1/2 cups of all-purpose flour
-2 teaspoons of activated yeast
-3 tablespoons of granulated sugar
-2 teaspoons of fine sea salt
-3 tablespoons of whole milk
-2 eggs
-half a vanilla bean
-3 tablespoons of brown butter
-4 ounces of unsalted butter, at room temperature, cut into 1/2 inche cubes
-egg wash
-course sugar
-3 fresh peaches, sliced 1/4 inches thick
Instructions
Brioche:
-place the flour and yeast in the bowl of a stand mixer fitted with a dough hook and mix for about 14 seconds
-all the remaining dough ingredients, except the butter and mix on low for 4 minutes
-mix until the dough starts sticking to the sides of the bowl
-add butter gradually and stop to scrape the sides
-continue to mix for 10  minutes
-scrape the sticky dough onto a lightly floured board
-stretch and fold the left side over and into the center, fold over several times
– place dough onto a slightly oiled bowl, cover, and set aside for 1 hour
-refrigerate dough for at least an hour
-take dough out and place on to a lightly floured surface
-dived to dough into 1 inch balls and round them out
-place on a baking sheet and loosely cover with plastic wrap
– set aside for 1 to 1 1/2 hours
Pastry cream:
-place milk over medium heat in a sauce pan, scrape the vanilla bean into the pan, and add the cream
-combine the egg yolks, sugar, and salt in a medium bowl
-slowly combine the egg yolks when the milk mixture comes to a boil and continue to mix for about 4 minutes
-strain into a clean bowl
-add the brown sugar and set in an ice bath to cool
-once it has reached room temperature, refrigerate with plastic wrap over the top for an hour
-preheat the oven to 325 F
-brush the dough with egg wash and lightly sprinkle with coarse sugar
-create a well in the dough and pipe the pastry cream and top with peach slices
-bake for 15 to 20 minutes
-dust with icing sugar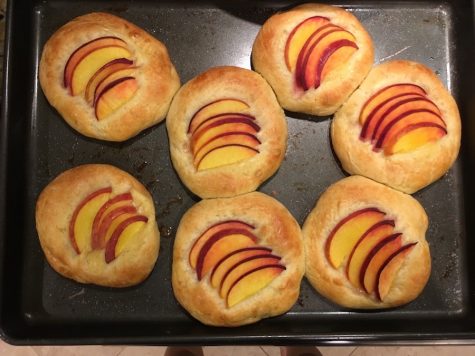 Mediterranean Pasta Salad- Gillian Garcia
-1 box of tri-colored rotini
-a can of sliced black olives
-1/4 cup of sliced sun-dried tomatoes
-1/2 cup of crumbled feta cheese
-cook box of pasta and let cool
-combine pasta, olives, tomatoes, and feta in a bowl
-toss with Italian dressing and chill at least 2 hours
Chicken Landeta- Isabella Salgado
6 whole chicken breasts
2 pieces of chrizo sausage
1/2 lb of smoked ham
4 ounces of sherry
1 can of tomato sauce
1 large Spanish onion
3 carrots
Instructions:
-bone and halve the chicken breats
-cut the chorizo and ham inot small pieces and stuff it into the chicken
-cut up onions and carrots inot quarters
-place chicken, tomato sauce, onions, carrots, and 2 ounces of sherry inot a baking sheet
-bake at 370 F for 30 mins
-remove chicken, onions, and carrots from baking pan
-add remaining sherry to remaining sauce and pour over chicken before serving
Academy is unified through food and the experience of bringing joy through cooking. The power tradition of homemade soup on a cold winters day or a simple dessert during the summer months can have a profound effect on Academy students and what they choose to do with those customs. Whether it is sweets desserts, fresh bread, or a traditional, cultural dish, Academy families prove that they don't need to be top chefs in order to please others with their creations.