Covered Webcams Are Taking Over Academy
October 17, 2016
Something has gone unnoticed in classrooms at AHN. If everyone opened their computer at the same time, about half of the high school would have their computer- camera covered in tape. This is not just to avoid the photo-booth or FaceTime app. When did this begin and why?
Covering the camera with a sticker is a safety precaution that protects the laptop owner from hackers who access cameras in order to watch what people are doing. Furthermore, footage from these cameras can be saved and used to blackmail or track the victim. Computer users may assume that their camera is only on when they are using it to take a picture, however, that is not the case. Computer cameras can come on throughout the day without the user knowing so it is important for users to cover laptop cameras in order to secure their own privacy.
Former #NSA employee: This #hack gains access to your #Mac's #webcam. #security #tape https://t.co/uETuixEowk

— Internet Safety Org (@MyDigitalSafety) October 8, 2016
Senior Audrey Anello comments, "I covered my laptop camera ever since I saw the movie Abduction. After seeing the character's identities being taken and tracked through the internet, it is not worth the risk."
Here are 5 ways to stay safe on the internet:
Think before clicking on ads, websites, and pop-ups because those trick users into downloading viruses onto their device

Only connect to secure wifi networks

Stay up to date on security updates

Do not post personal info on social media such as date of birth, home address, and where you go to school

Turn off location on iPhones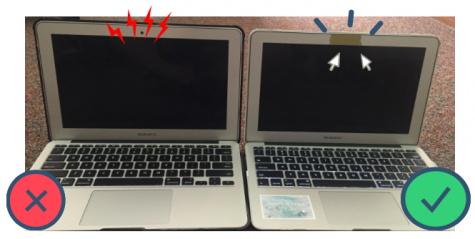 Sophomore Emily Abdoney shares, "My mom saw on the news that the iPhone's tracking capabilities go beyond just finding your phone and can actually track your every move. I updated my settings to only give access to certain apps."
Computer cameras are not the only way hackers can get into other's privacy. Security cameras and any camera that has an association with the internet is a risk to hackers. Stop the hackers by covering web-cams, and using secure passcodes. After all, it is better to be safe than sorry.