Seniors Skip First Day of Second Quarter
October 17, 2016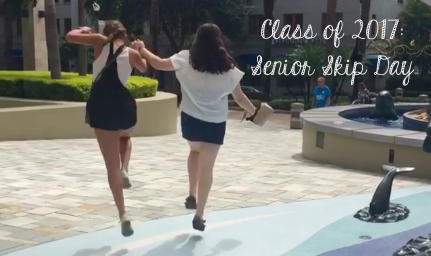 It is a well known tradition in many high schools for seniors to coordinate a day in which the whole grade skips classes together. This year, Academy's senior class of 2017 designated Tuesday, October 11 as their "senior skip day".
After collectively deciding on a date,  a vast majority of them decided to the day off in order to enjoy a relaxing five day weekend. However, a select group of seniors had sporting events that night and, in order to be allowed to perform, had to be present at school that day.
Senior, Rachel Tata, who dances on Academy's Jaguarettes team, admits that at first she was kind of disappointed that she wasn't able to skip because she really did not want to go to school after having four day weekend, but it wasn't actually that bad of a day.

Tata claims, "I got a lot of work done because most of the day I had study halls and I was more motivated working in the lounge than I would have been at home."
In addition to these girls, there was a handful of students whose parents simply did not allow them to skip that day or that had to attend school for other reasons. In total, there was an estimate of no more than 25 seniors at school that day.
Senior, Marie Dela Cruz's parents did not let her skip school that day so, when she arrived, she sent them a video of her car as the only one in the parking garage with hopes that at the last minute they would let her leave.
Tata admits that I was kind of weird being one of only about 20 seniors at school that day. She claims that the school felt empty without the rest of the class there. However, because most of her sets ended up being study halls.
While most people probably would not have been too happy to be in the position of these girls, on the contrary, this small group of seniors made the most out of their day by having fun in the lounge at lunch time and being extremely productive in all of the unexpected study halls.
Dela Cruz recalls, "We turned the amp in the lounge up much louder than usual and it was so funny watching everyone dance like crazy even though there was only maybe 20 of us in there."
Senior Lexi Diez, who skipped school, drove to St. Petersburg with some of her fellow classmates and states that the activities and weather contributed to her wonderful day.
"However," Diez claims, "having the five day weekend was super fun, but at the same time really sad because it felt like summer again."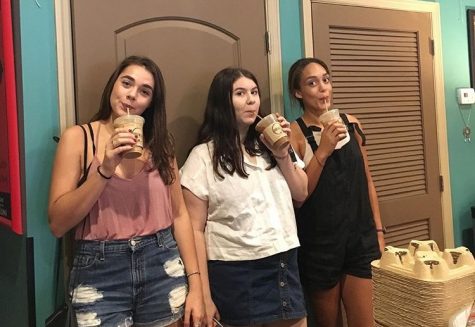 Senior, Kendall Perez, who also skipped school that day, decided to take advantage of the five day weekend by getting caught up on school work and college applications.
Perez exclaims, "It was really nice to have the five day weekend because I was so stressed beforehand and it allowed me to get a lot of work done and relax."
Even though many of the faculty members would have advised skip day to have taken place later in the year when things are a little less busy, it was a great mental health break for all of the seniors, whether they attended school or not, after spending a hectic first quarter filled with college applications, tests, and an endless amount of homework.