Student Council President Ally Wehle Attends Ribbon Cutting Opens Academy's New Heritage Center
October 7, 2016
On October 6, on the feast day of Blessed Marie Rose Durocher, alumni and donors Melanie and Richard Gonzmart cut the ribbon for Academy of the Holy Names' new Heritage Center in the ambulatory to the chapel. Monsignor Robert Gibbons blessed the Center, and many of the sisters of the Holy Names were in attendance at the ceremony to explore the exhibits highlighting Academy's journey as a school from its inception. The Heritage Center is designed to honor Academy's history and the work of the sisters of the Holy Names by being reminiscent of a museum, the walls lined with photos and blurbs explaining memorable moments in Academy's 135 years.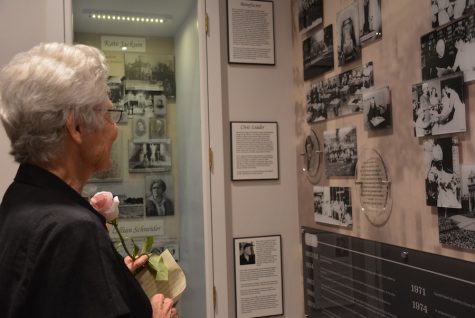 The Heritage Center will have a rotation of four displays throughout the year, but it currently showcases the origin and accomplishments of the Sisters in Tampa, the Sacred Heart Academy, the evolution of the school's uniforms, and the other schools the Sisters have operated.
Student Council President Ally Whele represented the high school at the ribbon cutting ceremony and was moved by the sisters' reactions.
"My great-aunt was a sister at the Academy and it was awesome to see her walk through the center and see her face light up as she recognized some of the pictures of how the school used to be," she remarks.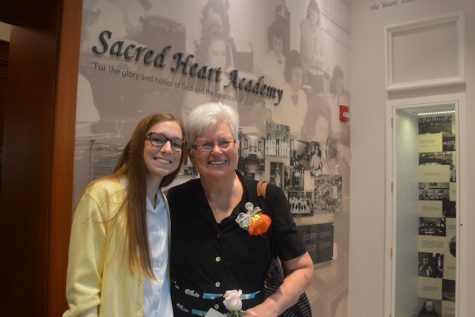 The Heritage Center was made possible by the donation of one million dollars by Melanie and Richard Gonzmart, and aims to preserve artifacts and information central to the Sisters of Holy Names and the mission of the school. As long as it stands on its home on Bayshore Boulevard, students, parents, and faculty will have access to a narrative of Academy's rich history.
Whele comments about the Center, "It made me proud to be a part of something so special."