Update On College Acceptances
October 18, 2016
Since the beginning of August, the Class of 2017 has been battling the rigorous college application season. Although many schools do not notify applicants of their admission decision for several months, some have rolling admission. In these schools, applicants receive their admission status soon after they apply. Therefore, many seniors have already been accepted into several colleges.  
Senior Jenna Wiley stated, "It feels really good to be accepted into six schools because even if I look at it logically and know my scores as well as GPA are good enough to get in, it is still stressful to think I may have done something wrong to keep me from getting accepted. My top school is Belmont University and when I opened my acceptance letter, I cried. I was beyond excited. I am done applying, but I am waiting to hear back from USF, FSU, and UF."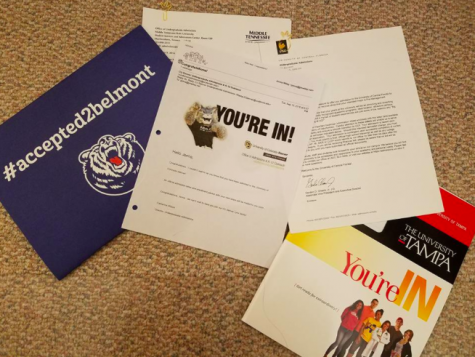 Auburn University, University of Alabama, and University of Central Florida were popular schools to apply to this year and many students have already received their acceptance letter from these schools. Below is a list of colleges and universities the students from the Class of 2017 have been accepted to so far:
Haley Schumann, Morgan Graff, Emily Hoerbelt, Jenna Wiley, Allie Weachter, Marie Dela Cruz, Anne-Marie Heath, Ciara Chappell, Leila Zupsic
Sophia Mastro, Ellie Abdoney, Karianne Buser, Mary Kate Urbanski, Alyssa Muir, Julia Prince, Haley Schumann, Hope Rossi, Audrey Dunn, Katie Quackenbush, Jenna Maceovsky, Megan Przedpelski, Ashley Lambert, Riley Rubio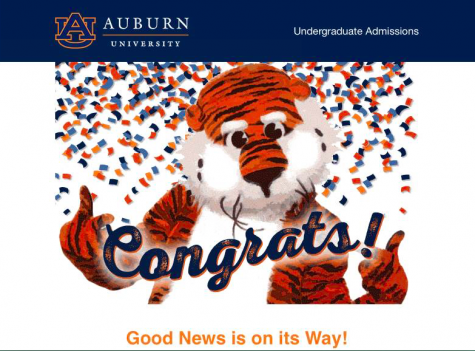 Karianne Buser, Hope Rossi, Haley Schumann, Riley Rubio, Allie Weachter, Bella Guerra, Reilly Sleater, Kali Bradley, Jenna Maceovsky, Megan Przedpelski, Laney Rodriguez, Katherine Garcia
Grace Neal, Kate Reitz, Marie Dela Cruz, Anne-Marie Heath, Laney Rodriguez, Kendall Perez
Jenna Wiley, Audrey Anello, Hannah Menendez, Chloe Paman
Reilly Sleater, Karianne Buser
Jenna Wiley, Jessica Zachary
Vanessa Alvarez, Marie Dela Cruz, Julianne Nichter, Ann-Marie Heath, Bella Cartaya, Kathryn Byers
Jenna Maceovsky, Laney Rodriguez
Vanessa Alvarez, Sydney Sommer
Vanessa Alvarez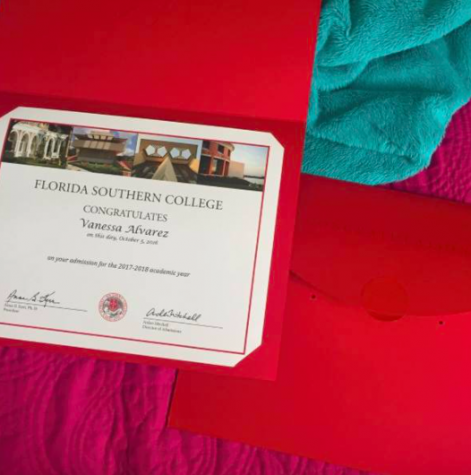 Vanessa Alvarez
Vanessa Alvarez
Ashley Achin 
Meredith Butler
Florida International University
Meredith Butler
Jenna Wiley
University of Colorado at Denver
Jenna Wiley
Middle Tennessee State University
Jenna Wiley
Sydney Sommer
Laura Henry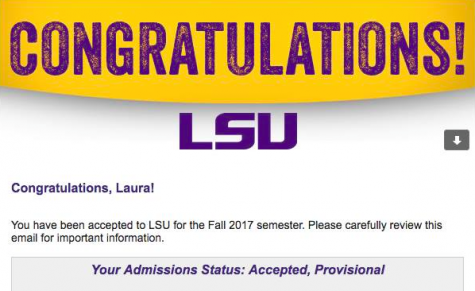 Senior athletes Hannah Menendez, Camille Opp, Julia Petrillo, Haley Morrell, and Katie Hale have each committed to college athletic programs to further their athletic careers.
Senior Haley Morrell stated, "I am relieved to only have to apply to one school and not have to worry about applying to a bunch of colleges. However, I am a little stressed right now because I need to reach a specific score on my ACT to be accepted into Florida Gulf Coast University."
Below is a list of the senior athletes and the colleges they plan to sign their commitment to on signing day.
Katie Hale (softball)
Haley Morrell (softball)
Camille Opp (volleyball)
University of North Florida
Hannah Menendez (soccer)  
Julia Petrillo (soccer)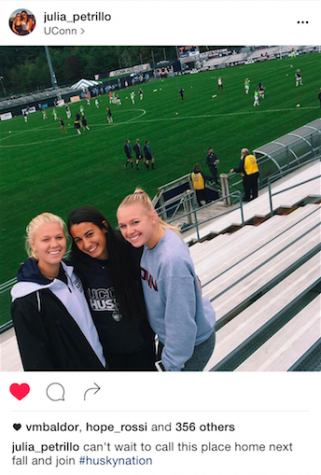 Many seniors are still in the process of applying to colleges, and most are waiting to hear back from schools. With many more college acceptances ahead for the Class of 2017, the seniors anxiously await to see where the future is taking them.