2016 Dance for Haiti
November 14, 2016
The 2016 Dance for Haiti is a fundraiser, held on November 5, that includes a seven minute line dance, a free yoga session, a jousting pit and hot cocoa- all for a great cause. With eight non-stop hours of entertainment, Dance for Haiti is a creative and lively way for high schoolers in the South Tampa bubble to assemble and raise money for the poverty-stricken people of St. Suzanne, Haiti. The Teens for Haiti charity has held this fundraiser for the past three years at the AHN Brady Center with food, games, and, of course, dancing granted to the participants. 
The Teens for Haiti non-profit charity organization is run by high schoolers in the Tampa Bay area. The Teens for Haiti organization began in 2012 after two girls visited the village of Sainte Suzanne and returned to America with the determination to assist the impoverished natives of Haiti. Today, Teens for Haiti continues to launch projects that will benefit the Haitians, while also getting involved in the local community through service work.
As a member of the fundraising team, junior Caitlin Weaver expresses what inspired her to join this team: "What inspired me  to join this organization started several years ago when I saw all the photos from previous trips. When my parents went on a mission to Haiti, the pictures and stories were unbelievable. The Haitians live in such horrible poverty and by being so young, it is hard to help. Teens for Haiti allowed me to do my part from here in Tampa."
Through social media and board members, different participants found out about the dance. They not only admired the service hours that were to be received or the different activities that supported the event, rather, what really struck these particpants was the effect it had on the Haitians.
When asked about how Dance for Haiti is a unique convenience to support local and international communities, Freshman Kara Petitt replies, "It is a different opportunity beause most service hours are doing labor, but this is a fun way to get service hours because you get to dance while also raising money for a third world country."
2:00-3:00
High schoolers arrived to the Brady Center; music was playing as students pick up their t-shirts. The rest of the hour was devoted to learning the seven minute line dance, which was performed at the eve of every hour.
3:00-4:00
Merry Christmas…at least, that is what was celebrated for an hour at Dance for Haiti. Hot chocolate was served to students as Christmas music played in the background. Santa Claus even made an appearance; he was found, for the most part, jousting against high schoolers in the pit.
4:00-5:00
A couple of dance teachers took time out of their day to teach the teenagers at Dance for Haiti how to swing dance. Foto Box also donated their photo booth and props to take pictures with.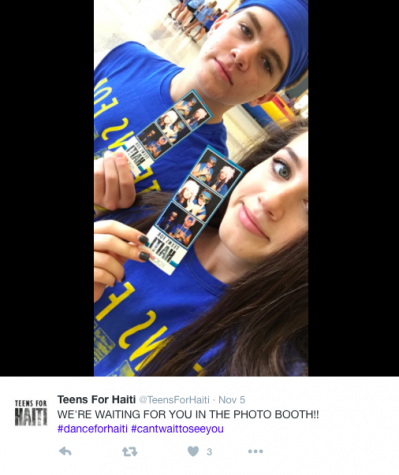 5:00-6:00
After swing dancing and completing multiple line dances, a chill hour was essential. An acoustic band, featuring Matthew McCabe and Emma Dunne, performed mellow songs; meanwhile, Aveda hairstylists tamed girls' hair while sculpting hairstyle masterpieces. Some teenagers, such as sophomore Lindsay Ayers, set up their own stand and applied creative works of art on peoples' faces.
6:00-7:00
Xtreme Juice popsicles were provided during yoga lessons. The yoga class followed some traditional moves; however, the dance attendees were in awe when the yoga teacher performed some tricky moves that required much balance. 
Sophomore Myah Rhines enjoyed the yoga class and affirms, "Yoga was really relaxing and got me excited to go to hip-hop after!"
7:00-8:00
A hip-hop teacher at Karl and Dimarco: School of Theatre and Dance made an appearance and taught a hip-hop class, which included basic hip-hop moves and, yet, another dance to learn. The thriving, young hip-hop teacher continues to compete and, therefore, gave the particpants an inside look at the his routine.
8:00-10:00
The last two hours were "rave" inspired-which included a DJ and glowsticks. While the guests were dancing the night away, McDonald's burgers were supplied for those who did not have any energy left in their systems. 
On behalf of the rest of the board, Secretary Charlotte Carl confirms the excitement level reached by the team: "I was so happy with the turnout of the dance and it warmed my heart to hear that people had a good time while supporting a great cause. At the end I, probably along with everyone else on board, was grateful, overjoyed, and overcome by lethargy."
The 2016 Dance for Haiti raised an astonishing fundraising total of $31,100 with a $20,000 goal. The money raised from the 2016 Dance for Haiti is to be donated towards a nutrition program dedicated to the Haitians.