AP Studio Students Create an Inventive Environmental Project
November 7, 2016
Recently, Academy's AP Studio art class created a project that focuses on contemporary artists' work that promotes environmental issues. The purpose of the project is to visualize an environmental issue that the students feel is important and create a piece that brings awareness to the issue. The project is one of the twelve breadth pieces in the students' portfolios. A breadth piece consists different pieces that use a variety of techniques and mediums, but do not necessarily have a common theme.
Some students challenged themselves by using techniques that they have not experimented with yet. Senior, Bella Cartaya commented, "I did my project in watercolor which I'm not very experienced in, so that was a bit of a challenge for me, as I'm much more comfortable with acrylic and pencil."
Most of the AP Studio students have an independent study set to work on their projects. Senior, Cristina Renner voiced her opinion, "The projects can be very time consuming, so having an independent study is a blessing. It's equivalent to spending time after school to work on the project. Sister Lisa or Mrs. Franklin is there to help us, plus you have access to all the resources you need."
Each of the individual projects consisted of various inspirations and techniques:
Senior, Mary Kate Magyar explained, "I got the idea from a nature trail over by my house that is behind a treatment plant and landfill. I wanted to show how we have pollution invading nature, even though at the same time we are trying to coexist with nature. I took a lot of pictures of the trail and picked the one I really liked and drew it."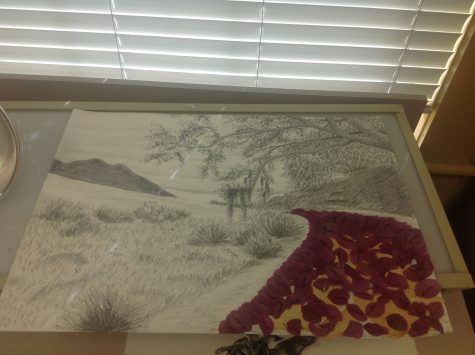 Another Senior, Sarah Ercia shared, "One of the artists I researched decorated trash cans, but they include people on them. I chose to center mine around ocean pollution, hence the turtle and pollution floating around. It is a reminder to recycle, and I hope that it influences people to want to recycle. I worked on it for a very long time, about three weeks of class time."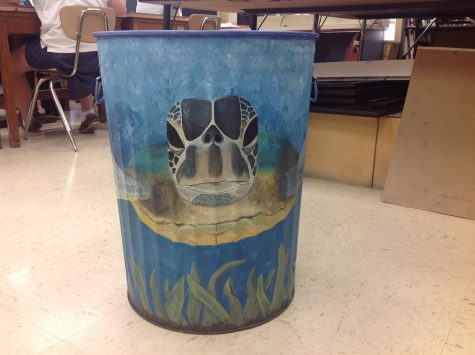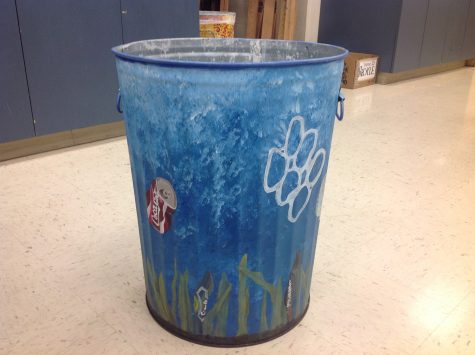 Future AP Studio projects will include environmental themes as well.