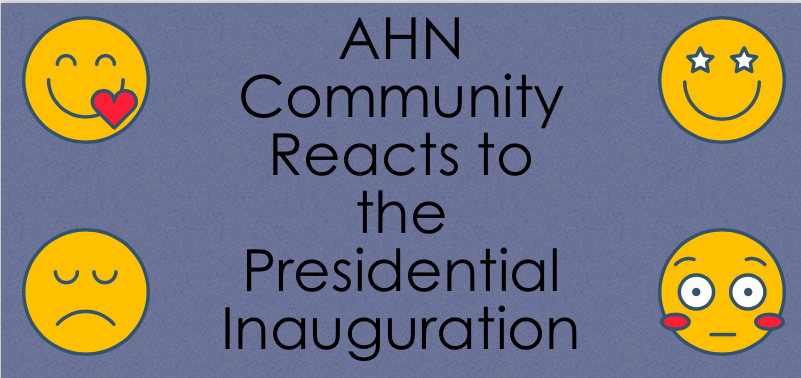 AHN Reactions to the Inauguration
January 27, 2017
With opinions still fresh from the November election, and more recently from the presidential inauguration, the AHN community had many things to say.
FRESHMEN
Catherine Vande Brink said, "I didn't get a chance to watch the full inauguration, but I hope Trump gives our country another great four years."
Sophia Arnold said, "I was really excited to watch Trump become president and I'm really looking forward to these next four years with him as president."

SOPHOMORES
Amanda Pilch said, "No matter who you support or which side you are on, I think the inauguration should be a day where we all put our differences aside, and come together in support of our country."
Morgan Tata said, "Since I was at Junior Ring, I wasn't able to watch the inauguration, but I did see many tweets, articles, and pictures from it. I feel like there was a huge build up going into it though because of the opposing sides and it was a huge milestone in history of presidencies."
Brielle Gentile said, "I didn't get to watch it, but I've looked at news and media and the difference between Obama's inauguration and Trump's inauguration says enough to me."

JUNIORS
Gretchen Swenson said, "I didn't get to watch it, due to junior ring, but I did get to read articles and see media regarding it. It seemed like a nice ceremony and I really wish I would have been able to watch it."
Aleeza Garcia said, "I got to watch the tail end of it after Junior ring and I feel like it was a really nice turnout! I feel like no matter which side you're on, it's definitely something everyone should watch at least once!"
Evan Greek said, "I actually got to go to D.C. to watch the inauguration, and it was an amazing experience. History happened right in front of me and it felt surreal."

SENIORS
Danielle Gutierrez said, "We airplayed it in yearbook and it was probably the first time I actually paid full attention to a Presidential Inauguration so it was cool to watch history be made."
Rachel Tata said,"I think no matter what side you stand on, this inauguration is going to mark the start of a very different era in American politics and government that we haven't seen before. With everything that's been going on in the media and the general public, I'm interested to see how this presidency will affect our nation in the next four years."
Alessandra Nies said, "I got to watch it and I feel like he gave an amazing speech and the turnout was better than I expected. I'm interested to see what these next four years bring us."
Even though each AHN student has their own opinion, everyone can agree that this inauguration was one to mark a historic milestone. Each inauguration has their own special aspect to it, and can impact the course of history.